New Mercedes-Benz G-Class For Sale Near San Diego, CA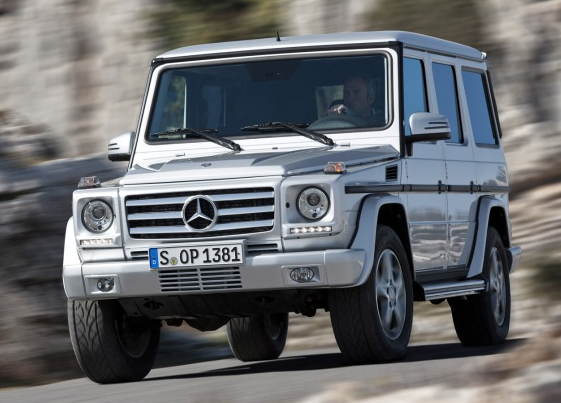 New Search Mercedes-Benz G-Class
Within 75 miles of San Diego, CA
2007 Mercedes-Benz G-Class G55 AMG Review
"overall nice truck"
I love my 07 g55, however, like my 03 the window regulators have a problem, there are the traditional squeaks that I can live with. Recently I was told by Schumachermercedes benz of Scottsdale that my 120k trucks steering wheel audio controls don't work, because it was designed that way. i have a HARD time believing it considering amy 03 was fine...
No results found. Try a new search with a larger radius, or search for a different model.
Checking your number
We will call you first if it is unverified.
Close
Similar Cars
New Car Listings By City
New Mercedes-Benz G-Class in Indio CA

5 dealers, 2 listings starting at $113,905

New Mercedes-Benz G-Class in Los Angeles CA

22 dealers, 7 listings starting at $116,105

New Mercedes-Benz G-Class in Santa Barbara CA

10 dealers, 3 listings starting at $118,105

New Mercedes-Benz G-Class in Bakersfield CA

2 dealers, 2 listings starting at $118,105

New Mercedes-Benz G-Class in Las Vegas NV

1 dealers

New Mercedes-Benz G-Class in Phoenix AZ

5 dealers, 2 listings starting at $135,205

New Mercedes-Benz G-Class in Fresno CA

1 dealers, 2 listings starting at $113,905

New Mercedes-Benz G-Class in Tucson AZ

1 dealers, 1 listings starting at $118,805

New Mercedes-Benz G-Class in San Jose CA

13 dealers

New Mercedes-Benz G-Class in Stockton CA

15 dealers

New Mercedes-Benz G-Class in Oakland CA

14 dealers

New Mercedes-Benz G-Class in San Francisco CA

13 dealers

New Mercedes-Benz G-Class in Sacramento CA

10 dealers

New Mercedes-Benz G-Class in Reno NV

1 dealers

New Mercedes-Benz G-Class in El Paso TX

1 dealers

New Mercedes-Benz G-Class in Albuquerque NM

2 dealers

New Mercedes-Benz G-Class in Provo UT

3 dealers

New Mercedes-Benz G-Class in Salt Lake City UT

3 dealers

New Mercedes-Benz G-Class in Medford OR

1 dealers

New Mercedes-Benz G-Class in Colorado Springs CO

5 dealers, 2 listings starting at $120,055

New Mercedes-Benz G-Class in Midland TX

1 dealers

New Mercedes-Benz G-Class in Denver CO

5 dealers, 2 listings starting at $120,055

New Mercedes-Benz G-Class in Lubbock TX

1 dealers

New Mercedes-Benz G-Class in Bend OR

1 dealers