New Mercedes-Benz G-Class For Sale Near Detroit, MI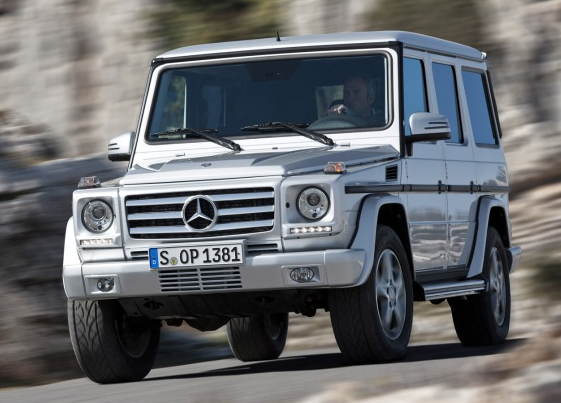 New Search Mercedes-Benz G-Class
Within 75 miles of Detroit, MI
2007 Mercedes-Benz G-Class G55 AMG Review
"SUV Legend"
The G55 AMG is my favorite SUV that I own and there are many reasons for it. The performance is very good for an SUV of this size and weight and the interior amenities are endless. It's very plush and good looking. It's easy to drive and fun to drive at the same time knowing that you've got 476 bhp to work with.
No results found. Try a new search with a larger radius, or search for a different model.
Checking your number
We will call you first if it is unverified.
Close
Similar Cars
New Car Listings By City
New Mercedes-Benz G-Class in Toledo OH

6 dealers

New Mercedes-Benz G-Class in Saginaw MI

3 dealers

New Mercedes-Benz G-Class in Cleveland OH

5 dealers

New Mercedes-Benz G-Class in Akron OH

5 dealers

New Mercedes-Benz G-Class in Fort Wayne IN

1 dealers

New Mercedes-Benz G-Class in Grand Rapids MI

2 dealers

New Mercedes-Benz G-Class in Columbus OH

3 dealers, 1 listings starting at $135,205

New Mercedes-Benz G-Class in Dayton OH

5 dealers, 2 listings starting at $135,205

New Mercedes-Benz G-Class in Pittsburgh PA

7 dealers, 1 listings starting at $137,505

New Mercedes-Benz G-Class in Buffalo NY

2 dealers

New Mercedes-Benz G-Class in Cincinnati OH

3 dealers, 1 listings starting at $140,355

New Mercedes-Benz G-Class in Indianapolis IN

2 dealers

New Mercedes-Benz G-Class in Chicago IL

13 dealers, 6 listings starting at $113,905

New Mercedes-Benz G-Class in Milwaukee WI

8 dealers, 2 listings starting at $135,205

New Mercedes-Benz G-Class in Charleston WV

1 dealers

New Mercedes-Benz G-Class in Rochester NY

2 dealers

New Mercedes-Benz G-Class in Lexington KY

2 dealers, 1 listings

New Mercedes-Benz G-Class in Louisville KY

2 dealers, 1 listings

New Mercedes-Benz G-Class in Madison WI

3 dealers, 1 listings

New Mercedes-Benz G-Class in Harrisburg PA

9 dealers, 1 listings starting at $140,155

New Mercedes-Benz G-Class in Syracuse NY

2 dealers

New Mercedes-Benz G-Class in Roanoke VA

1 dealers

New Mercedes-Benz G-Class in Scranton PA

3 dealers, 1 listings starting at $113,905

New Mercedes-Benz G-Class in Washington DC

11 dealers, 3 listings starting at $135,205