New Infiniti QX56 For Sale Near San Antonio, TX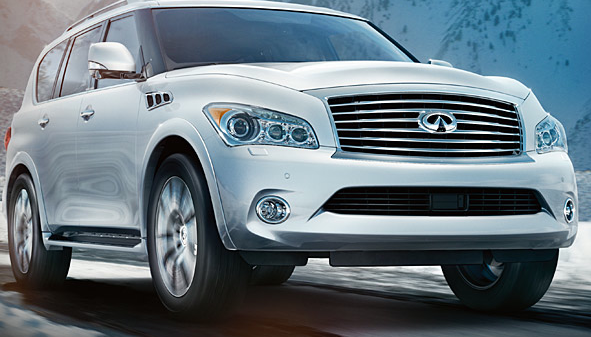 New Search Infiniti QX56
Within 75 miles of San Antonio, TX
2006 Infiniti QX56 4dr SUV 4WD Review
"Another GAS GUZZLER"
I think we averaged 14 MPG which is better than my Explorer but not when gas prices are + $3/gal. We loved this truck which had 3rd row seating and captain's chairs in the back and front. DVD player with Xbox hookup and wireless headphones. The rear-view camera was super kewl. We really miss have space and a GPS.
No results found. Try a new search with a larger radius, or search for a different model.
Checking your number
We will call you first if it is unverified.
Close
Similar Cars
New Car Listings By City
New Infiniti QX56 in Austin TX

2 dealers, 28 listings starting at $61,603

New Infiniti QX56 in College Station TX

2 dealers, 56 listings starting at $63,135

New Infiniti QX56 in Houston TX

4 dealers, 82 listings starting at $63,135

New Infiniti QX56 in Dallas TX

5 dealers, 174 listings starting at $59,214

New Infiniti QX56 in Lake Charles LA

1 dealers, 5 listings starting at $66,635

New Infiniti QX56 in Shreveport LA

1 dealers

New Infiniti QX56 in Baton Rouge LA

3 dealers, 11 listings starting at $66,235

New Infiniti QX56 in Oklahoma City OK

2 dealers, 25 listings starting at $55,405

New Infiniti QX56 in New Orleans LA

2 dealers, 6 listings starting at $66,235

New Infiniti QX56 in El Paso TX

1 dealers, 11 listings starting at $67,840

New Infiniti QX56 in Tulsa OK

1 dealers, 13 listings starting at $65,530

New Infiniti QX56 in Jackson MS

1 dealers, 12 listings starting at $67,265

New Infiniti QX56 in Little Rock AR

1 dealers, 4 listings starting at $72,185

New Infiniti QX56 in Mobile AL

1 dealers

New Infiniti QX56 in Wichita KS

1 dealers

New Infiniti QX56 in Albuquerque NM

1 dealers

New Infiniti QX56 in Memphis TN

2 dealers

New Infiniti QX56 in Pensacola FL

1 dealers

New Infiniti QX56 in Springfield MO

1 dealers, 4 listings starting at $64,845

New Infiniti QX56 in Montgomery AL

1 dealers, 3 listings starting at $69,335

New Infiniti QX56 in Tucson AZ

1 dealers, 1 listings starting at $75,305

New Infiniti QX56 in Kansas City MO

2 dealers

New Infiniti QX56 in Colorado Springs CO

4 dealers, 22 listings starting at $66,035

New Infiniti QX56 in Tallahassee FL

1 dealers, 13 listings starting at $63,743