New Infiniti QX56 For Sale Near Nashville, TN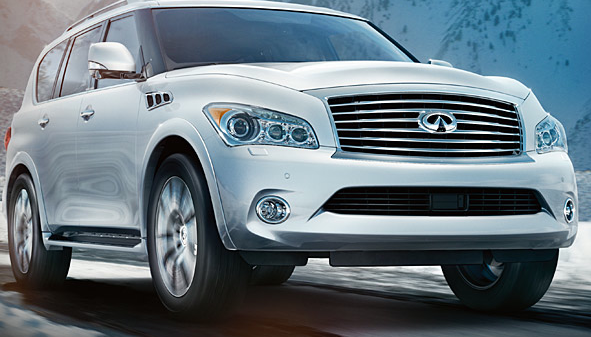 New Search Infiniti QX56
Within 75 miles of Nashville, TN
2008 Infiniti QX56 AWD Review
"Amazing luxury car!"
I really enjoy this SUV. I have had many cars from a Dodge to a Honda and a Hyundai and this is by far my favorite. If youre looking for a large SUV here it is!! Best SUV on the market!
No results found. Try a new search with a larger radius, or search for a different model.
Checking your number
We will call you first if it is unverified.
Close
Similar Cars
New Car Listings By City
New Infiniti QX56 in Chattanooga TN

1 dealers, 8 listings starting at $69,085

New Infiniti QX56 in Knoxville TN

1 dealers, 4 listings starting at $68,485

New Infiniti QX56 in Louisville KY

2 dealers

New Infiniti QX56 in Lexington KY

2 dealers

New Infiniti QX56 in Memphis TN

2 dealers

New Infiniti QX56 in Atlanta GA

5 dealers, 62 listings starting at $65,605

New Infiniti QX56 in Cincinnati OH

2 dealers

New Infiniti QX56 in Saint Louis MO

2 dealers, 28 listings starting at $64,845

New Infiniti QX56 in Greenville SC

1 dealers, 4 listings starting at $76,735

New Infiniti QX56 in Indianapolis IN

2 dealers, 14 listings starting at $68,045

New Infiniti QX56 in Montgomery AL

1 dealers, 3 listings starting at $69,335

New Infiniti QX56 in Dayton OH

3 dealers, 3 listings starting at $70,920

New Infiniti QX56 in Little Rock AR

1 dealers, 5 listings starting at $66,035

New Infiniti QX56 in Augusta GA

2 dealers, 4 listings starting at $65,605

New Infiniti QX56 in Jackson MS

1 dealers, 12 listings starting at $67,265

New Infiniti QX56 in Charlotte NC

4 dealers

New Infiniti QX56 in Columbus OH

2 dealers, 3 listings starting at $70,920

New Infiniti QX56 in Columbia SC

2 dealers, 4 listings starting at $65,605

New Infiniti QX56 in Albany GA

1 dealers, 11 listings starting at $63,743

New Infiniti QX56 in Fort Wayne IN

1 dealers, 7 listings starting at $61,555

New Infiniti QX56 in Springfield MO

1 dealers, 4 listings starting at $64,845

New Infiniti QX56 in Roanoke VA

1 dealers

New Infiniti QX56 in Greensboro NC

6 dealers

New Infiniti QX56 in Mobile AL

1 dealers