New Infiniti M37 For Sale Near Cincinnati, OH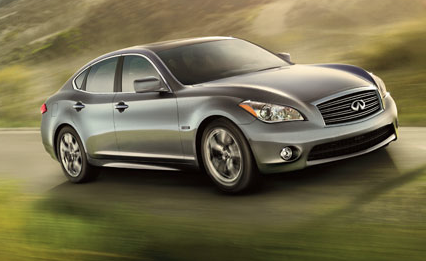 New Search Infiniti M37
Within 75 miles of Cincinnati, OH
2012 Infiniti M37 X Review
"Great Value"
Infiniti M37x offers great value for the price. With great performance and luxury interior, you can't really go wrong with owning an Infiniti. Just make sure you are OK with paying more Gas money because Infiniti only has about 330hp.
No results found. Try a new search with a larger radius, or search for a different model.
Checking your number
We will call you first if it is unverified.
Close
Similar Cars
New Car Listings By City
New Infiniti M37 in Dayton OH

3 dealers, 16 listings starting at $55,830

New Infiniti M37 in Lexington KY

2 dealers

New Infiniti M37 in Louisville KY

2 dealers

New Infiniti M37 in Indianapolis IN

2 dealers, 9 listings starting at $56,210

New Infiniti M37 in Columbus OH

2 dealers, 16 listings starting at $55,830

New Infiniti M37 in Fort Wayne IN

1 dealers, 4 listings starting at $46,995

New Infiniti M37 in Toledo OH

3 dealers, 15 listings starting at $55,645

New Infiniti M37 in Akron OH

3 dealers, 5 listings starting at $55,627

New Infiniti M37 in Knoxville TN

1 dealers, 8 listings starting at $53,495

New Infiniti M37 in Cleveland OH

3 dealers, 5 listings starting at $55,627

New Infiniti M37 in Nashville TN

1 dealers

New Infiniti M37 in Detroit MI

3 dealers, 15 listings starting at $55,645

New Infiniti M37 in Chicago IL

8 dealers, 61 listings starting at $55,830

New Infiniti M37 in Pittsburgh PA

1 dealers, 10 listings starting at $55,645

New Infiniti M37 in Grand Rapids MI

1 dealers, 7 listings starting at $55,830

New Infiniti M37 in Roanoke VA

1 dealers

New Infiniti M37 in Chattanooga TN

1 dealers

New Infiniti M37 in Saginaw MI

2 dealers, 12 listings starting at $55,645

New Infiniti M37 in Saint Louis MO

2 dealers, 16 listings starting at $55,830

New Infiniti M37 in Greenville SC

1 dealers, 1 listings

New Infiniti M37 in Milwaukee WI

5 dealers, 42 listings starting at $55,830

New Infiniti M37 in Greensboro NC

6 dealers

New Infiniti M37 in Charlotte NC

4 dealers

New Infiniti M37 in Atlanta GA

5 dealers, 58 listings starting at $54,060