New Infiniti FX50 For Sale Near Portland, OR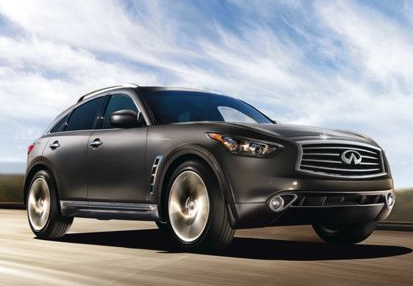 New Search Infiniti FX50
Within 75 miles of Portland, OR
2010 Infiniti FX50 Review
"Fast and comfortable"
Power & handling: perfect. It drives like a sports car, but takes the worst city potholes you can throw at it with aplomb. Electronic gizmos: best I've ever seen. Hi-res navigation (2010+) is awesome. Perfect iPhone integration, whether USB or Bluetooth. Laser-sighted, distance-controlled, lane-keeping cruise control is amazing. Still perfe...
No results found. Try a new search with a larger radius, or search for a different model.
Checking your number
We will call you first if it is unverified.
Close
Similar Cars
New Car Listings By City
New Infiniti FX50 in Seattle WA

5 dealers, 2 listings starting at $64,341

New Infiniti FX50 in Bellingham WA

2 dealers, 1 listings starting at $64,341

New Infiniti FX50 in Sacramento CA

9 dealers

New Infiniti FX50 in Stockton CA

12 dealers

New Infiniti FX50 in San Francisco CA

10 dealers

New Infiniti FX50 in Oakland CA

11 dealers

New Infiniti FX50 in San Jose CA

10 dealers

New Infiniti FX50 in Fresno CA

1 dealers

New Infiniti FX50 in Salt Lake City UT

1 dealers

New Infiniti FX50 in Provo UT

1 dealers

New Infiniti FX50 in Bakersfield CA

2 dealers

New Infiniti FX50 in Las Vegas NV

2 dealers, 1 listings starting at $69,375

New Infiniti FX50 in Santa Barbara CA

6 dealers, 2 listings starting at $68,865

New Infiniti FX50 in Los Angeles CA

15 dealers, 3 listings starting at $68,585

New Infiniti FX50 in Indio CA

4 dealers

New Infiniti FX50 in San Diego CA

5 dealers, 1 listings starting at $63,295

New Infiniti FX50 in Phoenix AZ

4 dealers, 1 listings starting at $69,545

New Infiniti FX50 in Denver CO

4 dealers

New Infiniti FX50 in Colorado Springs CO

4 dealers

New Infiniti FX50 in Tucson AZ

1 dealers

New Infiniti FX50 in Albuquerque NM

1 dealers

New Infiniti FX50 in El Paso TX

1 dealers, 1 listings starting at $69,545

New Infiniti FX50 in Lincoln NE

3 dealers

New Infiniti FX50 in Oklahoma City OK

2 dealers