New Infiniti FX50 For Sale Near Kansas City, MO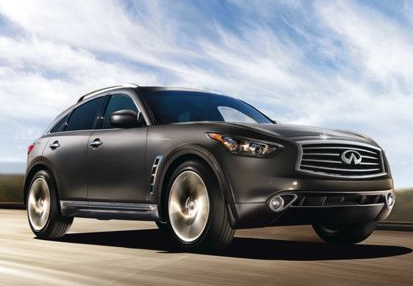 New Search Infiniti FX50
Within 75 miles of Kansas City, MO
2009 Infiniti FX50 AWD Review
"Incredible!"
Bought the "Fitty" two weeks ago, and continue to be more and more impressed each day. Incredible power, great handling, amazing technology, super comfortable, and a unique look make this vehicle a no brainer. It handled 7" of snow without a hitch. The active rear steering is incredible at high speeds. I will never go back to a BMW or Benz agai...
No results found. Try a new search with a larger radius, or search for a different model.
Checking your number
We will call you first if it is unverified.
Close
Similar Cars
New Car Listings By City
New Infiniti FX50 in Springfield MO

1 dealers

New Infiniti FX50 in Lincoln NE

3 dealers

New Infiniti FX50 in Des Moines IA

1 dealers

New Infiniti FX50 in Tulsa OK

1 dealers

New Infiniti FX50 in Saint Louis MO

2 dealers, 1 listings

New Infiniti FX50 in Oklahoma City OK

2 dealers

New Infiniti FX50 in Little Rock AR

1 dealers

New Infiniti FX50 in Rochester MN

1 dealers, 1 listings starting at $63,295

New Infiniti FX50 in Memphis TN

2 dealers

New Infiniti FX50 in Madison WI

2 dealers

New Infiniti FX50 in Minneapolis MN

2 dealers, 1 listings starting at $63,295

New Infiniti FX50 in Chicago IL

8 dealers, 4 listings starting at $68,915

New Infiniti FX50 in Milwaukee WI

5 dealers, 2 listings starting at $68,915

New Infiniti FX50 in Indianapolis IN

2 dealers, 1 listings starting at $68,415

New Infiniti FX50 in Dallas TX

5 dealers, 3 listings starting at $63,295

New Infiniti FX50 in Shreveport LA

1 dealers

New Infiniti FX50 in Nashville TN

1 dealers

New Infiniti FX50 in Louisville KY

2 dealers

New Infiniti FX50 in Fort Wayne IN

1 dealers, 1 listings starting at $63,736

New Infiniti FX50 in Jackson MS

1 dealers

New Infiniti FX50 in Cincinnati OH

2 dealers

New Infiniti FX50 in Lexington KY

2 dealers

New Infiniti FX50 in Colorado Springs CO

4 dealers

New Infiniti FX50 in Grand Rapids MI

1 dealers