New Infiniti EX35 For Sale Near Los Angeles, CA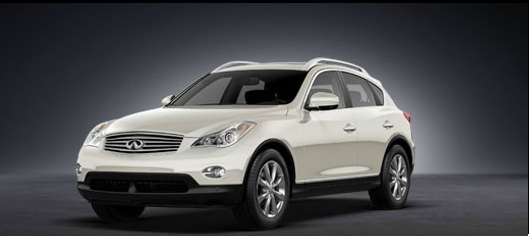 New Search Infiniti EX35
Within 75 miles of Los Angeles, CA
2008 Infiniti EX35 Journey AWD Review
"Sport AWD"
This car drives like a sports sedan, yet has some functionality of an SUV. It doesn't have much space in the cargo area or back seat. Being a European transplant, ie, slim build, the front seats are actually very comfortable and, as a driver, you are surrounded by electronics and feature controls that are well laid out. The electronics are somew...
No results found. Try a new search with a larger radius, or search for a different model.
Checking your number
We will call you first if it is unverified.
Close
Similar Cars
New Car Listings By City
New Infiniti EX35 in Santa Barbara CA

6 dealers, 1 listings starting at $42,500

New Infiniti EX35 in Bakersfield CA

2 dealers, 1 listings starting at $42,500

New Infiniti EX35 in San Diego CA

5 dealers

New Infiniti EX35 in Indio CA

4 dealers

New Infiniti EX35 in Fresno CA

1 dealers

New Infiniti EX35 in Las Vegas NV

2 dealers

New Infiniti EX35 in San Jose CA

10 dealers, 1 listings starting at $46,010

New Infiniti EX35 in Stockton CA

12 dealers, 1 listings starting at $46,010

New Infiniti EX35 in Phoenix AZ

4 dealers, 1 listings starting at $44,135

New Infiniti EX35 in Oakland CA

11 dealers, 1 listings starting at $46,010

New Infiniti EX35 in San Francisco CA

10 dealers, 1 listings starting at $46,010

New Infiniti EX35 in Sacramento CA

9 dealers, 1 listings starting at $46,010

New Infiniti EX35 in Tucson AZ

1 dealers

New Infiniti EX35 in Provo UT

1 dealers

New Infiniti EX35 in Salt Lake City UT

1 dealers

New Infiniti EX35 in Albuquerque NM

1 dealers

New Infiniti EX35 in El Paso TX

1 dealers

New Infiniti EX35 in Colorado Springs CO

4 dealers

New Infiniti EX35 in Denver CO

4 dealers

New Infiniti EX35 in Portland OR

1 dealers

New Infiniti EX35 in Seattle WA

5 dealers

New Infiniti EX35 in Bellingham WA

2 dealers

New Infiniti EX35 in San Antonio TX

1 dealers

New Infiniti EX35 in Oklahoma City OK

2 dealers