New Infiniti EX35 For Sale Near Las Vegas, NV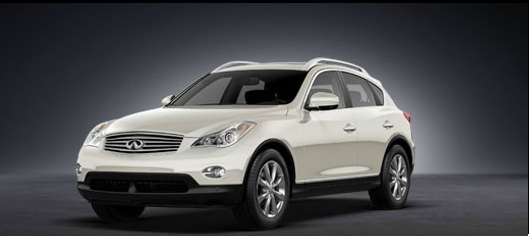 New Search Infiniti EX35
Within 75 miles of Las Vegas, NV
2010 Infiniti EX35 Journey AWD Review
"Nice Crossover to drive... don't plan to go crazy shopping"
Lots of features. 300hp, Very fast but doesn't feel that fast. Bose 11 speakers AV (DVD playback and built-in HDD), GPS, Bird-view parking camera (not only rear view), auto adjust seat & steering... took a while to get used to "them". But fun to drive, just the trunk is a little small for a Crossover/SUV.
No results found. Try a new search with a larger radius, or search for a different model.
Checking your number
We will call you first if it is unverified.
Close
Similar Cars
New Car Listings By City
New Infiniti EX35 in Indio CA

4 dealers

New Infiniti EX35 in Bakersfield CA

2 dealers, 1 listings starting at $42,500

New Infiniti EX35 in Los Angeles CA

15 dealers

New Infiniti EX35 in Fresno CA

1 dealers

New Infiniti EX35 in Phoenix AZ

4 dealers, 1 listings starting at $44,135

New Infiniti EX35 in San Diego CA

5 dealers

New Infiniti EX35 in Santa Barbara CA

6 dealers, 1 listings starting at $42,500

New Infiniti EX35 in Provo UT

1 dealers

New Infiniti EX35 in Stockton CA

12 dealers, 1 listings starting at $46,010

New Infiniti EX35 in Tucson AZ

1 dealers

New Infiniti EX35 in Salt Lake City UT

1 dealers

New Infiniti EX35 in San Jose CA

10 dealers, 1 listings starting at $46,010

New Infiniti EX35 in Sacramento CA

9 dealers, 1 listings starting at $46,010

New Infiniti EX35 in Oakland CA

11 dealers, 1 listings starting at $46,010

New Infiniti EX35 in San Francisco CA

10 dealers, 1 listings starting at $46,010

New Infiniti EX35 in Albuquerque NM

1 dealers

New Infiniti EX35 in El Paso TX

1 dealers

New Infiniti EX35 in Colorado Springs CO

4 dealers

New Infiniti EX35 in Denver CO

4 dealers

New Infiniti EX35 in Portland OR

1 dealers

New Infiniti EX35 in Seattle WA

5 dealers

New Infiniti EX35 in Oklahoma City OK

2 dealers

New Infiniti EX35 in Bellingham WA

2 dealers

New Infiniti EX35 in San Antonio TX

1 dealers