New Honda Pilot For Sale Near Amarillo, TX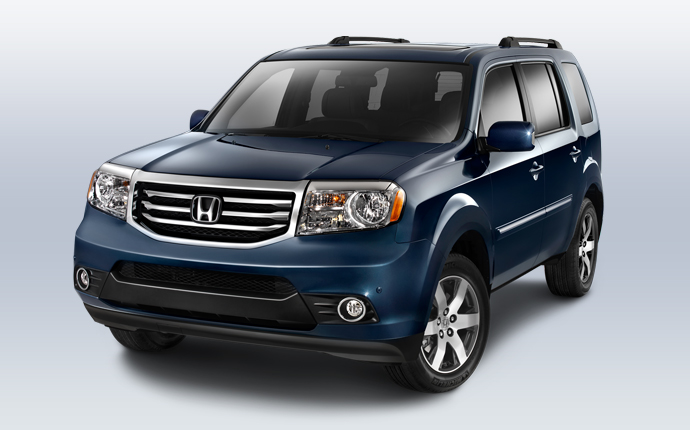 New Search Honda Pilot
Within 75 miles of Amarillo, TX
2012 Honda Pilot Touring 4WD Review
"Love My Pilot!"
Other than poor city gas mileage I have nothing bad to say about my 2012 Pilot. I had a 2010 and the '12 is so much more refined. The engine is great, road noise is improved, the dash and cabin make you feel like you're in a much pricier vehicle. I love my Pilot, even though my wife calls me a soccer mom. The vehicle has seen quite a bit of snow...
No results found. Try a new search with a larger radius, or search for a different model.
Checking your number
We will call you first if it is unverified.
Close
Similar Cars
New Car Listings By City
New Honda Pilot in Lubbock TX

1 dealers, 19 listings starting at $30,250

New Honda Pilot in Wichita Falls TX

3 dealers, 36 listings starting at $30,350

New Honda Pilot in Abilene TX

1 dealers, 20 listings starting at $32,600

New Honda Pilot in Midland TX

3 dealers, 22 listings starting at $30,350

New Honda Pilot in Oklahoma City OK

8 dealers, 105 listings starting at $29,895

New Honda Pilot in Albuquerque NM

3 dealers, 93 listings starting at $30,350

New Honda Pilot in San Angelo TX

1 dealers, 40 listings starting at $30,350

New Honda Pilot in Wichita KS

4 dealers, 48 listings starting at $29,300

New Honda Pilot in Colorado Springs CO

8 dealers, 535 listings starting at $31,850

New Honda Pilot in Dallas TX

14 dealers, 648 listings starting at $26,765

New Honda Pilot in Tulsa OK

6 dealers, 126 listings starting at $29,300

New Honda Pilot in El Paso TX

3 dealers, 60 listings

New Honda Pilot in Waco TX

3 dealers, 69 listings starting at $30,350

New Honda Pilot in Denver CO

11 dealers, 612 listings starting at $31,850

New Honda Pilot in Manhattan KS

4 dealers, 13 listings starting at $34,200

New Honda Pilot in Fort Smith AR

4 dealers, 57 listings starting at $31,950

New Honda Pilot in Tyler TX

3 dealers, 24 listings starting at $29,420

New Honda Pilot in Austin TX

8 dealers, 145 listings starting at $25,997

New Honda Pilot in College Station TX

8 dealers, 83 listings starting at $30,033

New Honda Pilot in San Antonio TX

7 dealers, 72 listings starting at $30,350

New Honda Pilot in Cheyenne WY

4 dealers, 105 listings starting at $31,850

New Honda Pilot in Shreveport LA

4 dealers, 38 listings starting at $29,420

New Honda Pilot in Kansas City MO

11 dealers, 258 listings starting at $30,350

New Honda Pilot in Lincoln NE

5 dealers, 121 listings starting at $31,950