New Ford Shelby GT500 For Sale Near Amarillo, TX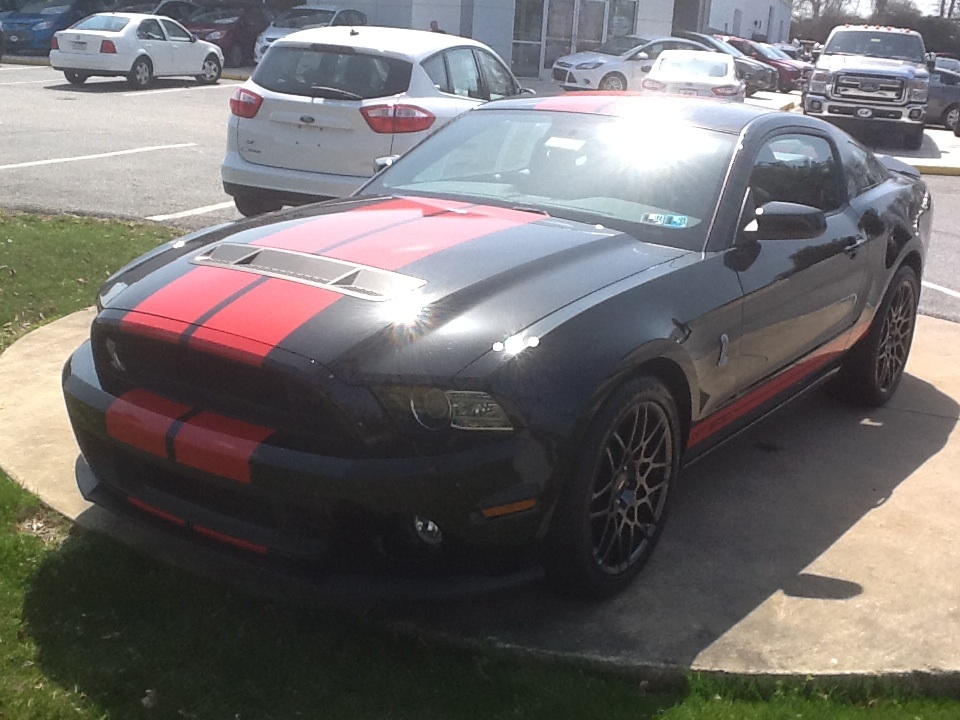 New Search Ford Shelby GT500
Within 75 miles of Amarillo, TX
2011 Ford Shelby GT500 Convertible Review
"this car is excelent before and after customizing"
i like it's looks and top speed ......the rims are eye catching and the paint job is a hit plus got an insurance contract from the company when buying. the car is not for off road driving but can be used for racing,drifting or any other reason except for utility.....
No results found. Try a new search with a larger radius, or search for a different model.
Checking your number
We will call you first if it is unverified.
Close
Similar Cars
New Car Listings By City
New Ford Shelby GT500 in Lubbock TX

9 dealers

New Ford Shelby GT500 in Wichita Falls TX

14 dealers, 2 listings starting at $67,935

New Ford Shelby GT500 in Abilene TX

8 dealers, 1 listings starting at $67,315

New Ford Shelby GT500 in Midland TX

8 dealers, 1 listings

New Ford Shelby GT500 in Oklahoma City OK

35 dealers, 9 listings starting at $64,545

New Ford Shelby GT500 in Albuquerque NM

9 dealers

New Ford Shelby GT500 in San Angelo TX

5 dealers, 1 listings starting at $75,243

New Ford Shelby GT500 in Wichita KS

21 dealers, 4 listings starting at $58,555

New Ford Shelby GT500 in Colorado Springs CO

18 dealers, 6 listings starting at $63,180

New Ford Shelby GT500 in Dallas TX

53 dealers, 14 listings starting at $64,983

New Ford Shelby GT500 in Tulsa OK

27 dealers, 2 listings

New Ford Shelby GT500 in El Paso TX

6 dealers, 8 listings starting at $67,090

New Ford Shelby GT500 in Waco TX

26 dealers, 3 listings starting at $63,905

New Ford Shelby GT500 in Denver CO

25 dealers, 11 listings starting at $57,535

New Ford Shelby GT500 in Manhattan KS

16 dealers, 1 listings starting at $64,825

New Ford Shelby GT500 in Fort Smith AR

19 dealers, 3 listings starting at $73,070

New Ford Shelby GT500 in Tyler TX

34 dealers, 4 listings starting at $67,690

New Ford Shelby GT500 in Austin TX

36 dealers, 8 listings starting at $57,785

New Ford Shelby GT500 in College Station TX

31 dealers, 8 listings starting at $60,235

New Ford Shelby GT500 in San Antonio TX

28 dealers, 8 listings starting at $57,785

New Ford Shelby GT500 in Cheyenne WY

14 dealers, 3 listings starting at $57,535

New Ford Shelby GT500 in Shreveport LA

27 dealers, 2 listings starting at $62,950

New Ford Shelby GT500 in Kansas City MO

44 dealers, 5 listings starting at $64,870

New Ford Shelby GT500 in Lincoln NE

28 dealers, 1 listings