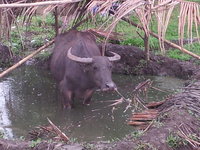 Reputation
Reputation Score: 21,885
Rank: 10th
About Me
I'm an American retired in the Phillipines. I live with my wife and 28 month old son on the island of Bohol in a town named Clarin.
We have a 1994 Kia Deluxe that we bought from an X-pat in Cebu.
... (
More
)
Favorite Question Topics
1995 Kia Sportage EX 4WD
owns
| | |
| --- | --- |
| | Loading Car Details... |
For what it is it's just fine - As an American your putting a big target on your back if you drive a flashy car. All the Asian automobile are here as well as Ford and GM. Driving a new car would bring undue attention to myself and family. A...