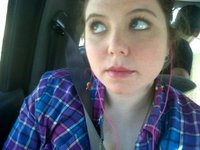 Reputation
Reputation Score: 65
Rank: 10,717th
About Me
I know barely anything about a motor. Im only 22 and am working on that.
Favorite Question Topics
cherikaw has not marked any question topics as favorites.
| | |
| --- | --- |
| | Loading Car Details... |
Amazin - The truck literally will run til it dies. Unfortunately im now working out some bugs. It does alright for an 88. The heater works well if by chance you lets say flip it... You will survivewhle wearing a seatbelt. I love this truck ...