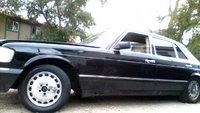 Reputation
Reputation Score: 0
Rank: Unranked
About Me
kathyc4444 hasn't written anything yet.
Favorite Question Topics
kathyc4444 has not marked any question topics as favorites.
1989 Mercedes-Benz 420-Class 420SEL Sedan
owns
| | |
| --- | --- |
| | Loading Car Details... |
Nothing serious, but engine won't start after water was put into the gas tank. It started many times, but wouldn't stay started. I've replaced the Alternator, Distributor cap, Spark Plugs, changed the oil, fuel filter, and tested the f...