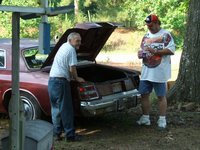 Reputation
Reputation Score: 25
Rank: 161,371st
About Me
RandyNBama hasn't written anything yet.
Favorite Question Topics
RandyNBama has not marked any question topics as favorites.
| | |
| --- | --- |
| | Loading Car Details... |
Will Never Be For Sale Will Continue to keep this car running and driveable - There is nothing i dont like about this car, It is a head turner and its not everday you pull up beside one at a redlight. And if you do dont try it cause they ar...





1 rating