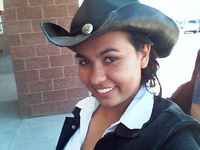 Reputation
Reputation Score: 55
Rank: 11,424th
About Me
Wolf_Girl78 hasn't written anything yet.
Favorite Question Topics
Wolf_Girl78 has not marked any question topics as favorites.
1978 Chevrolet Caprice
owns
| | |
| --- | --- |
| | Loading Car Details... |
Chevy; Like a Rock - This car is gangsta! Haha just kiddin'. My second Chevy, I bought my Caprice Classic for 600 bucks and mechanically it exceeded my expectations. Exterior wise it needs a paint job, all those years of sitting outside. B...
1989 Chevrolet Suburban
owns
| | |
| --- | --- |
| | Loading Car Details... |
Heavy duty work horse - My dad drove his 'burban 2500 4x4 through hell and back, abused the crap outa' it with no oil changes and tune-ups ONLY when the engine stalled, etc. But now that he gave it to me, we gave her some TLC and chopped th...