Saab Turbo X
Model Overview
Saab Turbo X Cars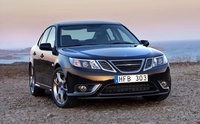 2008 Saab Turbo X reviews:





About the Saab Turbo X
The year is 1978. The Bee Gees ruled the music charts and Kobe Bryant was in diapers. And a Swedish automaker introduced its first turbo engine in the Saab 99. To commemorate 30 years of turbocharging, Saab introduces the 2008 Turbo X as part of its 9-3 segment. With obvious nods to the Saab 900, the Turbo X debuted at the 2007 Frankfurt Auto Show.

Available in both sedan and Combi wagon form, the twin turbo V6 delivers 280-hp. Its aerodynamic form, front and rear spoilers, sport suspension, light aluminum engine housing, and electronic throttle control enhance the sporty performance of the Turbo X. But most distinctive about this limited edition Saab is the combination of XWD with an electronic limited slip differential, splitting torque not only between the two axles, but between the rear wheels when needed. Saab promises this system is the first ever in the family car segment and that the overall package is aimed at improving driving control.

Inside and out, the jet-black Turbo X reeks sportiness, with stylish touches such as carbon fiber and titanium trim and black leather seats. Only 600 models will be produced for 2008, and as part of its marketing, Saab will offer a two-day Turbo X Academy to optimize driver satisfaction.