2014 Jaguar F-TYPE
User Reviews
2014 Jaguar F-TYPE Review Rankings
Have you driven a
2014 Jaguar F-TYPE
?
User Reviews
Displaying all 3 2014 Jaguar F-TYPE reviews.
CarGurus
http://www.cargurus.com
2014 Jaguar F-TYPE S V8 Convertible
Review
Pros
Maneuvers very well and can get you out of a tight spot in a hurry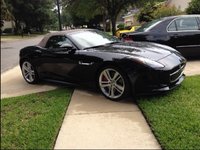 Love This Car — I absolutely love the car. Performance wise: All I can tell you is this thing rocks! The ability to move in and out of traffic and the responsiveness is like no other car I have ever driven. Although this car is very fast, the brakes can stop you on a dime. Comfort and Safety: The seats are adjustable to the point that you can raise or lower the lumbar support. Not just in and out, but up and down as well. You can bring the sides of the back of the seat in or release them out so that you have a nice snug fit or a more relaxed fit. Appearance: It's a beautiful car. I don't believe I have ever taken it out for a spin and not gotten at least one compliment. It will definitely turn some heads. Like I said in the beginning, I absolutely love it and have thoroughly enjoyed driving it. The only draw back is that it does not have a back seat.
Looking for a Used
F-TYPE
in your area?
CarGurus has
1,612
nationwide F-TYPE listings starting at
$46,700
.
CarGurus
http://www.cargurus.com
2014 Jaguar F-TYPE Base Convertible
Review
Pros
This is just the most beautiful car I have seen since the mercedes 230-250 L!!!
Elegant Exterior, Comfortable And Well Appointed Interior Plus Fun To Drive! — We looked at the porsche boxster, bmw z4, mercedes slk, then we saw the Jaguar f type and the search was over. Love at first sight. I think we probably over paid but so what, It makes me smile, what more can you ask?
Primary Use: Sport/fun (spirited driving, track racing, off-roading, etc.)
CarGurus
http://www.cargurus.com
2014 Jaguar F-TYPE S V8 Convertible
Review
Pros
Gorgeous. Compact and elegant proportions with an appropriate dollop of aggression. Great detailing, in and out too. Fantastic seats put you in front of a remarkably simple yet feature-rich dash. All that said, although I spent hours (really, hours) looking at, touching, and exploring the Jag, the real glory is in the driving. I've only driven a loaded V8S, and it's a legitimate monster...sounds, speed, handling...it makes you feel like you're Apollo arcing across the sky. Buy one and your neighbors will hate you. You'll set off car alarms every time you start it up, glassware will vibrate as you drive by, and suddenly their new 911 will seem positively invisible. At $20k more too. Talk about buyer's remorse. Yes, only one drive, but this car rocked my world
Cons
Ok, trunk is small (I don't care), gas mileage is in the tank (I don't care), I think the pop-out door handles are gimmicks (I don't care), it's around $100k for a properly equipped V8S (if I can scrape up about $99k through crowd-sourcing, I won't care).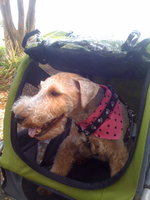 Do You Think I'm Sexy Baby...yeah, Baby, Yeah! — Every once in a while you have an experience that makes you question your fundamentals...I mean seriously consider re-charting your life. Kids, wife, house, 401k...they all seem ready sacrifices at the altar of F-Type. I was lucky enough to score a ride in a black over brown leather V8 S...I was reluctant to drive it at first since the dealership has exactly one on the lot and the car was going to be the centerpiece of the big intro that next week-end. Then I sat in the car, hit the start button and heard the sound of hell and damnation spitting out of the exhaust. A couple of throttle blips had every window in the showroom vibrating like cymbals. OK, Please, let me drive this thing? The car is low, wide, and a touch stubby...it drives that way...but with a torque monster drop-kicking down the road. I was literally giggling two blocks down the road. Now, I've had the good fortune to drive a number of great exotics (thank you World Class Driving), and the Jag had the urge of the Ford GT, the fineness of the Audi R8, and the acoustics of the Alfa 8C. I don't have the quals nor the seat time to rank the F-Type in the pantheon of top performers but I'll say this...it simply is exactly what a sports car is supposed to be. Beautiful, but masculine. Brutal, but civilized. And quite simply, lustworthy in a very special and unique way. Now let me go shop my kidneys.
Primary Use: Sport/fun (spirited driving, track racing, off-roading, etc.)
Displaying all 3 2014 Jaguar F-TYPE reviews.
Reviews From Other Years
Impressive Gt With The Most Astounding Exhaust Sound
This is very much a Jaguar. Elegant, refined, although it does not look exceptionally luxurious. May be the materials used inside could slightly be of higher grade - but then the price tag would be mu... Read More
Read all 2015 Jaguar F-TYPE reviews
Have you driven a
2014 Jaguar F-TYPE
?