2014 Ford Shelby GT500
User Reviews
Average Ratings from

3

reviews
Review Highlights
Click to filter reviews below
Displaying all 5 2014 Ford Shelby GT500 reviews.
Terpman

writes:
2014 Ford Shelby GT500 Coupe
Review
Pros
Massive Power--> 662 HP , A Beast ...Handles so well...nice exhaust note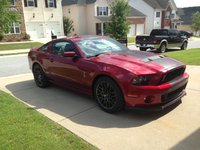 The Best And Baddest Shelby Ever Built By Ford...662 Hp — Hold On..Ear to Ear smiles...not much else to say...Have added some basic Mods..1) Hood struts 2) JLT Oil Separators 3) Ford Racing Engine Caps 4) Custom Front Mats 5) Custom Trunk Mats OEM Car Cover very nice looking
Primary Use: Sport/fun (spirited driving, track racing, off-roading, etc.)
Find a new Ford Shelby GT500 near you
MSRP:
$55,110
Invoice:
$50,288
Search Ford dealers to find exactly the car you want.
davidoldfordfan

writes:
2014 Ford Shelby GT500 Coupe
Review
Pros
Have had hotrods all of my life, I thought my 2012 California Special GT was fast. The day I bought my 2014 GT500 it only had .4 miles....took it out and thought it had engine trouble...floored it and nothing happened, it would barely do 40 mph....called the dealer immediately, ha ha, found out the ecu keeps the car below 45 until it gets 25 miles on it to protect it from the lot porters and to protect THEM from the car. Mine is loaded with the track pack and electronic package and recaro's. Again, I have had some fast cars but this thing is mind boggling, going to work I almost learned a lesson the hard way, pulled out to pass a car at 75 MPH, shifted down in the 4 nailed it, as I pulled out into the other lane, the back end broke loose from wheel spin, yes wheel spin at 80 mph, car went halfway around, I corrected and it came BACK around half way, luckily there was not traffic and no wreck, drivers should be cautious especially if there is anything, water, sand, anything on the road as the car will spin......it is an incredible machine
Cons
My car has the recaros, people rave about them, maybe if you are going to actually race the car at laguna seca they would help but who really does that, I am in good shape but the car is hard to get in and out of because of the recaros, I much prefered the heated power seats in my 2012, but the recaros will make it hold its value well.
Trumps The 427 Cobra — Overall, I am getting about 20 MPH, LAAAWZEEEE, A 662 HP car that get over 20mpg, when I was younger if you had a 600 hp car you would be lucky to get 4 mpg, I love the comfort features of the car, the 220mph speedo gets lots of attention. Overall the car is great, I have dreamed of owning a shelby since an employee of my dads bought a new 1968 GT500, Plan on keeping it
Primary Use: Commuting to work
Anonymous bought one because:
Power, styling, better vision, excellent manual transmission, 1st gear hits 62 mph.
THTSC

writes:
2014 Ford Shelby GT500 Coupe
Review
Pros
Got the car because of the rarity and brute power. Looked at others, but chose the Shelby based on good price, hard to find and future collectible status.
Cons
Small back seat, poor gas mileage, not much room for things in the trunk or back seat. oil changes are $110.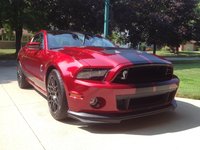 Shelby Gt500, Wow! — Got the car because after looking around nothing had the performance for the price like the Shelby. Sticker price was over $67,000 which was a bit high, but nothing came close for what the car can do for the money. No dislikes, fun to drive, always gets attention and the sound it makes puts a smile on each time. Very rare car that will be sure to appreciate in value down the road. Poor gas mileage, lack of space in the trunk and back seat are negatives but most people will not buy this car for those reasons. Would be nice to have power adjustable seats and heated and cooled too. Back up camera also would be nice to have as most cars have them today.
Primary Use: Sport/fun (spirited driving, track racing, off-roading, etc.)
THTSC

bought one because:

Very rare, awesome performance and great value
Displaying all 5 2014 Ford Shelby GT500 reviews.