2013 Kia Optima
User Reviews
2013 Kia Optima
Review Ratings
Average Ratings from

7

reviews
Review Highlights
Click to filter reviews below
Displaying all 7 2013 Kia Optima reviews.
TexanJC

writes:
2013 Kia Optima EX
Review
Cons
No spare tire, bad Roadside Assistance

Great Car, Bad Roadside Assistance — I love the car, which has 300 miles on it. But two days ago boom, I hit the curve on a tight spot at work. As soon as I stepped out I heard the air blasting out. So I knew it was my fault, that it was not covered by warranty, that I had to buy a new tire. Sure. But somehow I had to get the car to a shop -- as you know, these cars don't have a spare. And the 'fix a flat' kit included wouldn't fix a 1" gash to the sidewall -- BTW, these 'low-wall' tires though sporty and nice, have a larger propensity to side-wall damage. Before calling KIA Roadside Assistance I researched the tire and called a couple of shops close by to make sure they had the size in stock. BUT KRA would ONLY tow to nearest dealership! So that's 10 and 20 miles for the two closest to where I was. Even though Firestone is just behind my building (less than 1 mile away), and DT is a bit further out, they would NOT cover the tow, per their 'policy'. So either the dealership or nothing. To MAKE MATTERS WORSE, I had called BOTH dealerships and they did NOT have any tires in stock! So I would be stranded for 1-2 days while they ordered the tire. A loaner? No way, they said. So my great warranty roadside assistance program ended up being my wife (and baby in tow), a trip to a parts shop to get a tire-plugging kit, and getting my hands dirty. The kit held the air long enough to make to Firestone, where they put on a new tire in 20 minutes. KRA is such a joke. Yes, I get it that if anything else breaks under warranty a KIA dealership would know best. But tires???!! They are NOT even covered under their warranty! They are such commodity. Anyone can sell and put one on. In my scenario if KRA would have worked as it should, I would have had the car towed and fixed within 2 hours, vs 1-2 days + travel time to/from the dealership. What a SHAME! If they insist you need to be towed to their dealership at least they need to ensure they have the tires in stock OR get you a loaner meanwhile.
Primary Use: Commuting to work
Looking for a Used
Optima
in your area?
CarGurus has

37,391

nationwide Optima listings starting at

$1,900

.
Ms_Illusion_1974

writes:
2013 Kia Optima SXL
Review
Pros
It is okay fora basic 4 door car, but nothing I would buy again
Cons
Lots of road noise and interior sound, bad gas mileage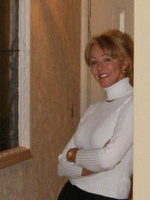 Would Not Buy Again,,, — Overall, I was greatly dissapointed on the gas mileage, and again on the way it handled in the snow,,they used a lot of plastic exterior parts when building this car, and just not the quality I was hoping for-
Primary Use: Commuting to work
robh693

writes:
2013 Kia Optima SX
Review
Pros
Acceleration, Fuel economy, trunk space, seat comfort.
Cons
Limited view to the rear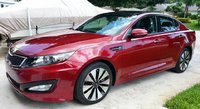 Inexpensive Car With Luxury Appointments — I bought the Optima new in July 13. It came loaded with every imaginable option from courtesy lights that light up at night when you approach to keyless entry and starting...all for under $26k. The turbo allows for effortless acceleration and averages 24 in town and 31 on the highway at 80 mph. Interior touches are sporty and luxurious and handling is spirited. The only down side is the view to the rear which is wanting due to the styling, the rear camera does help.
Primary Use: Family transportation
kiaman2112

writes:
2013 Kia Optima SXL
Review
Pros
Love everything about my Optima!!! Best VALUE I have ever purchased!!!

Best Overall Value !!! — For the money you can't beat the Kia Optima!! Former Acura TL, Honda Accord, Toyota Camry owner!!!! And the peace of mind with the 100k warranty all manufactures should do this!!! A must buy for anyone in the market for a midsize sedan!
Primary Use: Commuting to work
JimDeGrinis

writes:
2013 Kia Optima SX
Review
Pros
Great family car. Very reliable and safe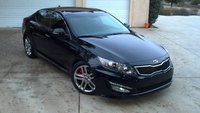 Good Car All Around. — I think the Kia is a great vehicle with very little to bring it down. it is a great family in car with lots of power. The fuel economy on this car is very good. Over all this is a good vehicle for around town, or even as a commuter car.
Primary Use: Commuting to work
JLF

writes:
Pros
I love love love how my 2013 Optima looks and for the most part how it handles, but I am having some problems with a couple of things so far.
Cons
Having steering wheel, lock, and ignition problems.

Gorgeous Car, Great Ride But Having Some Problems. — First it is very tempermental about allowing me to lock the doors with both the door fob and even manually. If I get out of the car and I hear the bell chiming, I know it isn't going to lock, but I've tried everything to find out why it's chiming. I can get in and drive across the parking lot and try it again and it will be fine, so I know it's not anything I am doing. Very aggravating since I'm replacing a vehicle that was stolen, I certainly don't want it to happen again. The next thing that happened is that my husband was backing the car out and put it in part and shut the car off quickly and the car totally locked up. It wouldn't let the key turn, and the steering wheel was locked tight. I had to call roadside assistance and they said to push in on the brake, turn the ignition and yank on the steering wheel to the left real hard at the same time. Well, that did work but again...very disappointing. Now today, I made a quick stop to run in to a convenience store and the key wouldn't turn to let me shut the ignition off. I tried several times and finally gave up. Then I made another stop and it was fine. Scared to take in too far away from home....this is my 3rd Kia and this is the first disappointment.
Primary Use: Family transportation
DustinD

writes:
2013 Kia Optima EX
Review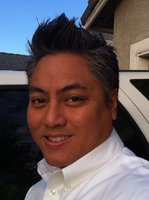 Great Bang For The Buck! — I looked for this car for a long time and finally found the perfect one at the perfect price on cargurus.com! We saw a lot of LX models for the same price as we found the EX model (which was actually cleaner and had more upgrades than several of the LX's). Thank you Cargurus.com!
Displaying all 7 2013 Kia Optima reviews.
Looking for a Used
Optima
in your area?
CarGurus has

37,391

nationwide Optima listings starting at

$1,900

.