2013 Ford C-Max
User Reviews
2013 Ford C-Max
Review Ratings
Average Ratings from

3

reviews
Review Highlights
Click to filter reviews below
Displaying all 3 2013 Ford C-Max reviews.
jgreene3tx

writes:
2013 Ford C-Max SEL Energi
Review
Pros
WOW! Drives great, low road-noise, nice accoutrements and features, great technology package, Michelin low-rolling resistance tires, comfortable ride.

Finally; The 100+ Mpg Car Built In America - Only Took Them 30 Years Since They Promised It! — We haven't had the C-Max Energi long (less than 2 months now); it's become clear that we must purchase a Level 2 EV charger (230v, 32amp) to achieve the highest fuel mileage, since many of our daytime trips don't allow enough charge time using the 110v charger that comes with the car. Most recent fill-up we've gone 330 miles, 254 of which were EV miles, so it's currently getting about 130 mpg - which would be considerably better with a faster charge rate. We've listed all our mileage on Fuelly dot com. Without consistent charging it's gotten as little as 70 mpg (we think part was due to our new-car-excitement, and learning how to get the most out of the car). Also, the engine comes on to heat the car, so the engine occasionally runs when it otherwise would not need to. Ford should have made it easier to obtain the Level 2 charging equipment, or sold it as an option with plug-in vehicles. The only way to get a Ford branded EV charger is to go through Mr. Electric, otherwise you have to research what amperage the vehicle requires and find a suitable substitute in order to obtain a cost-effective 230 volt, 32 amp, quick charger (Ford recommends the Leviton charger, the Evr-Green line provides the highest amperage for a home charger that I've found online). This vehicle is SO much nicer in every aspect than our former 2010 Prius Five, it's hard to consider them in the same class.
Primary Use: Family transportation
Find a new Ford C-Max near you
MSRP:
$25,170
Invoice:
$23,472
Search Ford dealers to find exactly the car you want.
Tellio22

writes:
2013 Ford C-Max SEL Hybrid
Review
Pros
Very long trips no problem because the seats are so comfortable. First car I owned that I can spend all day without to much trouble. Very powerful, drove the competitor's Prius does not come close. The passenger space is almost as big as my sisters Honda CRV but with more comfort.
Cons
fuel consumption is not as good as ford promises.

Tall Persons Dream Car Surprise Comfort. — Still driving, hoping to see improved MPG but enjoy the very impressive and powerful drivetrain. Forget that this is a hybrid it looks and drives like a very nice family car and with a little negotiation it is almost the same price. We use the Bluetooth phone and other my-touch features. The original Ford Sound system sounds as good as the Sony extra charge system.
Primary Use: Family transportation
vidsmith

writes:
2013 Ford C-Max SEL Energi
Review
Pros
Great car to drive. Very quiet in electric mode. 20 mile range is good around town. Seamless switch to the gas hybrid when you need it. Comfortable, stylish, overall cool!
Cons
Wish I could go farther on a charge, but I live in a small town so not much of an issue.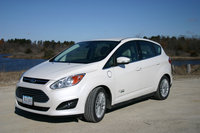 An Exciting New Concept — A new driving experience. Around town I just use the electric mode. Good acceleration, braking and handling. Have the MyTouch system and find it pretty useful so far and not as buggy as I had heard. Fit and finish is great. Lots of space inside with the higher roof line. Getting use to the range on battery. Heating and cooling draw down the battery faster. You can actually see the numbers on the range estimate change when you toggle the climate system off and on. GPS has been pretty good so far. A few little quirks in finding a destination and entering it. Nice that you can turn off voice directions.
Primary Use: Commuting to work
Displaying all 3 2013 Ford C-Max reviews.