2013 Audi A4
User Reviews
2013 Audi A4 Review Ratings
Average Ratings
from 4 reviews
Review Highlights
Click to filter reviews below
Displaying all 4 reviews
Corbee

writes:
2013 Audi A4 2.0T Quattro Prestige Review
Pros
Good off-line turbo, better gas mileage, much improved ergonomics, controls, and MMI (including new nav system - improved voice commands, Goggle, jukebox, and 3D GPS!), new tech features like SIM cards, wi-fi, and DVD player. Great new classy interior colors. Sharp looking new headlights and tail lights - bright and quick brake lights!

Audi Got Everything Right! Great Upscale Luxury And Performance Car. — If you're in the market for a upscale luxury and performance car, there's none better than the Audi A4! The changes from the previous model year are significant enough to make the new 2013 even better than the 2012 model -- especially the updated 3-D GPS with Google maps. Audi has the best interior quality and features in the business. It's a great choice for any transportation use -- driver's car or commuter car. Buy it and enjoy it!
Primary Use: Commuting to work
Find a new Audi A4 near you
MSRP:
$33,800
Invoice:
$31,434
Search Audi dealers to find exactly the car you want.
ajovan01

writes:
2013 Audi A4 2.0T Premium Plus Review
Pros
great cabin comfort & features. Extremely quiet ride.
Cons
takes a while to learn the electronics and controls. Trunk space is functionally smaller than it looks.

I Love This Car A Lot More Than I Should — Overall, I really like this vehicle. Styling, features, ride, it's the complete package. It's not a family sedan, but a wonderful car to hit the road and enjoy the ride. I primarily use it to commute. I love being able to keep up to date with the satellite radio and streaming podcasts.
Primary Use: Commuting to work
Ready2SellDeal

writes:
2013 Audi A4 2.0T Quattro Premium Plus Review
Pros
Fantastic handling especially in curves. The active suspension makes this thing corner better than a BMW. Love the 8 speed transmission and manual sports mode. Very quite as well.
Cons
Needs more leg room in the back. Ok for kids not for adults.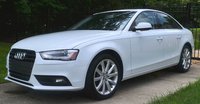 Love It. A Great Value For The Money. — This car has a lot of get up and go with great torque on the low end. A ton of fun to drive especially on tight curvy roads. The multi-media system allows you to add your entire music collection to an SD card and upload it to the cars 40 GB hard drive. The interior is much quieter than my old Lexus LS400 so the music (or phone calls) come through crystal clear.
Primary Use: Commuting to work
tvieso

writes:
2013 Audi A4 2.0T Quattro Premium Plus Review
Pros
Ride comfort, cabin noise, interior styling, ergonomics, quickness (torque)
Cons
Engine sound, exterior styling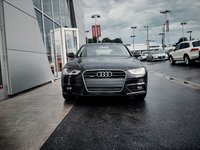 Great Car For The Price! — Overall, I really like this car compared to any other cars in its class. I've only ever owned European cars and am particularly fond of German cars. So when I was narrowing down to what I would consider, I had a couple of things in mind: Sedan or coupe that wouldn't break the bank, something with AWD that would do well in the snow and something reliable with a good warranty/maintenance coverage. It basically came down to a BMW 3-series (non-turbo) or an Audi A4. I've had two BMW's already - an '12 M3 and an '07 335i. I was a bit nervous about stepping down to a 4-cyl, but to be completely honest, it's pretty quick and I am completely satisfied with it. The only thing that bothers me a bit is the actual sound of the 4-cyl. By hearing it, you'd definitely be able to tell that it's a 4. Getting past that though, it's been a beautiful car so far. This is my first Audi and it's been very refreshing to get away from the styling of BMW. It's not that I don't like BMW's styling - it's just that I wanted something different. There are a lot of nice features on the A4 that Audi took the time to integrate; areas where BMW falls short. Lighting is one of these. The headlights, even though they don't have adaptive functions, are incredible. They look aggressive from head-on and the illumination of the road is phenomenal. The lighting on the interior of the car is great too. It's all white LED. This is something that looks better, illuminates better and uses less energy. It's not an expensive feature and I have no idea why other car manufacturers don't make this standard. Audi does this and it's nice. Another thing is the misting feature on the wipers. Like it should be on any car, the squirters are "under" the hood and heated to protect from corrosion and freezing. When you activate the mist feature, it wipes 3-4 times...AND THEN...it waits about 5 seconds and wipes a final time. Genius! We all know that you get some extra trickles down the windshield after the first few wipes. This eliminates that. Awesome. Not a huge game changer, but when someone takes the time to consider and integrate these features...it makes you feel good and it adds to the entire experience. Another thing I enjoy is that when I put the transmission in "sport" mode, it doesn't automatically revert back to the normal "drive" mode after putting it in park or going into tiptronic mode. Customization of the electronics is pretty extensive in the A4. For example, you can customize the actual tone of the backup camera beeping, the loudness of it and how quietly the music gets turned down while activated (if you want it turned down at all). There are several more features like that I can't remember right now, but you get the point. Audi takes the time to integrate these minor but courteous, no-brainer features where others do not. Proper. And like I said earlier, the car doesn't disappoint mechanically at all. Ride comfort is perfect, the 8-speed shifts smoothly and quickly in all modes, cabin noise is extremely minimal, gas mileage is great and stops on a dime. The only things I don't like so much about the car or am having a difficult time getting used to are: scrolling clockwise on the navigation screen moves the cursor up and not down and vice-versa; shifting up requires a forward push rather than a pull back (like BMW); exterior styling is just a tad conservative for my tastes. BUT, I like to mod my cars anyway and the benefits of everything else about the car FAR outweigh my extremely slight animosity towards these last few "cons." Oh, and I'd also like to add that I customized a comparable 328i X Drive just before writing this review and it came out to over 50K. The A4 was 43K loaded. Anyway, go drive both or whatever else you're looking at. Never buy a car without researching extensively and driving them yourself. Hope this review helps. Cheers~
Primary Use: Commuting to work
Displaying all 4 reviews
Ask CarGurus about the 2013 Audi A4
Average response time:
8.5 hours
,
# of Audi A4 owners:
7,000