2012 Honda Accord
User Reviews
2012 Honda Accord Review Ratings
Average Ratings
from 5 reviews
Review Highlights
Click to filter reviews below
Displaying all 5 reviews
JayJones

writes:
2012 Honda Accord EX Review
Pros
Attractive vehicle, build and fit are top-notch.
Cons
The front seat as delivered was too uncomfortable to keep the car.

Test Drive Or Sit In The Front Seat Of The New Accord A Couple Hours Before Signing. — After being okay on the test drive, the 10-way power driver seat is impossibly uncomfortable for drives longer than about 30 minutes. Feels like a bulge pressing into the center of my back, dealer inspected it and said it is normal. Car was garaged with 200 miles, was going to trade in at huge loss or replace seats with aftermarket ones (not a great solution). Lots of complaints online, didn't expect anything like this from Honda. Update: The active head restraint system is what pushes up against the seat occupant's back. Steps to remove the seat back upholstery and a couple methods to remedy the problem can be found here. Caution: some of the remedies disable the active headrest system. http://www.hondaaccordforum.com/forum/diy-answers-28/how-fix-lumbar-lump-2008-accords-hurt-your-back%2A-37122/
Primary Use: Commuting to work
Find a new Honda Accord near you
Search Honda dealers to find exactly the car you want.
Kevin

writes:
2012 Honda Accord SE Review
Pros
better than alot of other sedans it competes against
Ehhhhhh — pretty fast if you start from 1st it speeds up nicely, can burnout. speedometer goes to 160 if you mod the engine eneph you could actualy get it to that. gets over 120 tho. gas millage is good 20-40/. leather seats heated lots of drunk space and leg room
Primary Use: Commuting to work
Dr_lyle

writes:
2012 Honda Accord EX-L Review
Pros
The styling and the price of this car are phenomenal.
Cons
Wish the trunk was a little bit bigger but its still a decent size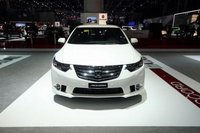 Most Reliable Vehicle I Have Ever Owned — This Accord should be compared and is equivalent to the apperance to BMW, Audi, and Lexus. I can't express enough about the ride quality and all the features this car has to offer. Everyone who is looking for a flashy car that holds its value should own one of these. My salesman Chris over at the Honda/Nissan Dealership in Grand Forks ND was very helpful in my purchase decision. Highly recommended young fella.
Primary Use: Commuting to work
Nick

writes:
2012 Honda Accord SE Review
Pros
it's an outstanding car
Very Reliable — Well it's my dads car but i'm the son so therefore it's half mine. It performs very well for a 4 cylinder engine. The payments on this car is $379.00 a month. It also has a usb port for playing mp3 music. Also, it gets great gas mileage. It even has a sweet interior.
Primary Use: Commuting to work
colt1210

writes:
2012 Honda Accord SE Review
Pros
Good handling, very roomy in front and back seats, very good fuel economy. Over all very well designed car
Cons
Road noise to loud at highway speed. should upgrade tires. The front seats are very hard. This could be a deal breaker.

Very Well Designed Car — This is an excellent grocery getter and family car. The car has excellent safety features and gets good gas mileage. Suspension and chassis is well thought out. The transmission shift points work very well for performance and economy. Honda accord even though has dated styling the car still performs well. The only issue I have is with the "hill assist" the transmission will downshift going down all hills. This feature is very annoying and I wish I could turn it off.
Primary Use: Family transportation
Displaying all 5 reviews
Ask CarGurus about the 2012 Honda Accord
Average response time:
8.5 hours
,
# of Honda Accord owners:
14,523