2012 Dodge Challenger
User Reviews
2012 Dodge Challenger Review Ratings
Average Ratings
from 5 reviews
Review Highlights
Click to filter reviews below
Displaying all 5 reviews
Kyle

writes:
2012 Dodge Challenger R/T Review
Pros
This car is a maniac
Dodge Challenger 2012 — This all american Challenger is stylish and powerful. It has 376 horses and rear wheel drive, 0-60 is around 5 and a half seconds. It has decent fuel economy compared to some of my other cars. 15 City / 23 HWY.
Primary Use: Sport/fun (spirited driving, track racing, off-roading, etc.)
Find a new Dodge Challenger near you
MSRP:
$25,995
Invoice:
$25,041
Search Dodge dealers to find exactly the car you want.
challenger2012

writes:
2012 Dodge Challenger SRT8 392 Review
Pros
Great sports car. Nice speed.
Cons
There is really no room for someone in the back seat and it takes premium fuel.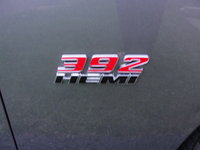 Awesome Car!! — This car rides smooth. Just had the cold air intake put on. It is always in the garage and was stored over the winter. Oil change was just done 1 month ago. Love the sunroof!! The speed is very cool!!
Primary Use: Sport/fun (spirited driving, track racing, off-roading, etc.)
tazdale

writes:
2012 Dodge Challenger R/T Classic Review
Pros
Looks, power, interior room
Cons
Massive blind spot in a-pillar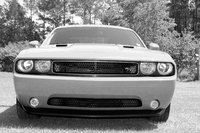 The Muscle Car I Wanted When I Was A Kid, But Was To Young To Drive! — This car has drop dead looks, even while it is parked. Everyone has a Camero or a Mustang, just start counting , and see how many Challengers are out there everyday! This car is great for weekend driving, hard driving, or just cruisin around, but it is not a daily driver. The Only reason that I say that, is because of the gas milage, and the fact that I want to keep the miles off of my car.
Primary Use: Sport/fun (spirited driving, track racing, off-roading, etc.)
magnumforc

writes:
2012 Dodge Challenger R/T Classic Review
Pros
Retro look, turns heads, fast, roomy, comfortable
Cons
Poor gas mileage, blind spots, no rear camera or perimeter collision avoidance system offered in 2012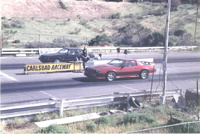 A Great Tribute To The Muscle Cars Of The 70's — The Dodge Challenger is a great tribute to the muscle cars of the 70's. True, it's a bit on the heavy side, but the snarling Hemi under the hood puts all that into proper perspective with a press of the gas pedal and the lift of the clutch. The Challenger is more roomy than the Mustang or the Camaro and while not as nimble in some respects, makes up for it as a great cruising machine, and can be driven long distances in comfort, in the well appointed leather interior, with steering wheel mounted audio and phone controls, cruise control, and choices in display for the readouts in the Electronic Vehicle Information Center, even including a 0-60 time for those wondering just how fast this beast really is. The ride is crisp but not overly rough. It won't remind you of a luxury car in any case, but won't rattle your fillings out either. Solid on any terrain with little axle tramp or wander. I prefer the 6 speed over the automatic, as I prefer to row my opwn boat. Also, the exhaust on a stock R/T has a much better sound on the stick than the automatic, a throaty growl that just can't be ignored. Plus, the sutomatic comes standard with the MDS multi cylinder displacement system where 4 cylinders are cut out at cruising to save fuel. Great for the EPA and very bad on timing chains acording to the Challenger forums where many failures have been reported. The manual transmission cars do not have the MDS system and suffer a mile or two in fuel mileage on the highway, but the longevity in engine reliability sure makes up for that in my book. One downside of the stick vs auto is the auto uses regular grade fuel, the stick uses premium, so there is another trade-off at about twenty cents a gallon if cost is to be a significant factor in your choice of transmissions. The R/T Classic includes many upgrades including power drivers seat, HID headlights, stripes, 20 inch Envy Alloy wheels, and with the Super Track Pack option, you get Goodyear Supercar F1 performance tires as well. The navigation system is by Garmin and the stereo options are good. I opted for the 430N package with Sound Package II and the Nav package and find it to be very good. Not audiophile by any means, but very good for the listening I do. The trunk is voluminous, and the fold down rear seats are a big plus for skiers or others needing extra space. Avery versatile car for the small family, or, in our case, a nostalgic trip to the past for the two of us cruising the Pacific Coast Highway and Route 66.
Primary Use: Family transportation
Griz63

writes:
2012 Dodge Challenger R/T Review
Pros
S tylish and lots of torque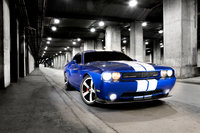 Cclassic Muscle — I love my new car.. The rt has plenty of power and I didn't think the srt8 was worth the extra twenty grand. I get complements every day. Of you don't want attention then don't get this car. It is the most fun I've ever had on a car. You only have to change the oil every 8000 miles lol.
Primary Use: Commuting to work
Displaying all 5 reviews
Ask CarGurus about the 2012 Dodge Challenger
Average response time:
8.5 hours
,
# of Dodge Challenger owners:
3,509