2011 Ford F-150
User Reviews
Average Ratings from

24

reviews
Performance:
Appearance:
Build Quality:
Overall:
Review Highlights
Click to filter reviews below
Displaying 1 - 10 of 24 2011 Ford F-150 reviews.
Emrldeye

writes:
2011 Ford F-150 XLT SuperCrew 5.5ft Bed
Review
Pros
Race red with lots of chrome. 5 liter engine 6 speed,all kinds of power.Power seats very comfortable excellent for good posture while driving.Remote start and door lock security. Rolln lock bed cover tinted glass.Easy to get in lots of leg room.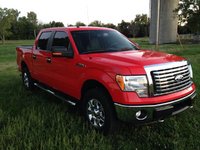 Excellent Ride! — You can be running 70 mph and not realize it.The wheel base and suspension make this an excellent ride.The engine torque and six speed transmission get you moving fast early.Race red paint, chrome wheels, and step bars are very bright and appealing.Power bucket seats fit like a glove and adjust precisely to the driver.
Primary Use: Family transportation
Looking for a Used
F-150
in your area?
CarGurus has
98,831
nationwide F-150 listings starting at
$1,500
.
coreyyoung08

writes:
2011 Ford F-150 XLT SuperCrew 5.5ft Bed 4WD
Review
Pros
Very roomy and comfortable
Love It — Love how roomy it is and comfortable. Good gas mileage also for a 5.0L getting 16mpg! Also has a feature to run on Compressed Natural Gas and gets around 35-40mpg. Love the sync feature allowing me to play music through my phone and make calls all hands free!
Primary Use: Commuting to work
castle55

writes:
2011 Ford F-150 XLT SuperCab 6.5ft Bed
Review
Pros
The thing I like the most about my F-150 is the 5.0-liter four-valve dual-overhead-camshaft Ti-VCT V8. It has360 horsepower at 5,500 rpm and 380 lb.-ft. of torque at 4,250 rpm· I has good fuel economy for a truck and is Best-in-class with 9,800 pounds maximum trailer tow.
The back seat is comfortable enough for medium length trips of two to three hours for adult to not cramp up, and for kids (well, they're kids, they have to adapt).
The XLT features chrome exterior trim (including the grille), an upgraded cloth interior, cruise control, and full power accessories.
Most of all it very comfortable and has height-adjustable brake and gas peddles to further accommodate the driving position. The cab is comfortable and well appointed.
The basic information center has enough techie information and settings for those who like to use their time programming stuff.
The truck bed is deep and even though I have not had a bed-cover on my previous trucks I like this one as it keep things out of sight, dry, and still pretty accessible. If I need to move a refrigerator; I can take it off. The cover might actually help with fuel mileage on the highway (at 23+/-mpg) , but not around town where I get about 12.6 mpg average.
A very nice 2WD Truck with a comfortable ride, and great freeway mileage
Excellent A/C, Heat and Vent system. The round dash vents are a most clever design with the capability of 360 degree rotation and positioning.
Key F-150 options include the SFE (superior fuel economy) package that's available on both the 2WD SuperCrew XL and XLTs with the 4.6-liter high-output V8. The SFE package includes the 5.5-foot bed, a 3.15:1 rear axle ratio and low-rolling-resistance tires.
This truck provides reliable, shop-free service for me. I bought it used with 60,000 proven miles on it and I do my own basic maintenance.
Cons
1. Perhaps the factory wheels could be a more standard size as the 17 inch wheel limits the tire choices, although the Dunlops are a great addition for replacement

2. This is the only complaint I have about the mechanics of the vehicle. It is documented in plenty of online forums going back a few years, so it is puzzling why the FORD engineers haven't gotten to remedying the problem. Otherwise the F-150 is a 21st century technical marvel! The drive shaft is a two-piece construct. They are known to become lubrication dry in the yoke where the two driveshaft splines mesh, after so many miles in service; The driveshaft is designed to move slightly back and forth, and when the Poly-lube drys out the inside yoke of the shaft will stick due to tension and then it releases with a 'bump' (or slap) that you can feel through the vehicle, and upon the vehicle stopping and starting to go again it 'resets it's position with the bump.
Is it harmful to the drive-train? Probably not, and Ford does know about the fix in the form of a kit you can buy at the dealer, with the lube, rubber boot and calmps, to re-lube the splines.
If you are under warranty, the dealer should do the re-lube for free.
3. The transmission is a bit sensitive to slower parking lot speeds, tending to shift into 2nd gear, as it senses a 'lift-throttle event' as the time to up-shift. Sometimes I place it in manual mode to remain in 1st gear to avoid SelectShift's confusion.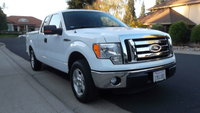 Love The Sound Of The Truck Exhaust Note On Spirited Acceleration. — 2011 FORD F150 5.0L V8 32V F/I SMPI The 5.0 V-8 has a Six-Speed automatic powertrain. The 6-speed 6R80 transmission SelectShift Automatic progressive range select and manual electric shift mode is a great combination especially for mountain or hill driving when you need to remain in the same gear on windy roads or downgrades. 4-Wheel Disc brakes provide good stopping power. The interior is well appointed with grey fabric (which I really like) . The design and look of the dash and gauges is set up for good ergonomic interaction. It puzzles me why the interior stylists place so much chrome trim in the interior when it can reflect sunlight into your eyes. Is there glare-absorbing chrome out there? I have driven this truck in the mountains and on two-lane country roads. It has great engine power, balance, and handling if you push it. I feel very safe driving this truck.
Primary Use: Utility (towing boats, transporting cargo, etc.)
Npbball

writes:
2011 Ford F-150 XLT SuperCrew 5.5ft Bed
Review
Pros
Roomy, rides great, gets the job done
Cons
Factory Michelin tires were not good, replaced them and truck looks and rides much better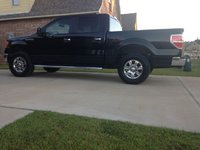 Great Truck For Truck Lovers — Roomy vehicle and great for long trips . Looks great and handles well. Sync makes listening to iTunes music a breeze so you don't have to get tired of talkative djs. Love my new toyo open country tires because they add a tough look to the truck instead of factory tires.
Primary Use: Commuting to work
debwhite57

writes:
2011 Ford F-150 Lariat SuperCrew 5.5ft Bed
Review
Pros
Roomy, great visibility, comfort A-1, looks great, better than expected gas mileage
Cons
Big step up to get in, 18-20 mpg,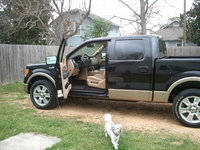 Awesome Vehicle — I love my ford f-150 lariate, beautiful, extra comfortable, roomy. Ford makes the best looking truck anywhere. I would recommend this vehicle to everyone, especially if you have a large family or members of the family are especially tall.
Primary Use: Family transportation
Freyguy08

writes:
2011 Ford F-150 FX4 SuperCrew 5.5ft Bed 4WD
Review
Pros
This truck can do it all! I love the power of the Eco-Boost. Doesn't really get much better MPGS than the 8 but its not terrible. Very comfortable.
Cons
Kind of a quiet start for me. I like a truck to sound like a truck and make the pictures on the wall rumbler.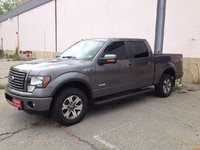 I Love This Truck! — I got my first F-150 in 2009 when the body style was changed. I loved that one and decided I will always have the 150's as long as they don't change too much. The power is incredible, the room in the back makes it so I can have the drivers seat all the way back and everybody has plenty of leg room!
Emrldeye

writes:
2011 Ford F-150 XLT SuperCrew 5.5ft Bed 4WD
Review
Pros
I'm 6'2" tall this truck has plenty of leg room. The power seat helps fine tune my sitting position and maintain posture support.
Cons
The price of gasoline.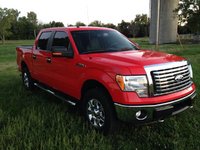 Very Nice Ride! — 5.0 liter has plenty of power, 6 speed shifts early and really gets me rolling.Long wheel base and performance suspension rides nice and smooth.The race red paint,chrome step bars, and 18" chrome wheels makes for some real eye candy!
Primary Use: Family transportation
Geoffery

writes:
2011 Ford F-150 FX2 SuperCab 6.5ft Bed
Review
Pros
Powerful, stylish, trendsetter, useful
Cons
Gas, backseat space I should have went for the super crew cab
Love It — A 7,500lb pick up doing the 1/4 mile in 14 seconds with tires that have over 70,000km of use on them is amazing to me. This truck handles really well too. The brakes never seem to fade. The it tows really well too. Really fun to drive, really easy to drive. Not bad for a truck on gas. Not bad for maintenance either. 80,000 km on the original brakes still has about 40% left. I love the look and the quality.
mikes85z

writes:
2011 Ford F-150 FX2 SuperCrew 5.5ft Bed
Review
Pros
Ecoboost has great power

Great Work Truck — I have put 60,000 miles on the truck, and it still rides amazing. I tow a 27' boat that weights 9000lbs and a car hauler that weights 7500lbs ,the motor pulls like mad. If you tow a lot I recommend putting a rear sway bar and air bags, it made a huge difference in my case. The Sony system is a must if you get a new F150
Melwinn

writes:
2011 Ford F-150 Platinum SuperCrew 5.5ft Bed 4WD
Review
Pros
This is my favorite half ton truck currently made. Have had no issues and it is a blast to drive.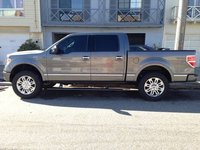 Favorite Truck So Far — Lots of room, plenty of power, and super comfortable and luxurious. This truck has it all. Even gets decent gas mileage compared to other cars of this size. Cant think of anything i havent enjoyed about this vehicle, i have convinced a few of my other friends to buy F150s based off of this truck as well.
Displaying 1 - 10 of 24 2011 Ford F-150 reviews.
Looking for a Used
F-150
in your area?
CarGurus has
98,831
nationwide F-150 listings starting at
$1,500
.