2011 Buick LaCrosse
User Reviews
Displaying all 6 2011 Buick LaCrosse reviews.
Kevin

writes:
2011 Buick LaCrosse
Review
Excellent — Quality is back at GM. Old guard management is gone/ They have listened to the engineers/ This by far the best GM car that I have owned. The car guys are in charge thanks to the Government bailout and reorg of GM. They now are in tistening to the needs of the consumer.
Primary Use: Family transportation
Looking for a Used
LaCrosse
in your area?
CarGurus has
18,289
nationwide LaCrosse listings starting at
$2,995
.
southernbiker5060

writes:
2011 Buick LaCrosse CXS
Review
Pros
The power and handling are exellent! I travel to Tennessee at least once a month. (8+ hr. drive) Incredibly comfortable, reliable ride with plenty of room. Special features reduce outside noise while you enjoy an excellent audio system. Gas mileage is an added bonus!!!
Cons
Front end is made the "not so perfect height". Pulling into parking spaces, the bumper slides easily over curbs, etc. When backing up, the bumper gets hung on the parking divider or curb area and can damage the fiberglass.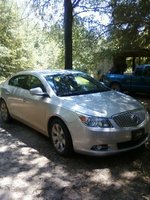 Love, Love, Love This Ride!! — You couldn't ask for better handling. Takes off and accelerates with ease. I feel extremely safe in driving this car. It's luxury at it's finest. Who knew you could own a vehicle classified as a sedan that could be so fun to drive. 35,000+ miles and no problems yet!
Primary Use: Family transportation
aguarino

writes:
2011 Buick LaCrosse
Review
Pros
Too Many to List (See Previoious Review)

It "is" Breathtaking Inside And Out — About as awesome as you can get. Gorgeous (mine is black with chrome trim), fun to drive, comfortable leather, heated and cooled seats, heated steering wheel, bluetooth, fog lights, panoramic sun/moon roof, sun shade in rear window, keyless entry and start, the beautiful ice blue ambiance lighting is quite the comforting touch and beautiful to look at,,,,Oh and did I mention, Sooooooo much fun to drive. The outstanding modern look of the body and the softness and richness of the leather interior are second to none. Oh Yes and Soooooooo Much Fun To Drive! One and only one complaint is the small trunk. I had to scale down, but it is a small price to pay for all of the rest that you get. It "Is" Sooooooo Much Fun To Drive!!
Primary Use: Commuting to work
Jason

writes:
2011 Buick LaCrosse CXL
Review
Pros
Everything. better in every way compared to any pre-existing buick. top five luxury cars available 2011
Cons
only minor flaw rear visibility but a back up camera is an option so its only a minor flaw in half of them.
Wow! Buick Isn`t Back. Buick Is Gone And Somebody Is Building Awesome Cars With Thier Badge! — I was biased against buicks and couldn`t understand why anyone would buy one but luckily a relative of mine did and when I saw it and looked it over I was impressed. The car has a sort of modern jazzy luxury feel to its interior that for some reason had enjoying the 1930`s station on the sattelite radio. As a piece of design work it is great, so I was delighted to turn the key and take it for a spin. Everything old buicks got right was improved which could be expected. It was more comfortable and quiter than ever. What wasn`t expected was improved driving dynamics and feel. I felt like I was piloting a smaller nimbler car on a silky smooth road and not flattening out a bumpy road in a small land ship. The steering and chassis feel stiff and percsise which was a pleasent shock in a buick. I loved the power too. 260hp from a 3.0litre engine that gets 36mpg. Buick is serious about being competitve again and they hit the nail on the head. I have been driving the car on and off for 6 months and no matter how hard I try I have only been able to come up with one minor flaw. rear visability is not great because of the aerodynamic C pilars and the rear passenger head rests. If thats the worst thing about the car you have then you aren`t doing to bad. Congradulations Buick. Grand slam with this one.
Primary Use: Family transportation
steveth2

writes:
2011 Buick LaCrosse CXS
Review
Cons
Not enough to mention

Elegant — Excellent acceleration as well as feel of the road. The appearance has people stop and staring contantly! Very fun to drive and exceptional comfort. I have zero regrets about buying this car. Also has a standard 54,000 mile warranty. Not bad considering most vehicles are 36,000 miles standard.
Primary Use: Family transportation
David

writes:
2011 Buick LaCrosse CXS
Review
Pros
I love just about everything in this car. At about $30k, you get way more amenities than any other luxury car in its class. Try comparing a BMW 3 series, and to get the same features, you would pay way more! The styling within the cabin really wow you at night!
Cons
The cons I list here are things others have posted as drawbacks in this model, but let me mention, none of these things bother me. 1) hard to see out of the rear due to large frame around back window. 2) chrome accents in cabin can cause glare. 3) headrest is tilted fwd at the top, making it a little uncomfortable. However, this is a safety thing for reducing whiplash in a rear collision. 4) ergonomics (and this is really being picky) are not perfect. What I mean is that when I rest my left elbow on the window frame, it is too high and when I rest my right one on the center console, my hand overshoots the gear shift by 5 inches when it is in drive. This makes cruising on the interstate for long rides hard to get comfortable.
Near Perfect!! — Really, my wife and I reviewed cars on paper and in person for nearly a year. We could not find any slightly used car between $30-40k that had as much styling and features as the Buick LaCrosse. Nothing came close! I cannot express how impressed we are that GM took such efforts to design a Chinese/German/USA engineered car that can compete directly with Lexus and others. This car could be a cornerstone to save GM after the bailout. I love the styling that starts outside and finds its way inside. For instance, the roofline arc continues through the center console and doors. The red color (in either the 2010/11 red or 2012/13 red) is beautiful, although the pearl white and deep blue colors are fantastic too. The combination of OnStar and onboard voice/NAV/Bluetooth/XM/DVD systems are so much technology, it blows me away. An unexpected surprise was the recording of live radio with an onboard HDD. Heads up display is very useful without being a huge distraction. The halon lights that move when you turn is also an unexpected luxury. Blindside alerts on this model is almost necessary with the large frame around the back window. Heated steering wheel, seats and cooled seats pamper you. What does this car NOT have?? And we were able to acquire a loaded one for less than $30k! You just can't beat it!
Primary Use: Family transportation
Displaying all 6 2011 Buick LaCrosse reviews.
Looking for a Used
LaCrosse
in your area?
CarGurus has
18,289
nationwide LaCrosse listings starting at
$2,995
.