2011 BMW Alpina B7
User Reviews
2011 BMW Alpina B7 Review Rankings
Have you driven a
2011 BMW Alpina B7
?
User Reviews
CarGurus
http://www.cargurus.com
2011 BMW Alpina B7 SWB
Review
Pros
The power and smoothness of the engine. ASR really keeps body roll to a minimum, much better than a 750. Car rides better than a 750 too. The wheels are gorgeous.
Cons
The engine and exhaust system could be a little louder.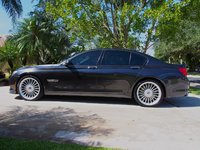 Luxury Sedan With Very High Performance - Excells In Smoothness — Everything about this car is smooth. The engine has unbelievable power and torque. It does not stop accelerating until you are well into triple digits. The ride of the car, even in Sport + settings is still very smooth. The steering is right on - no dead spot while cruising. Very minimal body roll and the suspension holds a line once its set. The brakes are incredibly strong and powerful.
Reviews From Other Years
Powerful Luxury Car But Overpriced
I am overall disappointed in the handling compared to my previous car, a Mercedes S63AMG. The car does not inspire confidence when pushing hard through curves. I cannot fault the luxury appointments h... Read More
Read all 2012 BMW Alpina B7 reviews
Alpina B7
I Love This Car. It is Excellent. It makes me Happy every time I get in. Performance, handling and ride are exceptional. IT's loaded with Navigation, voice control, heated leather and more power th... Read More
Read all 2008 BMW Alpina B7 reviews
Good Perfomance In Acceleration And Top Speed, Good Styling, Safety
i very like this car, its very advantages, good in acceleration, top speed, and good style inteiror and exterior, we can be street king with this car, and yhis car very safety, in this car installed a... Read More
Cool Car
I like this car. Good look. Hard too learn too use. BMW's best car. No Phone. Parking problem. Best way is fast and Cool. Tailer made interior and cool exterior. More expensive then normal BMW 7-se... Read More
Read all 2007 BMW Alpina B7 reviews
Have you driven a
2011 BMW Alpina B7
?