2010 Toyota Corolla
User Reviews
2010 Toyota Corolla
Review Ratings
Average Ratings from

43

reviews
Performance:
Appearance:
Build Quality:
Overall:
Review Highlights
Click to filter reviews below
Displaying 1 - 10 of 43 2010 Toyota Corolla reviews.
Concept1992

writes:
2010 Toyota Corolla S
Review
Pros
Extremely low maintenace/upkeep cost.
Great For a first car.
Very reliable.
Average Mpg around 30 with stop and go traffic.
Cons
Acceleraton after 70mph is fair. (Its not a Ferrari)
Too much of a family car for my taste.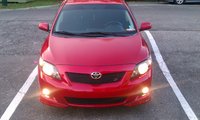 Fuel Efficient And Reliable — The overall look of the car is slighty improved with the Tinted windows and wind/rain reflectors. This car lives up to its Toyota namesake and is very low maintenance. Getting the oil changed was the only time i have needed to take it to the shop. If you care about the car enough you can take it in every month for a "check up". The acceleration is fair for a sedan, Handles well even in the rain. A comfortable car even for long drives, No mechanical issues what so ever, Air conditioning, heat, AM/FM radio, AUX port for those who prefer personal playlist rather than random radio, windows and mirrors are all fully operational. Interior is equipped with 2 RED LED strips located under the dash(optional..willing to remove if necessary) Gas mileage is great. On average with just commuting to and from work with errands here and there needs gas appx. every week and a half.
Primary Use: Commuting to work
Looking for a Used
Corolla
in your area?
CarGurus has

55,863

nationwide Corolla listings starting at

$1,450

.
Steve

writes:
2010 Toyota Corolla S
Review
Pros
Gas Mileage, Ride, Quiet, Cheap, Great looks
2010 Corolla S — Had this car for about 8 months, I loved the car and I regret selling it. For being a little four cylinder it was quite peppy and the cost of maintenance on these is really cheap. Put gas in it and go and it is ready for anything you throw at it. The seats where ok and I think one of the only things that bothered me about the car was the seats where a little uncomfortable. I was averaging about 37 mpg on the highway which was right on for a little car like this. It rode great on the road, but was able to get it on in the corner when it was pushed. I would highly recommend this car to anybody in the market for cheap little gas saver. You won't be disappointed.
Primary Use: Commuting to work
Amrit

writes:
2010 Toyota Corolla S
Review
Pros
Great gas mileage, sound package, sporty design, and great pickup.
Cons
Only thing is some of the interior features are plain plastic
2010 Corolla S — I drive a manual, which can be jerky at times, but once you get a hang of it, it becomes great to drive. The manual is extremely fun to drive, and I recommend it to anyone who knows how to drive stick or is willing to learn. The speaker package offered is superb, and the controls on the steering wheel are an added bonus. I am pretty tall, and it has enough leg room, so that's not a problem. Exterior styling on the Corolla S seems to be very sporty and looks nothing less than a sports car. Gas mileage total comes to about 32 to 33, which is phenomenal for a "nonhybrid" car. As for interior quality, some of the features are just plastic, like the sun visor, which I feel could have been done up. Overall it is an amazing car and I definitely recommend it.
Primary Use: Commuting to work
LyndeeBaumgarten

writes:
2010 Toyota Corolla S
Review
Pros
everything! this car is practical, reliable, fuel efficient and stylish!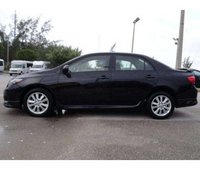 Sleek, Sporty, Edgy — I love the exterior body style, the spoiler and trim look so sleek and stylish. I also love that it has blu tooth and the audio controls on the steering wheel, they are a must have. I also love the interior color scheme the dark silver dash and leather steering wheel looks elegant.
Primary Use: Commuting to work
shouravv

writes:
2010 Toyota Corolla Base
Review
Pros
Fuel economy, low price
Cons
Lack of cruise control and power window/locks as standard

Excellent Value, Great Mileage — I bought my 2010 basic Corolla A/T 3 months back and I must say that I am loving it. I was initially considering a Yaris, but the Corolla was just priced well enough for me to switch. I am a city driver and am getting 30mpg average. But when on freeways, staying around 55-60mph gets me over 45mpg easily. The engine gives decent acceleration and the brakes are not touchy, the standard speakers (4) are decent and the dash-board layout is straight-forward, and overall the exterior is respectable. I paid $14,700 OTD /w all weather package, rear bumper protector, and carpeted floor mats, and got 0% APR 5yr zero down loan from Toyota. Just for comparison, the new 2011 Elantra would cost me $4k more upfront and at least $2k more in interest (3.95% APR).
Primary Use: Family transportation
Lindsay

writes:
2010 Toyota Corolla XRS
Review
Pros
Family && Everyday Transportation.. With a sports car kick!!
Cons
Don't know of any at all..
Love, Love, Love This Car!! — Performance - Acceleration, braking && especailly handling is all exteremly amazing!! Build Quality - Didn't have it for very long.. Husband && I really wanted the Tacoma.. But you know what they say about Toyotas!! Appearence - AMAZING!! Cost of Ownership - Gas mileage was amazing && maintence/parts costs were low.. Fun Factor - I can't wait until we can buy another one!! XD
Primary Use: Family transportation
kgilleon

writes:
2010 Toyota Corolla LE
Review
Pros
Awesome mileage (can easily go weeks without filling up when just driving in the city). Incredibly easy to maneuver/park/make tight turns/etc. Since it is a smaller car, maintenance costs (almost always) tend to be lower -- tires cost less, runs on regular gasoline, needs smaller quantities of interior fluids and goes through them less quickly, etc. Has both curtain and driver/passenger airbags, vehicle stability control, Anti-Lock Brakes and Brake Assist, Tire Pressure Monitoring system, engine immobilizer, daytime running lights, and is consistently given 4-5 stars in government safety ratings (NHTSA). Engine is quiet when running/accelerating, so the drive is always quiet from the interior. Perfect car for daily commute, very comfortable and easy to get around in traffic and crammed parking lots. Great for long drives as well since mileage is so great. Overall a safe, easily handled vehicle.
Cons
Acceleration/power can seem weaker on steep hills. Average size sedan, but not great for families or having a full car for long periods of time, as leg room is limited. Not the best car in snowy/icy situations. It handles ice pretty well for being 2WD, but ground clearance is very low and it can get stuck in accumulated snow pretty easily. It also lacks a rear windshield wiper, which can be inconvenient in the winter/rain as well.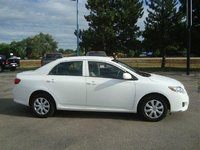 Great Car; Safe, Comfortable, Reliable -- Just Not A Snow Car — I love the easiness of this car. It takes very little to keep it well maintained and running well. It's perfect for inner-city settings, where fitting into parking spots and good mileage are incredibly valuable characteristics, but also ideal for highway travel (even better mileage and a very smooth, quiet ride). I feel safe/in control in this car, and that's pretty priceless. That being said, I live in an area that gets lots of snow/snow drifts. Combine that with unplowed, gravel roads, and a need for 4WD becomes apparent. That's what the Corolla lacks -- the ability to plow through snow.
Primary Use: Commuting to work
Ben

writes:
2010 Toyota Corolla LE
Review
Pros
Ceap to operate and all around good car.
Cons
Light tan interior is impossible to keep clean.
If You Are Looking For A Cheap Economical Car That Looks Good And Drives Well, Then This Is It. — This car is really cheap on gas, only costs me about $27 dollars to fill up. I wish it was faster, but its not slow. Build quality is good, about average for its class. Car looks great, although interior is poorly designed; this is due to light tan seats witch picks up all kinds of lint, and tan floor mats which are impossible to keep clean. My advice is to invest in black floor mats and seat covers. Other then that, its a great car to own.
Primary Use: Family transportation
Wheelsontheroad

writes:
2010 Toyota Corolla S
Review
Pros
Fuel efficient and fun to drive; looks good too!
Cons
Give us more color choices

Efficient Car That Will Do Well In The City As Well As On The Open Road; Very Quiet Too! — OK, maybe the 1.8 liter engine is not as powerful as the bigger engines out there but it responds very well to both low revs as well as high revs. Smart VVTi system keeps those intake and exhaust vales open and closed perfectly to optimize performance and fuel efficiency. 16 inch alloy wheels and 205/55 are just the right blend of comfort and road handling dynamics. Sound deadening is better than most competitors. Designers spent time tweaking the looks in Italy and it shows. The S model is neither garish nor bland; well balanced.
Primary Use: Family transportation
Amourette

writes:
2010 Toyota Corolla S
Review
Cons
Nothing that I know of... yet
Displaying 1 - 10 of 43 2010 Toyota Corolla reviews.
Looking for a Used
Corolla
in your area?
CarGurus has

55,863

nationwide Corolla listings starting at

$1,450

.