2010 Chevrolet Equinox
User Reviews
2010 Chevrolet Equinox
Review Ratings
Average Ratings from

29

reviews
Performance:
Appearance:
Build Quality:
Overall:
Review Highlights
Click to filter reviews below
Displaying 1 - 10 of 29 2010 Chevrolet Equinox reviews.
GentlemanJ

writes:
2010 Chevrolet Equinox LTZ
Review
Pros
Styling, Build Quality, Creature Comforts

Excellent First Impressions; Cautiously Optimistic That Reliability Will Match. — I bought my 2010 Nox LTZ on the last day of the Cash for Clunkers program. I traded in a 2000 Dodge Grand Caravan with 140,000 miles. I had to drive to Michigan from Alabama to find one with the features I wanted. I was originally looking for the 4 cyl version for the fuel economy, but was unable to find one in an LTZ. Also agonized over the interior color but am very satisfied now that I have settled on the Black/Light Platinum. 2010 LTZ- Loaded with everything except Chrome wheels/19" Tires, and AWD Cardinal Red 3.0 Liter V6 Jet Black/Silver Interior 18" Polished Aluminum Wheels So far the SUV has been wonderful to drive and a joy to own. I get frequent comments and questions about it and often see people checking it out when it's parked in the parking lot of a restaurant or store. I had a 900 mile test drive coming back from Michigan and it was just a pleasure to drive. I enjoyed all the gadgets and after more than a month am still learning all the capabilities of the electronic wizardry. Some Positive Observations: All windows have express down. Usually only the driver's window is so equipped….nice touch. The Drivers Information center located between the Tach and Speedometer gauges adds useful detail when using the NAV system. I knew I wanted to NAV system but I didn't realize how much I would come to love and rely on it. I will never be lost again. Cup holders have a rubber insert that grips the cup making it virtually impossible for a cup of coffee to fall out of the holder. Something that was fairly common in my Caravan. I thought the Remote start would be a cool feature to have but it's actually useful. In Alabama, the heat can be oppressive even in August/September. With a 195 foot range, I can start the car while I'm walking toward it and by the time I reach it, the AC has cooled the cabin to make it comfortable. No more getting into a oven hot car. I like that I can set a separate EQ for each favorite channel and audio source I select. The headlights are far better than any other car I've ever had. Distance and clarity is greatly improved. A GM car delivered with Michelin Tires instead of some cheap set of Firestone or General brand tires. Way to go GM! Some Negative Observations: Driver's Seat Leather not pulled taught in one corner so it has a funny wrinkled look in that corner of the seat. Front headrests look great… Rear headrests appear as if headrest was wrapped in leather by an amateur or a small child. I will be taking it to the dealer for both of these issues. Pioneer 10 speaker system is good but not great. I have had cars with Bose and Infinity systems that sounded better. There is not as much bass as I expected from a system with a subwoofer. Also, the audio sounds good a low and moderate volume but seems harsh at louder volumes. Tone adjustments have not been able to improve this. Most people will not notice this and it could just be my 51 year old ears. When accelerating moderately hard, the vehicle accelerates smoothly at first but then there is a boost of energy similar to the delay you experience with a turbo charger. I don't drive it hard very often so I am still evaluating this anomaly. Will update as I notice more.
Primary Use: Commuting to work
Looking for a Used
Equinox
in your area?
CarGurus has

51,022

nationwide Equinox listings starting at

$3,495

.
Brittany

writes:
2010 Chevrolet Equinox LTZ
Review
Pros
It is very comfortable!
Cons
Could use alittle more trunk space.
Great Car! — Its still new! But so far its great! Even though it has already been hit it still looks great and runs just like new! This car is very comfortable, seat warmers are the best on the cold mornings. You can't beat the price!
Primary Use: Family transportation
bibleman1

writes:
2010 Chevrolet Equinox LT1 AWD
Review
Pros
Great appearance, great gas milage, handles the curves great, good power, very reliable, lots of room, I love the back up camera, nice sunroof and I recommend the Equinox to anyone!
Cons
The origional engine was consuming oil but the dealer replaced it under warranty and The new engine was great! Does not use any oil between changes!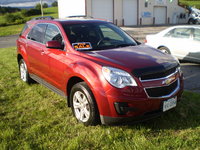 The Equinox Has Been My Favorite Vehicle That I Have Ever Owned! — I like the way it handles and I feel very safe in The Equinox as it has lots airbags, front and sides! Good gas milage as it averaged 25.6 in town and highway combined! I like the simplicity of all the controls and gauges! The cruise controll is great and I like the menu that is loaded with information about the vehicle. It even tells you your tire pressures!
Primary Use: Family transportation
Margot18

writes:
2010 Chevrolet Equinox LTZ
Review
Pros
Has excellent safety rating, great gas mileage, smooth ride, excellent handling, roomy interior, plenty of storage, On-Star
Cons
small flaw on driver's seat in the leather that I hope the dealer can repair

This Car Was An Excellent Choice For Us And It Was Reasonably Priced. — The Equinox handles very well. It has a smooth and quiet ride. The engine, even though I have the smaller engine with FWD, gives plenty of power on the highway and up hills. I haven't had my car that long but it seems to be a lot less thirsty than my previous car. The interior of the car is roomy and the dashboard is clearly and logically laid out. I love the rear park assist and the back-up camera. The car is a lot of fun to drive but it also feels very safe. It also has On-Star which gives me added security. I would recommend this car to anyone who wants a mid-sized car with a lot of room for passengers and "stuff".
Primary Use: Commuting to work
Kent375

writes:
2010 Chevrolet Equinox LT2 AWD
Review
Pros
Great styling, features, ergonomics
Cons
Mud flaps should be standard equipment on a crossover

I'd Give It An A Or An A- — The Equinox is fun, drives and handles very well. It has not needed any repairs of any kinds. The new styling for 2010 is great! I get comments or questions on it almost daily, usually in a parking lot somewhere. I am getting twice the mileage as my trade in, so I am very pleased with the mileage and money I'm saving on gas. My only major complaint is that without mud flaps, the car gets really dirty driving in wet weather. I'll be getting front & back flaps from the dealership very soon!
Primary Use: Commuting to work
Richard5569

writes:
2010 Chevrolet Equinox LT2
Review
Pros
Comfort, mpg, and drive.
Cons
turning radius with 18" tires

I An Enjoying The Car Overall And Believe I Have Made A Great Decision In Purchasing This Suv. — The vehicle has performed better than advertised with mpg in town at 25-26 and on the highway at 32. Very comfortable ride, roomy interior, the power lift-gate is worth the extra price. The backup camera is a great asset for this vehicle and should be standard equipment for all SUVs. I think Chevrolet has a winner in design and appeal.
Primary Use: Commuting to work
tom4714

writes:
2010 Chevrolet Equinox LTZ AWD
Review
Pros
turns heads and is really comfortable
Cons
gas hog at times wish it had an 8 or bigger 6

We Love It — we love it so far already put 2000 miles on it. never skimp on a car because factory built is better then added on later.it is everything we ahd hoped for. forget navigation we have tomtom for a lot less. gas isnt good or bad. lacks the power we thought a 6 would give.
Primary Use: Family transportation
Jeremy

writes:
2010 Chevrolet Equinox LS
Review
Cons
Its very doggy and downshifts up to 4th gear going up a hill.
Very Good Car, I Would Take It If I Had To — This car gets great milage when you press the ECO button on it. It doesnt have the greatst of power, but it'll get you by. It is pretty fun to drive, but if you have the ECO button on, it'll be more doggy when your goin up a hill. It'll take it forever to downshift, but I guess its because its trying to save fuel. It gets around 28mpg.
Primary Use: Commuting to work
Grandma_2010

writes:
2010 Chevrolet Equinox LS AWD
Review
Pros
Looks nice, very roomy inside.
Cons
To many parts are breaking. Heater in January, air conditioning condenser in June, starteer and lots fo air noise from passenger side window. Dealer had to order parts from GM. It's been over a week & still nothing. Not happy.

Looks Nice But The Quality In The Parts Is Missing. Would Not Buy Again. — Owned since 8/09. Heat & defrost broke 1/10;dealer took 2 days to fix. 6/10, condenser on air conditioning unit & starter broke. Still waiting for condenser ordered from GM. GM better work on quality control. Won't buy another Chevy. This is an update for our 2010 Equinox.. It took almost two months for our dealer to fix the air conditioning condenser & the starter. The car was in the dealers shop for the duration. When they ordered the parts need, GM told them they didn't make that condenser anymore!! We couldn't believe it. After many irate calls by us to GM customer service and our dealer a new part was installed (I don't know where they got it from) The dealer was nice enough to pay one car payment for us. We really made pests of ourselves. Now, fast forward to December 2011 and the battery went dead. They replaced the battery and then the rear window defrosters didn't work.. We had had it with the Equinox. So we told the dealer we were trading it in. He gave us a good trade in quote. We test drove every model on the lot-the Sonic, Cruse, Malibu, Impala, even the Jeep Compass. They were all nice cars but my husband (a big guy) wasn't comfy driving any of them. So we bought a 2012 Equinox! So far, it seems alright. But it's only got 300 miles on it. Wish us luck!!! (updated Jan. 2012)
Primary Use: Family transportation
carnut122

writes:
2010 Chevrolet Equinox LS
Review
Pros
Engine, suspension,fit and finish,value

Why Look At Anything Else? — I have one. I got 28 mpg on the first tank in mixed driving and Interstate cruising at 74mph. The vehicle is fantastic, and although I'm used to driving sportier vehicles, I do not feel penalized by the peppy 4 cylinder, great suspension and sound deadening. The styling is great as is the fit and finish. As far as GM engines are concerned, we traded in a GM 3.1 L engined vehicle with 233,xxx miles on it that would travel all day long at 8o+ mph and spent its last vacation going to Washington DC from Atlanta. I'm VERY happy with my purchase!
Primary Use: Family transportation
Displaying 1 - 10 of 29 2010 Chevrolet Equinox reviews.
Looking for a Used
Equinox
in your area?
CarGurus has

51,022

nationwide Equinox listings starting at

$3,495

.