2010 Chevrolet Cobalt
User Reviews
2010 Chevrolet Cobalt Review Ratings
Displaying 1 - 10 of 13 reviews
Michael

writes:
2010 Chevrolet Cobalt LT1 Coupe Review
Cons
Light accelerator, Plastic Dashboard
Good Dd — I've had this car for a little over a year now. I'm still pleased by most of it. It's pretty quick for such a small engine (2.0 L), and it handles very smoothly, even when cruising at top speed (about 120mph). The manual transmission is a blast too. The only issue I can really find is the dashboard and center console is made of hard plastic that you may find in a child's outdoor playhouse.
Primary Use: Family transportation
Looking for a Used

Cobalt

in your area?

CarGurus has

6,809

nationwide Cobalt listings starting at

$3,100

.
rookie89

writes:
2010 Chevrolet Cobalt Base Coupe Review
Pros
Handles good and good on gas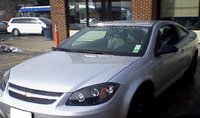 Gets The Job Done.. — Over all I really like it... but people have there own views of different cars... you got to find the one that you like.. It has good acceleration and handles good for me in the winter which I like the most.
Primary Use: Commuting to work
Cody

writes:
2010 Chevrolet Cobalt SS Turbocharged Coupe Review
Cons
If you want your 20k Cobalt to have the interior of a Mercedes, stay away
The Best Performance Value Out There. — It can blow the doors off of cars costing much more. It can handle like a go cart and get over 30mpg. Turbo spools so quick it is insane. Bluetooth, iPod interface, auxilliary input, sunroof, turn by turn navigation, amazing racing seats, and a 10 inch subwoofer for under 23k. Standard transmission only, no slushboxes. For the budget enthusiast who doesn't care if his dash is plastic.
Primary Use: Commuting to work
Mrhodes

writes:
2010 Chevrolet Cobalt LT2 Review
Pros
I talked to my mechanic (absoutly a Toyota) guy. He said the Chevy Cobalt was a good car. I really like the apperance of the car, a little different looking than most cars which all tend to look alike. I like upgrades such as nice wheels, power windows, remote start, comfortable interior considering I commute 60 miles a day on CA freeways. This car uses sound damping and is really quiet especially for a small car. This car averages around 27.5 MPG.
Cons
I installed the small blind spot mirrors on the mirrors to see the blind spot which was a car length long. The back window extends more toward the back which makes backing out a little tough, especially parked next to a SUV. The cup holders are in frront of the back window defogger controls so I have to move my coffee cup to turn on.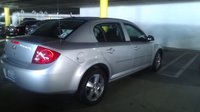 Comfortable Good Looking Car — I like the build quality of the Cobolt. It equals the Saturn L200 I drove for 178,000 miles. The Cobolt has also inherited the same economical operation as I had on the Saturn. The car now has 60,000 miles with no issues. For instance, it still has the factory brakes. My mechanic keeps telling me they are fine. The car stops great. The only thing I have had to do is regular maintenance. I don't baby the car, and it has a lot of pep. I do wish I had an HOV sticker because I sit in stop n go traffic often. At least the car is comfortable, quite, and has a great sound system with XM available and aux input for your smart phone,
Primary Use: Commuting to work
Noremac1993

writes:
2010 Chevrolet Cobalt XFE Coupe Review
Pros
Amazing mileage for an American car that's not a hybrid
Cons
It has no A/C... And I live in New Mexico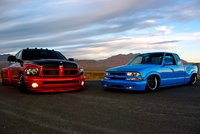 Fun Little Sauna — Car's great, It got me 400 miles with plenty of gas left, and it only has an 11 Gallon tank. And It was comfortable, besides the temperature, the whole time. Back seats are surprisingly roomy for a 2 door. Overall, I would not trade this car back for my CTS.
Scott

writes:
2010 Chevrolet Cobalt LT1 Review
Pros
driving on a level road at 90km/hr i get 4l/100km fuel economy
Cons
doors on right side dont line uip ..from the factory...probably causing my issue with freezing on rear windows when it gets cold.have to keep an eye on the area under plastic shield ..small critters can make it in there and make a mess around the ignition coils
rear mud flaps are not a standard option on this car...I wish i had known...There are issues with the Evap Module behind the tank which can be avoided with them..
Nice Car — Its cheap...Its got a great heater..Sound system is good for factory...CVT transmission delivers lots of pep for a little car..this is my first new car..the dealership has been very good to me..I love the peace of mind when I am on the highway..
Primary Use: Commuting to work
Rob

writes:
2010 Chevrolet Cobalt Base Coupe Review
Pros
Fast for a base model car thats under 15gs
Cons
many parts half assed
Cobalt A Peppy Basemodel — the car is fast for a base model car but has bad handling and certain parts have been half assed ex the weather stripping is hanging out of the car from the day we bought the car. Doors open to wide
Primary Use: Sport/fun (spirited driving, track racing, off-roading, etc.)
usfistr

writes:
2010 Chevrolet Cobalt SS Turbocharged Coupe Review
Pros
The 290 HP is nice and good gas milage for the speed
Cons
It still has a bit of economy class look to it

Na — Nice car, could have a sleeker design for the HP avaialable to it. Otherwise it is a great daily driver for someone seeking a little fun during the daily grind. The turbo allows for easy acceleration and merging into those tight commuting freeway drives. The handling is outstanding, corners like a dream. May seem a bit of a stiff ride as far as handling bumps goes. Could be used as a long distance commuter with the excellent gas mileage, but once again the stiff suspension may make the longer trips a bit uncomfortable.
Primary Use: Commuting to work
Chris

writes:
2010 Chevrolet Cobalt SS Turbocharged Coupe Review
Pros
its fast, sporty, and a fairly priced car!
Cons
doesnt run at max performance all the time, some dont like the interior(i personally do)
Hands Down The Fastest Car On The Market For The Money! Comfortable To Drive And Is An Eye Catcher! — performance- best 0-60 time in its class. can do 158 mph stock. set records as far as handling performance in its class. brakes are incredible but the brembos take some getting use to in the rain. build qaulity- the only repair needed was the passenger headlight was getting moisture in it after the first week and got replaced under warranty and havent had any issues since. appearance- its stock look is eye catching! it took 3rd place in GM Nationals car show in pretty much stock form so that has to say something. cost of ownership- gets about 26mph on average. thats city/highway combined. as far as maintenance, it requires full synthetic oil and premium gas so its a little more costly than the average car. fun factor- its a very fun car to drive! its has its minor driveabilty issues but they are things to expect from a turbocharged, high performance car.
Primary Use: Commuting to work
Ryan

writes:
2010 Chevrolet Cobalt Base Coupe Review
Displaying 1 - 10 of 13 reviews
Ask CarGurus about the 2010 Chevrolet Cobalt
Average response time:
8.5 hours
,
# of Chevrolet Cobalt owners:
3,392
Looking for a Used

Cobalt

in your area?

CarGurus has

6,809

nationwide Cobalt listings starting at

$3,100

.