2010 Buick Enclave
User Reviews
Average Ratings from

7

reviews
Performance:
Appearance:
Build Quality:
Overall:
Review Highlights
Click to filter reviews below
Displaying all 8 2010 Buick Enclave reviews.
abstring

writes:
2010 Buick Enclave CX AWD
Review
Pros
Good handling considering the size. Nice styling outside and inside. Creature comforts (heated seats, DVD player, etc.). AWD works great.
Cons
Feels a bit larger to drive than you think it will. Third row seats are nearly impossible to get into/out of. Poor finish on radio/AC controls rubs off with use. Braking could be better. Throttle response is delayed by about 1 whole second.

Great Mini Van Alternative With A Sophisticated Feel. — The Enclave is an excellent family car and has fit our needs very well. It accommodates four people very comfortably with the 2nd row captains chairs, and can accommodate up to six using the 3rd row. We do have difficulty getting our children into/out of the 3rd row, especially when one of them has fallen asleep. This usually forces one of us adults to crawl in from the tailgate and pull the child out, which is easier than going in through the 2nd row. Performance is good all around. The V6 is plenty powerful for spirited highway maneuvering, and the AWD works fantastically in our snowy New England weather. In fact, this is one of the few cars that can reliably climb our hilly driveway after a snow storm before we've been plowed out. One issue we have had is that the throttle control has about a one-second delay between when you press the accelerator and when the engine reacts. It's like the engine computer is waiting to make sure you're serious about asking for lots of throttle. This can be frustrating when trying to pull out into traffic. Other than that, performance is great. Overall, we highly recommend the Enclave and would definitely buy another when the time comes.
Primary Use: Family transportation
Looking for a Used
Enclave
in your area?
CarGurus has
20,537
nationwide Enclave listings starting at
$8,850
.
deboe50

writes:
2010 Buick Enclave 2XL
Review
Pros
this car is roomy with good leg room and good head room, maneuvers good in and out of traffic, rides and handles real well.gets good mileage on the highway.
Cons
doesn't have all wheel drive and doesn't have the six-way cd player. Probably good be better with in city driving mileage.

Would Make An Excellent Car For Anyone Who Has A Family Or Not. — I guess i like just about everything about this car. I don't have to squat down to get in or step up to get in. It has plenty of room all around and handles real well whether in town or on the highway. The engine runs so quiet you hardly know it's running. It has just about all the features you would want in a car plus some extras. It has a sleek body style and I really like the color, not just black but carbon black metallic.. I don't have a negative view of this car that I would call relevant.
Primary Use: Family transportation
chaplainmolina

writes:
2010 Buick Enclave CX AWD
Review
Pros
Awesome ride! Fast and agile
Cons
AWD make gas consumption a bit higher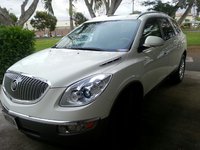 superfi

writes:
2010 Buick Enclave 1XL
Review
Pros
Looks great, drives great -both responsive and quick for a BIG 7 seater. SOLID construction -no ratling, -did I say smooth ride because it has it
Cons
needs to upgrade to blue-ray vs DVD and offer a V8 option to dhut the door on Lexus,Benz and BMW

Perfect For My Needs — I test drove SUV crossovers for 2 years prior to buying the 2010 Enclave. I started with the German made Benz, Audi and BMW and loved them but I hate paying so much to maintain a Euro vehicle. Then I looked at the WELL made Lexus, Infinity, and Toyos of all sizes and prices and know from experience that maintenance is not a factor as they are made to operate with supreme reliability. I figured I would need to plan on spending at least $50K to get what I needed for my busy, athletic and adventurous family of 4 - which in reality means I would need room for 6 or 7 passengers when friends, team mates, cousins and Gran Parents tag along -so that bumped about half of the vehicles off my list. At the top of all my requirements was quality build and low maintenance -not speed-not brand- not glitz, bling or bragging rights as I've had all those brands over the years and I'm over it at this stage of life. I hate to admit it but I was still reluctant to consider the BIG 3 U.S. brands based on past experience of just plain lousy build quality, mediocre design (except Corvette) and poor resale value. I just wanted something better and luckily discovered the Enclave by chance while test driving a Benz Gl450 which looks, feels and drives a lot like the new Jeep Grand Cherokee for twice the price and anyway it was too small. I then drove a 3 year old BIG Lexus SUV that felt huge, drove huge and had a HUGE price tag for an older ride with 30k miles on it -it reminded me TOO much of my old 97 Land Cruiser except it had more power. Next up the Lexus GX which was nice and felt and drove just like the BMW x5 but it was bigger and I would swear it was a re bagged Mitsubishi Montero Limited because that's what I drove to the car lot -check them out side by side and see for yourself. THEN I saw this really cool looking SUV that sort of looked like a mix of a Lexus, Porsche Cayenne (check spelling) and Maserati -yes Maserati (just Google it you'll see). But then the sales guy said it was a Buick bla bla clave something- He lost me at Buick and I really wanted to climb into this exotic European SUV that I was sure I couldn't afford and didn't need. I sat in it and was very impressed with how it felt ----- so comfortable –roomy but not big and bloated, nice leather, a great dash that reminded me of a yacht from the driver seat and a Lear Jet from the second role captain's chairs. I did the walk around and was just blown away by the amount of great options it had and it felt VERY solid. After I took it for a spin I knew that I had found the perfect vehicle and my search was over. This thing is FAST and handles very god for its size –no it's not as quick nor does it corner like my super charged MINI Cooper S but man it was exciting to get up to 60mph in about 8 seconds in a luxury SUV cruiser –yes the Benz GL450 will do it in about 6.5 seconds or less but just who really races SUVs or Crossovers?? I was prepared to drop $50k and drove away with everything that I needed for around $45k and I couldn't be happier.
Primary Use: Family transportation
twygg43

writes:
2010 Buick Enclave 2XL
Review
Pros
Everything about this car.

You Won't Find A Better Car At This Price, Or Even Close To The Price. — This is one fine automobile. Great ride & handling, extremly quiet, great brakes, performs very well for a 5,000# car. First class interior with fine leather 3 row seating, world class exterior fit & finish. I got a nice deal from a great Dealer, in fact I'm 66 yrs old and have bought several autos and this was the best transaction of my life.
Primary Use: Family transportation
madeinaustin

writes:
2010 Buick Enclave CX AWD
Review
Cons
The worst Navigation system I've ever seen.

Just Skip The "luxury" Of The Navigation System. — We LOVE our Enclave in every way, except the navigation system. Great pick up, super sound system, love the bluetooth. Everythinig, except that terrible Navigation system. It looks great but is totally worthless. Actually it's worse than worthless because if you use it, there is no telling where you will end up. If you choose to go the extra expense, be sure your getting it for the right reason. Otherwise, use your iphone or Garmen but don't rely on the factory product. Just enjoy the light it emmits and the rest of the car, it's great!
Primary Use: Family transportation
Anonymous bought one because:
The Enclave was very luxurious compared to the MKX to our surprise! It was very roomy all the way around and the MKX made me feel shut in. It seated 8 compared to 5. The MKX couldn't touch the cargo space at all that was in the Enclave! All the extra features in the Enclave really made the MKX seem very plain! The vehicles were very close in price and mileage but the MKX was just not anywhere as nice, roomy and comfortable as the Enclave! My Enclave also has two sunroofs and the MKX, has none. Hands down, the Enclave is the best around for the crossover/suv!!! Do your homework; compare before you buy anything other than an Enclave!!!
Bob99

writes:
2010 Buick Enclave 1XL
Review
Pros
Luxurious, quiet, rides good for type of vehicle, handles well for a large vehicle.
Cons
17 mpg city, 24 mpg country.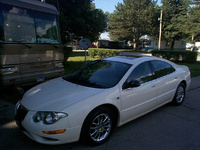 Yts_rbrt@yahoo.com — Looks smaller than it is. I found this out the first time I put it in the garage. Too early to judge too many things. So far I enjoy driving it and learning about all the bells and whistles. Good acceleration for a 5400 pound car. The quiet ride is impressive and gives a feeling of security and safety.
Primary Use: Family transportation
Displaying all 8 2010 Buick Enclave reviews.
Looking for a Used
Enclave
in your area?
CarGurus has
20,537
nationwide Enclave listings starting at
$8,850
.