2009 Volkswagen Routan
User Reviews
Average Ratings from

9

reviews
Performance:
Appearance:
Build Quality:
Overall:
Review Highlights
Click to filter reviews below
Displaying all 9 2009 Volkswagen Routan reviews.
Heather

writes:
2009 Volkswagen Routan SE
Review
Pros
The power features are convenient, the styling of the dreaded minivan is great.
Cons
had major transmission issues, covered under warranty, but not fun.
It's Had Some Issues — It's a great minivan for an early 30's driver. It is sleekly styled, but now that it has almost 100k on it, is starting to deteriorate. It doesn't owe us much, but due to our mileage we are upside down in it due to financing.
Primary Use: Family transportation
Looking for a Used
Routan
in your area?
CarGurus has
845
nationwide Routan listings starting at
$4,995
.
AliceRobertsBoyd

writes:
2009 Volkswagen Routan SE
Review
Pros
Great Van. Powerful. I make long trips over mountains and it can keep up with little loss of mpg's.
Cons
Has a tendency to act underpowered in lower gears (I'm guessing this is by design as it is meant to go faster)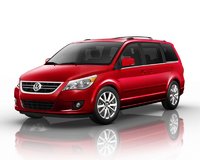 Great Economy Van With Lots Of Features — I love this van. It has all the amenities to keep kids occupied on long trips while keeping the comfort of an easy chair. This van has a lot of stowaway so storage/hauling small to medium furniture is easy. Back up camera and powered rear mirrors make seeing behind you a cake walk. Power everything makes opening/closing doors (including hatch) as easy as touching a button.
Primary Use: Family transportation
satchal

writes:
2009 Volkswagen Routan SE w/ RSE
Review
Pros
Every bit a Volkswagen in terms of handling and comfort to drive. Sleek interior and overall quite well-designed.
Cons
Trunk storage could be better. Getting to the backseat isn't easy, as it is in any minivan.

Fun And Practical At Once. — In relation to minivans, this is a great choice in terms of looks, comfort, and practicality. The sound system is great, bluetooth phone sync is useful, and the car looks and drives like you would expect from a Volkswagen. The price range is fantastic, especially given the runaway rising prices of other minivan imports.
Primary Use: Family transportation
Jesskewl

writes:
2009 Volkswagen Routan SEL w/ RSE
Review
Pros
Hauls all the kids and their stuff. Having a 3 year old and twins a van was a must
Cons
Its a mini van and I still cant seem to get over that.

It Great For The Kids...make You Still Feel Old When You Drive It Though — I bought is car for the kids really. The feautres it came with 2 dvd screens and it does its job in keeping them quite on long drives. When the twins were very small it the power doors and trunk were so nice when it was raining ect. It is really easy to drive and has great power. We tow our 4wheeler and dirt bike with it now problem. There really isnt anything bad about the car persay but its still a minivan. Now that the kids are older I would love to have an escalade to show off some class and still have the room with the features so we will see overall the car is an easy 4.5 stars....would be 5 but it is kind of a gas guzzler.
TBassett73

writes:
2009 Volkswagen Routan SEL
Review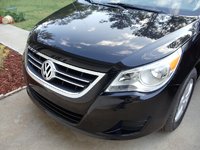 It's A Vw! — Great van, it puts other mini vans to shame! Overall it is fun to drive, handles great, has every kind of option you would want and need. I would highly recommend it to others. I love it! Not to mention its a VW!
Primary Use: Commuting to work
Eric

writes:
2009 Volkswagen Routan SEL
Review
Cons
that's made by CAW members
Drive It To Experience It — build in Windsor, Ontario and cheaper than Dodge Grand Caravan... and better quality and price and engine... What a shame Grand Caravan. German cars were, are and will be the best in the world. Ford, Chrysler and GM just wish to be better than German cars, but because of CAW it will never be better than German cars
Primary Use: Family transportation
willida

writes:
2009 Volkswagen Routan SEL
Review
Pros
Ride, comfort, amenities for the money
Cons
Dealer service can be slow

American Roominess Wrapped In Teutonic Sensibilities--it's Good To Go — I've owned the Routan for a week. I've gotten raves from all my friends. I love it. The interior looks better than the Chrysler. I have read so many negative reviews. I don't get it. First off, the reviewers feel it's awful that the Routan started as a Town & Country. Yeah, Dodge and Chrysler are so bad that GM and Ford can't compete with them. Volkswagen started with the best American-made mini-van (designed for mainstream Americans), then changed the things they didn't like. They dressed up the interior trim. Maybe Chrysler didn't want to share Stow-n-Go Captain's chairs, but VW put in more comfortable seats. They wanted something with European mystique, so they changed the nose and tail. Then they changed the suspension to take out some of the wallow. You end up with the best of two worlds. The dealer kept telling me "It's not a mini-van," then he'd use some lame descriptor. The Germans have a word for it: Grossraumlimousinen. That's good enough for me.
Primary Use: Family transportation
Rachel

writes:
2009 Volkswagen Routan S
Review
Pros
handling, space, mpg
Cons
.....ummm......can i say-NOTHING!???
Awesome — Well, I do love the way the thing handles! Folding rear seats-right into the floor leaves plenty of cargo space when it is needed...and in floor storage is awesome too...no more balls rolling around the inside-not when you can contain them! over all a great van! We average 20 mpg city and close to 24 mpg highway-for a 6 cylinder van you cant get much better than this!
Karl

writes:
2009 Volkswagen Routan SEL Premium
Review
Pros
It's a Chrysler in VWolf's Clothing, Comfortable Seats, Huge Hidden Cargo Bins in the Floor (reminiscent of the Millennium Falcon)
Cons
VW Discontinued partnership with Chrysler so the 2012 model year will be the final year for the Routan.
Volkswangen Town & Routan — It's got a Chrysler motor, a 4.0 liter plant. It's got Chrysler tires, Chrysler suspensions, Chrysler shocks. It's a model made before electric conversions, so it'll run good on regular gas. What do you say? Is it the new Bluesmobile or what? (Apologies to Dan Aykroyd and John Belushi) I was looking for a Chrysler Town and Country with the Swivel n' Go seating option, on paper it looked like a great idea and the perfect solution for long car trips. In the real world, the swivel seats have some issues... The included "table" is completely useless, due to the interior space, swiveling isn't as easy as you would think, and with the seats swiveled reclining for either the driver or passenger is pretty much impossible (which might explain why Dodge and Chrysler discontinued the Swivel option...) However, I wanted seats with more padding and comfort than the thin collapsible seats that come with the popular Stow n' Go option. Enter the VW Routan. Chrysler enthusiasts hate it because it's not American, VW enthusiasts hate it because it's not German, so it has not been the successful entry into the minivan market that Volkswagen was hoping for.... which is why 2012 will be the final model year for the Routan. So, why would I buy a widely hated, much maligned, and discontinued "Frankenstein" of a mini-van? Price and comfort. I was able to buy a fully loaded Routan with the 4.0 liter engine for $1,000 less than a Chrysler Town & Country with the same year and about the same mileage. The Town and Country didn't have the entertainment package, nor the navigation package, and was powered by Chrysler's 197hp, 3.8 liter V-6. So, for less money I get an upgraded engine with 50 extra hp, all of the bells and whistles, plus a free sunroof and more comfortable second row seats? SOLD.
Primary Use: Family transportation
Displaying all 9 2009 Volkswagen Routan reviews.
Reviews From Other Years
Best Minivan Out There !!
We test drove the Chrysler / Dodge, Honda etc etc you name it we tried it but the Routan won hands down. The VW Routan is a fantastic car for my expanding family. The build quality is fantastic. VW ... Read More
Read all 2012 Volkswagen Routan reviews
Wonderful Family Car
I haven't had any problems with this car. My kids love it and it works perfect for a family vehicle with enough room for everyone and all their stuff. Gas mileage has been great, especially on highwa... Read More
Great Family Vehicle
The Routan drives smooth and accelerates quick. The interior is roomy and very comfortable with bucket front and 2nd row seats and split bench 3rd row. Storage in the 2nd row keeps your van looking ... Read More
Read all 2011 Volkswagen Routan reviews
Comfortable & Functional
I like the styling & ride of this vehicle. It is enjoyable to drive & my wife even feels comfortable tooling around in a van especially with the rear view camera which eliminates much of the fear whe... Read More
Worthy Contender To Top 3 Spot In Minivans
Surprising power & acceleration for a family car let alone a mini van! The VW upgrades are very nicely designed but the Chrysler build quality is evident. The exterior styling is great, interior c... Read More
Read all

3

2010 Volkswagen Routan reviews
Looking for a Used
Routan
in your area?
CarGurus has
845
nationwide Routan listings starting at
$4,995
.