2009 Volkswagen Jetta
User Reviews
2009 Volkswagen Jetta
Review Ratings
Average Ratings from

36

reviews
Performance:
Appearance:
Build Quality:
Overall:
Review Highlights
Click to filter reviews below
Displaying 11 - 20 of 36 2009 Volkswagen Jetta reviews.
David

writes:
2009 Volkswagen Jetta TDI
Review
Pros
Excellent fuel economy on both highway and around town. Diesel engine provides plenty of torque and is seamlessly matched to the 6 speed DSG automatic transmission. Very quiet inside almost to the point that you forget you are in a diesel. Very well built, fit and finish of interior is on par with Mercedes and BMW.
Cons
Infrequent stops at the gas stations means you need your own squeegee to wash the windshield...
Jetta Tdi... Why Go Hybrid When You Can Have A Real Ca — In the quest to save money on fuel, my wife desperately wanted a Toyota Prius. Upon a closer look we found that the Prius was simply an economy car (read: interior is chincy and made out of sub par materials (inexpensive plastic with faux textures)) based on an inexpensive platform with only one thing in mind. Keeping the weight down to improve fuel economy. Strong consideration to handling, braking, acceleration were all thrown out the window in favor of the scale. Myself being a car enthusiast, I was almost insulted that such items in a modern day car could be ignored. I strongly feel that the aforementioned qualities are imperative for a safe vehicle. I believe that the safest vehicle is the vehicle that can avoid an accident whether it by by accelerating onto the freeway, braking in time to avoid hitting something/someone and able to successfully maneuver to avoid a collision at speed. Deciding to ditch out on any hybrid models as any "normal" cars fitted with hybrid tech simply didn't have the fuel savings without sacrificing the quality of the car. So we moved on to diesel. The Volkswagen Jetta TDI was on the short list of diesel vehicles available in the states. I went in open minded with no expectations. I was pleasantly surprised. The Jetta was a sharp looking car on the outside. Upon getting in the car, I was blown away. My current and past cars have been BMW M's and Porsche (911TT and Cayenne TT) and have gotten used to the very high quality of materials and design. The Jetta was right up there with the other top German automakers. While our other cars were the power horses of the family, this car you could jump in and feel familiar with the cockpit, while getting excellent fuel economy (the shortfall of our other cars). The braking is excellent for a car in this class, with great modulation and feedback. The handling is very responsive and well controlled. You can feel confident with any emergency avoidance maneuvers (unlike many other cars). On the highway, the car is very solid. One of my wife's biggest complaints about the Prius was that on the highway the car felt as if it was getting blown all over the road by oncoming traffic and wind gusts (that was 2nd to the Prius's uncomfortable seats). The one thing that I geek out on is the transmission. Our Jetta TDI is equipped with the 6 speed DSG transmission. Completely seamless, instantaneous gear changes. All of the high end sports cars are moving over to DSG transmissions due to their speed, minimal acceleration losses between gear changes and smoothness. I had a very bad experience with my last BMW M5 which only had a single clutch (SMG III) tranny, and this car with the dual clutch setup was a night and day difference. I have never experienced any issues starting out from a stop or being in the right gear like I did with the M5. (The new M5 and M3 have DSG transmissions in them as an option) To sum it up, I am very impressed with this car. Decent power, excellent reliability, quiet, handles and brakes well and being a fuel miser tops off the package. All without being blown off the road and distracted by images of your car charging on the dash.
Primary Use: Commuting to work
Looking for a Used
Jetta
in your area?
CarGurus has

38,271

nationwide Jetta listings starting at

$1,990

.
CHAZRJR

writes:
2009 Volkswagen Jetta SE
Review
Pros
Black looks expensive, Auto power windows UP and DOWN, really fun to drive, plenty of power, completely loaded and a great value for a used sedan.
Cons
factory tires, were very noisy until I replaced with a softer tire(Nexen) could NOT believe the difference in ride and quietness. Fuel economy could be better and wish it had fog lamps, thats it tho.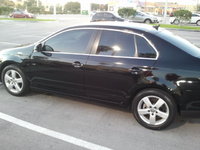 Great Used Car Bargain — I bought it here in South Florida for 13,500.00 it had only 33,000 miles. The paint was very good for a 3 year old vehicle, just a couple of scratches. Of course when you buy a black car, that is to be expected I supose. The car is completely loaded with everything I wanted and is a blast to drive. After reading Edmunds.com and "most" reviews, I decided to go with the Jetta, instead of staples like the Accord, Camry, Sonata, etc. The Jetta, was a LOT more fun to drive, it looked expensive and IT was the best deal. According to the experts, Volkswagon has do a good job in recent years with their quality issues. I dont put a ton of miles on a car, so I hope that the data backs up the opinions of "most"
Primary Use: Commuting to work
KevinHolder

writes:
2009 Volkswagen Jetta SE
Review
Pros
Car is very nice, and handles well, It is bit under-powered, but other than that it is a wonderful car.
Cons
nothing, but just lacks power

Car Is Very Nice, Great Styling, Handling — This car is a replacement for a family car. This car handles well, and has great interior and exterior. The car is truly a wonderful car and I have only had it a few weeks, but it is everything that I wanted it to be so far!
Primary Use: Family transportation
xdreamoz

writes:
2009 Volkswagen Jetta TDI
Review
Pros
Great fuel economy and awesome performance driving through the mountains.
Cons
Response time from stop to go is sometimes slow.

Overall Great Value — Acceleration is terrible at lower spends but once in second or 3rd gear it really takes off. Great for passing cars because of all the torque and the seats are really comfortable on long trips. Not a ton of leg room in the back seats but I usually only have one passenger so that hasn't been a problem for me. It is a great summer car but in the winters it would take forever for the car to warm up. Thank goodness for the heated seats.
Primary Use: Commuting to work
bartrandall

writes:
2009 Volkswagen Jetta SE
Review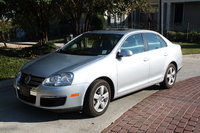 Colnagoboy

writes:
2009 Volkswagen Jetta TDI
Review
Pros
Great fuel economy! Has a great ride and feel for a small car had back issues from driving a civic and corrola. Very spunky and has a lot of get up and go!
Cons
Very high on maintenance cost! Disappointed in the reliability compared to 8 previous hondas and 2 toyota's. The VW premium extended warranty absolutely stinks compared to American Honda!

Disapointed — The vehicle is fun to drive and is excellent on the fuel economy. But the reliability and the cost to maintain make it difficult for me to totally recommend. As a loyal Honda owner I would seriously have to consider returning back to a Honda product based on those two factors.
Primary Use: Commuting to work
whults8581

writes:
2009 Volkswagen Jetta TDI
Review
Pros
great mileage and power
Cons
don't always start it temperature ups and down

I Love The Quality And Mileage — don't like it when it goes from cold to warm outside and the car has trouble starting but is really nice to drive handles very well I love to drive the car day to day great fuel mileage overal great buy green car
Primary Use: Commuting to work
Phillip

writes:
2009 Volkswagen Jetta S
Review
Pros
It's a VDUB, so you know it's amazing!
Cons
Cost if it ever needs repair
Work In Progress — I bought the 09 Jetta because my 97 Jetta broke down, it was a sad yet happy day. The performance is decent but can always use more horsepower and torque. Build quality is good as expected from VW. Interior and exterior are nice but in need of upgrades like leather and suede in the interior and atleast blackout of the chrome piece in front if not a full body kit. Cost of ownership is low at the moment with great gas mileage and only needing oil changes every 10,000 miles which come in handy because i drove almost 5,000 miles in the first month of owning it. The car is lots of fun and the 5 cylinder engine is a great conversation starter
Primary Use: Commuting to work
Peter

writes:
2009 Volkswagen Jetta TDI Loyal Edition
Review
Pros
Mileage and fun to drive.
Mileage 8) — Great gas mileage at 40 plus miles to the gallon, but yet really fun to drive. It is built like a sports sedan and the turbo gives it plenty of passing power on the two laners we drive everyday. The ability to switch to a manual transmission through the use of the DSG is a blast and a great safety feature on icey roads.
Primary Use: Commuting to work
Shitij

writes:
2009 Volkswagen Jetta TDI
Review
The Gr8 Jetta — its a gr9 car in terms of performance. solid built. awesome luking taillights. the interiors are spacious. the mileage is actually i dont know never calculated. the car is fun to drive. the car picks up speed fast and has awesome brakes.
Primary Use: Sport/fun (spirited driving, track racing, off-roading, etc.)
Displaying 11 - 20 of 36 2009 Volkswagen Jetta reviews.
Looking for a Used
Jetta
in your area?
CarGurus has

38,271

nationwide Jetta listings starting at

$1,990

.