2009 Volkswagen Jetta
User Reviews
2009 Volkswagen Jetta Review Ratings
Average Ratings
from 35 reviews
Performance:
Appearance:
Build Quality:
Overall:
Review Highlights
Click to filter reviews below
Displaying 1 - 10 of 35 reviews
Matt

writes:
2009 Volkswagen Jetta TDI Review
Pros
Diesel fuel efficiency, diesel torque, outstanding interior build quality, impressive safety features.
I Would By Another '05-'09 Jetta In A Heartbeat. — After 7 months and about 12,000 miles, I am very pleased with my TDI. The 2.0 TDI has not left me wanting for power; I appreciate that it has 236 lb. ft. of torque. The engine clatters a bit on a cold start-up, but is otherwise refined. I have never had to wait more than 3 seconds for the glow plugs to cycle. Fuel economy has been outstanding. I mainly use the car to commute, and have averaged about 43.5 MPG to date. In town, I average 40-42, while on the highway I've routinely averaged 45-48 MPG. My best average to date, for one trip, has been 49.6 MPG. That's pretty damn impressive. The build quality of the Jetta is superior to every other car in its class (indeed, it's better than some vehicles that cost much more). The solid "slam" of the doors is reassuring and gives the car a substantial feel. The soft-touch surfaces on the dash and door panels are outstanding and would not be out of place in a car that costs $10k more. As with all VW cars...service is expensive. However, I have not had problems to date and do not anticipate any. I bought the car because I needed something efficient for my 80 mile (round- trip) commute. The car has certainly delivered on the promise of impressive fuel-efficiency. I am very disappointed that VW chose to cheapen (quite drastically) the interior of the 2011 Jetta. I will not be replacing my '09 with a next-gen Jetta.
Primary Use: Commuting to work
Looking for a Used

Jetta

in your area?

CarGurus has

40,698

nationwide Jetta listings starting at

$1,991

.
Gary92021

writes:
2009 Volkswagen Jetta TDI Review
Pros
Fun car and great fuel mileage
Cons
Wind noise will drive you nuts

Test Drive Any 2009 On The Highway Before You Buy - The Noise Will Make You Rethink The Value. — This is our 4th Jetta TDi. It was one of the best cars for the price and fuel mileage is excellent. The '09 has the new diesel engine which finally gave it the HP it needed. The complaint nearly every 2009 owner has - excessively high wind noise at the A-Pillars. VW does NOT want to fix it since most the 2009 do it - so it is by design. Do a Google search and you we see the high level of complaints on the 2009. Wrote to VW and the answer was "do bad so sad..." They should learn their lesson from Toyota!
Primary Use: Commuting to work
Karthik

writes:
2009 Volkswagen Jetta SE Review
Pros
Safety, Mileage, Comfort, Spacious, Sound System, Moon Roof, Air Conditions and Durability
Me And My Jetta — This is the Amazing Compact car I ever owned, Much better than Hondas & Toyotas. There is no comparison when it comes to Long rides. Silent cabin is best in the car. Boot space is better than Camry. My Babies love my car.
Primary Use: Family transportation
Joyce196

writes:
2009 Volkswagen Jetta TDI Loyal Edition Review

Lots Of Fun To Drive And Great Mileage Too! — The mileage we've been getting has been fantastic! We took a trip to New Hampshire, 3 1/2 hours, and got 46.7 miles/gal. Around here (combination in-town & highway driving), I've been getting about 40 m/g. The turbo gives it lots of pickup when I need it, which is one of the reasons I was hesitant about buying a highbred. I consider this a safety feature when merging with traffic on a highway entrance ramp and other situations where I need to quickly get out of someone's way. It is surprisingly quiet for a diesel. My husband is particularly sensitive to car and road noise and he is as enthusiatic as I am about the car.
Hotes

writes:
2009 Volkswagen Jetta SE Review
Pros
Great car for the price. I should have kept it but decided to upgrade to the new 2011 version of the same make and model. This actually turned out to be a downgrade with many features I liked in the older 2009 model that the newer one did not have.
Cons
None that I can think of at the moment. I traded up because it was involved in an accident and I let my superstitions get to me thinking it would never be right again.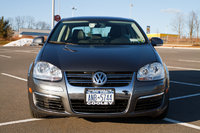 Should Have Kept It! — It was a great car and even though it was involved in an accident, in retrospect I should have kept it. I think it handled better than the newer model of 2011 and it had many features that the newer model does not for some reason.
Primary Use: Commuting to work
Bill123_

writes:
2009 Volkswagen Jetta Wolfsburg Edition Review
Pros
Performance, handling, gas mileage quality.
Cons
wide console, narrow seats, poor driver door control placement

Solid Performing Car, Built Well, But Needs More Driver Interior Space. — Owned for about 1.5 yrs. Avg. 27 miles per gallon. Has 18,000 miles. Ride is pretty good and solid, but firm, almoast to the point where its too firm. I guess a trade off for the great handling. My biggest gripes are the interior design- The size of the console- too wide- intrudes on leg room, seats are narrow, and drivers door controls could be better placed. The seat adjustment is not so good either, to get the bottom seat cushion level I need to pump up the seat to the point my head is hitting the roof. Wish it was electric hieght adjustment like other cars. The 2.0 turbo engine is sweet, the DSG is good once your moving. from a start it lags, and feels weird when coming to a stop. The sport mode holds shifts too long, requiring backing off of the gas to let it shift. Paddle shifters would have been a nice addition. I had 4 VWs before this all sticks. I wish I would have gotten the Jetta in a stick as well. I did take it for a run down the 1/4 mile a few times. My best time so far is 14.8 @ 94 MPH. That's on a full tank of gas, and just punching the gas, not using the launch control. No mods- car is bone stock. Had a noise in the front end, dealer replaced strut bearings and springs. Appaerently there were factory quality issues w/ the front springs. Other than that the car has performed flawlessy. I see on the 11 model golf/GTI the console is smaller, and the door controls are situated better. I guess this was a common gripe w/ other owners too.
Primary Use: Commuting to work
Nick

writes:
2009 Volkswagen Jetta Wolfsburg Edition PZEV Review
Pros
Its quick and looks good and the sound system is wonderful
Cons
not much at all..gas mileage could be better but its not really that bad at 29 MPG
Jetta 2.0t — Absolutely love this car to death..its not the fastest car on the road I know that much but the 2.0T engine can hold its own easily against most cars. I traded in my 2007 Accord for this car and I have not one regret. If youre going to get a Jetta get the 2.0T engine because the 2.5 is not even close.
Primary Use: Utility (towing boats, transporting cargo, etc.)
newsmctado

writes:
2009 Volkswagen Jetta Wolfsburg Edition Review
Pros
Engine, transmission, handling, interior quality, build quality, performance, stereo.
Cons
Brakes, no trip computer, no radio controls on steering wheel.

A Great Compromise Of Fun And Practical — Bought the 2009 Wolfsburg Jetta with the DSG transmission in June 2011 with 28K miles and have put 20K miles on it since. Very impressed all around. Absolutely great engine. DSG transmission makes the most of the four cylinder turbo, with incredibly fast and smooth shifts. Plenty of power all over the rev band. Fuel economy could be a little better. I average about 30 on the highway, but only about 18 in the city. Very comfortable. Overall pretty good visibility, turning radius and parking. Great handling with a lot of feedback and response. Plenty of room in the rear for two adults up to about 6 foot, or three children. Great stereo and good seats, if a bit firm. Minor complaints would be lack of feel in the brakes with a little jerkiness, lack of radio controls on the steering wheel, and lack of trip computer. Oil changes require a full synthetic and are a bit expensive (about $70), but are generally good for 10K-12K miles. Needs premium gas or the engine hesitates. I have had small mechanical problems (blown fuse, broken engine fan blade, intake manifold), but all of those have been taken care of at minimal cost by VW servicing. The VW service program is easily the best automotive care program I have ever encountered and is certainly worth the slightly higher cost of the German engineered Jetta versus Corolla, Fusion, etc.
Primary Use: Commuting to work
rocketman_1

writes:
2009 Volkswagen Jetta TDI Review
Pros
great gas mileage. Very comfortable ride. Really good sound system. Fabulous DSG transmission.
Cons
DSG trans needed a $300 oil and filter change @ 50K. I figure I have have saved over $3400 in fuel costs vs. my old Acura , which averaged 21mpg.

Great Gas Saver! — handles well, is well made, absolutely no problems so far. Considered a Prius, but this is much more fun to drive. We have driven this Jetta from FL. to NM twice, and found it to be very comfortable. Really good sound system. Fabulous DSG transmission. I have recently taken this car on a two lane road with a lot of fast sweepers. This car handles amazing well. Brakes are excellent too. (I used have a Boxster S, and was a Porsche Club track driving instructor for over ten years).
Primary Use: Family transportation
David

writes:
2009 Volkswagen Jetta TDI Review
Pros
Excellent fuel economy on both highway and around town. Diesel engine provides plenty of torque and is seamlessly matched to the 6 speed DSG automatic transmission. Very quiet inside almost to the point that you forget you are in a diesel. Very well built, fit and finish of interior is on par with Mercedes and BMW.
Cons
Infrequent stops at the gas stations means you need your own squeegee to wash the windshield...
Jetta Tdi... Why Go Hybrid When You Can Have A Real Ca — In the quest to save money on fuel, my wife desperately wanted a Toyota Prius. Upon a closer look we found that the Prius was simply an economy car (read: interior is chincy and made out of sub par materials (inexpensive plastic with faux textures)) based on an inexpensive platform with only one thing in mind. Keeping the weight down to improve fuel economy. Strong consideration to handling, braking, acceleration were all thrown out the window in favor of the scale. Myself being a car enthusiast, I was almost insulted that such items in a modern day car could be ignored. I strongly feel that the aforementioned qualities are imperative for a safe vehicle. I believe that the safest vehicle is the vehicle that can avoid an accident whether it by by accelerating onto the freeway, braking in time to avoid hitting something/someone and able to successfully maneuver to avoid a collision at speed. Deciding to ditch out on any hybrid models as any "normal" cars fitted with hybrid tech simply didn't have the fuel savings without sacrificing the quality of the car. So we moved on to diesel. The Volkswagen Jetta TDI was on the short list of diesel vehicles available in the states. I went in open minded with no expectations. I was pleasantly surprised. The Jetta was a sharp looking car on the outside. Upon getting in the car, I was blown away. My current and past cars have been BMW M's and Porsche (911TT and Cayenne TT) and have gotten used to the very high quality of materials and design. The Jetta was right up there with the other top German automakers. While our other cars were the power horses of the family, this car you could jump in and feel familiar with the cockpit, while getting excellent fuel economy (the shortfall of our other cars). The braking is excellent for a car in this class, with great modulation and feedback. The handling is very responsive and well controlled. You can feel confident with any emergency avoidance maneuvers (unlike many other cars). On the highway, the car is very solid. One of my wife's biggest complaints about the Prius was that on the highway the car felt as if it was getting blown all over the road by oncoming traffic and wind gusts (that was 2nd to the Prius's uncomfortable seats). The one thing that I geek out on is the transmission. Our Jetta TDI is equipped with the 6 speed DSG transmission. Completely seamless, instantaneous gear changes. All of the high end sports cars are moving over to DSG transmissions due to their speed, minimal acceleration losses between gear changes and smoothness. I had a very bad experience with my last BMW M5 which only had a single clutch (SMG III) tranny, and this car with the dual clutch setup was a night and day difference. I have never experienced any issues starting out from a stop or being in the right gear like I did with the M5. (The new M5 and M3 have DSG transmissions in them as an option) To sum it up, I am very impressed with this car. Decent power, excellent reliability, quiet, handles and brakes well and being a fuel miser tops off the package. All without being blown off the road and distracted by images of your car charging on the dash.
Primary Use: Commuting to work
Displaying 1 - 10 of 35 reviews
Ask CarGurus about the 2009 Volkswagen Jetta
Average response time:
8.5 hours
,
# of Volkswagen Jetta owners:
9,423
Looking for a Used

Jetta

in your area?

CarGurus has

40,698

nationwide Jetta listings starting at

$1,991

.