2009 Toyota Camry
User Reviews
2009 Toyota Camry
Review Ratings
Average Ratings from

57

reviews
Performance:
Appearance:
Build Quality:
Overall:
Review Highlights
Click to filter reviews below
Displaying 1 - 10 of 57 2009 Toyota Camry reviews.
DaSH126

writes:
2009 Toyota Camry Hybrid
Review
Pros
Mileage is not quite what I expected but it does beat our Camry LE by10 mpg in the city. Nice ride and solidly built. So nice to see how things line up.
Cons
I do not care for the Transmission and I don't like the "grab" when starting from a stop. I also dislike people that say they are getting 45- 50 mpg, very unreal unless you are going down hill without AC on and a tail wind.

My 2009 Camry Hybrid — I bought this Hybrid in March 2008. We considered the Prius but were used to the size and comfort of the Camry which the Prius does not have. Have been driving Camry for 20 years and always had good service. Disappointed with highway mileage (37-38)when our LE gets that much if you keep it under 75. This is just my opinion! I would recommed this car but sadly I don't think I will buy another one. This car is fully loaded with Leather and Navigation and Sunroof.
Looking for a Used
Camry
in your area?
CarGurus has

78,475

nationwide Camry listings starting at

$1,500

.
Bluebass57

writes:
2009 Toyota Camry SE
Review
Pros
Sporty looking, nice color options, somewhat enjoyable handling
Cons
Instrumentation designed by committee, low acceleration, transmission searching when unexpected, had a front wheel bearing seize at 65K, gas mileage was no where near stated on purchase sticker - EPA 32 HWY, actual 26 mpg. Build quality was pretty marginal by any standard.

Sporty Looking, Not A Performer — It is more show than go - of course it is a 4 cylinder family sedan, an econo-box, and 2009 is/was the pinnacle of Toyota's not so secret slide away from good quality. It looks more like a "tuner" ride - I get a lot of teens and 20 somethings giving the car admiring looks, but I'm in my 50's and not looking for that kind of attention. It should make a really good kids car because it is roomy and somewhat comfortable with a full load of passengers. The 4 cylinder is decidedly under powered but acceleration is good after 50 up to 90 mph. The faux metal interior surfaces get dirty with the slightest touch and are difficult to clean - think stainless steel kitchen appliances, but worse. Stereo can barely get loud enough to exceed highway noise ( the car is noisy) and by then you are deafened by the decibels. The ride is stiff because it is a SE model which has the cross bar reinforcements in the frame behind the back seats, which is why it is the ONLY model of Toyota that the rear seats do not lay down for greater storage. Handling is still pretty nebuleous. At 43K I changed the factory installed "performance tires" and went with BF Goodrich AWR and they made it a greatly improved car in all aspects, mileage, noise, wet handling, snow handling etc. Best decision yet.
Primary Use: Commuting to work
TonyG123_

writes:
2009 Toyota Camry SE
Review
Pros
Looks, handling, upgraded brakes.

09 Se Overview — This is my 6th car. I have owned American, European, and Japanese. I bought the SE in Sept 08. By far this is the best car I have ever owned. The looks are fantastic. I get compliments from people age 15 to 45, and they all love the looks. Top quality craftmanship and handles like a true sports car should.
daven

writes:
2009 Toyota Camry CE
Review
Pros
tight truning circle, looks good

2009 Doesn't Compare With 98 Camry — What a lousy thing to do to the CAMRY. Our 98 4cyl was one of the best vehicles I ever owned.The 2009 is terrible. This 4cyl is underpowered for this car! No torque! Gas milage so far is worse then the 98. Engine makes more noise then the 98 did with 100k on it! Trans shifts up and down eraticly (downshift by itself going down hill?). It plows into turns like an old Buick. The armrests are not comfortable.
Owner for 0 years, 2 months
Miles Driven per Year:15,000
jsmooth969

writes:
2009 Toyota Camry CE
Review
Pros
fuel costs, smooth ride, less depreciation than other makes and the looks
Cons
a slow take off, expected with a 4 cylinder ride

Impressed Buyer — I had previously owned 4 suvs, the most recent the 05 4 runner. I thought I would feel uncomfortable driving this Camry. Once I test drove this Camry, I was sold. I am 6' 4 and I was very comfortable driving this vehicle. The main reason I wanted the 09 camry was for better fuel economy but I couldnt help the smile on my face when I felt the smooth ride. So far, I am very happy with my purchase.
Owner for 0 years, 1 months
Miles Driven per Year:12,000
mlafevers

writes:
2009 Toyota Camry Hybrid
Review
Pros
Excellent leg room in the back for passengers. My brother is 6'2" and was not 'squished.'
Great gas mileage when you are 'trying'
Very comfortable surroundings if in car for long periods of time
Easy/smooth steering
Keyless, touch entry is AWESOME
Cons
Not worth cost of hybrid if you are not willing to change the way you drive
Hybrid battery takes up a lot of trunk space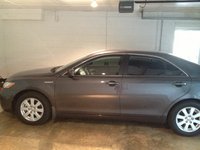 Love This Car! — I have driven in Austin, TX traffic and over the road travel for sales. When in Austin, with the stop and go traffic my gas mileage would average 31-32 mpg. In the country/open road when I set my cruise on ~ 62 I get 40 mpg. I loved the inside of my car every time I got in it. I went from an SUV to this car and never felt like I was in a 'tin can' or something little. All the features of the Hybrid from the keyless entry, steering wheel controls and sun roof make owning this care easy with a side of luxury.
1angryguy

writes:
2009 Toyota Camry LE
Review
Cons
You will die from the fumes

Take It Back - Please — I have owned 6 Toyota's. This is the fourth Camry and if I could give it back I would. The car is great except for one major flaw. The outside air vent stays open. You have to hit the button every three minutes for the vent to close. I live in an urban area and travel an hour and or more each day to and from work. I feel like a chicken having to peck the button every 3 minutes to keep from being choked to death by exhaust! This is a deal breaker for me. I wish we had gone with the Altima. Would not recommend to my worst enemy.
tantrick

writes:
2009 Toyota Camry LE
Review
Pros
consistently ranked most reliable by JD Powers

Excellent Family Car — I like the solid reputation of this car, it has a history of safety and reliability and continues to be the number one selling automobile in America. The ride is very comfortable and quiet. It is also very roomy for six footers.
Primary Use: Commuting to work
brookline

writes:
2009 Toyota Camry LE
Review
Pros
Smooth ride, comfortable on a road trip. I like the style of this car.
Cons
I would have preferred a chocolate or blue colored interior.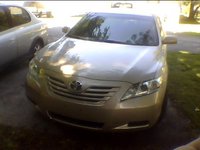 A Nice Car To Own And Drive — Toyota delivered the goods when they made this model of Camry. Rides smooth, quick brakes, No worries, when you travel in this car. Fuel saver. Good value for the money spent to purchase this auto. I would recommend it my friends and family.
Primary Use: Family transportation
Stan357

writes:
2009 Toyota Camry LE
Review
Pros
Very reliable car,Prefect for long drives,Large interior
Cons
Large car, as in to move around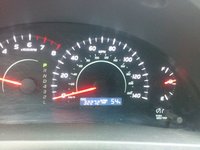 Camry — I loved this car because it was always the car to take to the store quickly and get back quickly.It also fit all of our luggage when we went to the airport for pickup or drop off. Overall great car to drive work or on a trip.
Primary Use: Family transportation
Displaying 1 - 10 of 57 2009 Toyota Camry reviews.
Looking for a Used
Camry
in your area?
CarGurus has

78,475

nationwide Camry listings starting at

$1,500

.