2009 Suzuki SX4
User Reviews
2009 Suzuki SX4 Review Ratings
Average Ratings
from 13 reviews
Performance:
Appearance:
Build Quality:
Overall:
Review Highlights
Click to filter reviews below
Displaying 1 - 10 of 13 reviews
sschriber

writes:
2009 Suzuki SX4 Sport Touring Review
Pros
SIze, handling, looks peppiness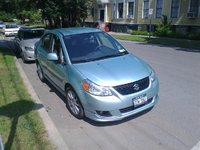 Nice Little Care Unless Noise Bothers You — Love the car, but I am sensitive to a drone frequency between 2000 and 2500 rpm. Many don't hear it, but I recently spoke with someone with the same experience whose ears were ringing after a 7 hr drive in the car. He traded his in... I kept mine and my ears still ring.
Primary Use: Commuting to work
Looking for a Used

SX4

in your area?

CarGurus has

1,163

nationwide SX4 listings starting at

$4,495

.
Susan

writes:
2009 Suzuki SX4 Crossover Touring AWD Review
Pros
Color, great gas milage, comfortable, appearence, cost, fun
Wonderful Car — This is the best car I have ever owned! The Suzuki Crossover may look small but it is mighty. My particular model has a standard transmission! The price was amazing! I'm paying just under $14,000! Very affordable! Highway driving it gets about 30 miles to the gallon and city driving about 24 miles to the gallon! And can get up to 300 miles on a tank. I love it and wouldn't trade it for anything but another Suzuki! The sales people were very helpful in helping my sister and I find the perfect car for us. Its extremely reliable and gets you where you want without the annoying sound of what an older standard 5-speed sounds like! Very quite! You can even pull out in 3rd!!! Its the best investment I have made! I am definately in love with Suzukis and My next car will a Suzuki!
Primary Use: Commuting to work
Scoots

writes:
2009 Suzuki SX4 Crossover Tech AWD Review
Pros
Impressive handling through ice and snow, came standard with a Garmin navigation system.
Cons
Falls short in the MPG dept., and it doesn't help that Suzuki put in a small 11.9 gallon fuel tank. Workmanship is sub-par to what I've come to expect from Suzuki.

Affordable Awd Car — The car is very under-powered, sporting a 2.0L engine that makes the automatic transmission work very hard. The fuel tank is tiny, which affords frequent stops to the gas station - especially since I only average 21 MPG on the highway (a far cry to what Suzuki advertised). Where the car shines is in its AWD abilities, cutting though snow better than my Toyota Tacoma 4X4...and was one of the most affordable AWD's available on the market. The main reasons for not recommending this vehicle are due to the sub-standard build quality and lack of available service centers (my closest service center is over 100 miles away).
Primary Use: Commuting to work
Jacob

writes:
2009 Suzuki SX4 Crossover Tech AWD Review
Pros
AWD, Ride comfort, fuel economy, cargo space
Cons
The A/T is a bit sluggish, sound system could be better and lacks MP3 connectivity
2009 Suzuki Sx4 Jx Awd — We bought the JX model with the optional AWD and I've been driving this for about a month so far and overall I like it. You have an excellent driving position and the seats are very comfortable, the ride is good at ironing out most bumps but still manages to be nice and firm around corners which means it's quite fun to drive. The steering is responsive, slack-free, and fairly light. It returns to a straight driving path very quickly aswell. The sound system is decent but not the best I've seen in a mid range trim level and lacks MP3 connectivity, though the steering wheel controls are very handy. There is ample head room for anyone in both the front and back, even if you're well over 6' tall. Leg room is just adequate with a full car which I tested quite well with a car full of friends ranging from 5'10" to 6'4". It's got more than enough power for a car this size with 143 BHP, and the 4 speed automatic transmission is very smooth; though a bit sluggish to down shift when you put your foot down so I find my self pushing the shifter over into 3rd (the design allows you to slide the shifter sideways into 3rd and then down into second at will) or even down into 2nd. I'd recommend getting the standard rather than the automatic (but I say that about every car). At first it may seem that there isn't a whole lot of cargo space, even with the seats down but they also fold forward which creates a ton of carrying space in the back. Easily the best part about this car is the All Wheel Drive system. It allows you to select between 2WD with the front wheels being the drive wheels, Auto AWD which is the intelligent drive mode that sends power to the rear wheels when needed, and Lock 4WD which sends a 50/50 split of the power to both the front and rear wheels which provides noticeably more grip in low-traction situations. This mode will automatically switch back to the Auto mode at speeds above 18km/h. Like all AWD cars the SX4 has a very planted feel that really gives you a lot of confidence in the car when you're driving in bad weather; the benefits of AWD easily outweigh the higher fuel consumption and cost (though fuel consumption is quite good when in 2WD mode). Overall this car is great and stands up quite well to its competitors. We also found an exceptional deal buying a lightly used model, saving nearly $8,000 over the sticker price of the 2010 JX AWD. Thumbs up to Suzuki.
Primary Use: Commuting to work
Zukifan

writes:
2009 Suzuki SX4 Crossover Touring AWD Review
Pros
safety (AWD), quality, driving performance

Best Kept Super Mini Secret — Overall: Best commuting car for Canada; Performance: Same as Rabbit(2.5l):C&D magazine test sheets; Build Quality: Japanese made model; Cost of ownership: lowest for Japanese built, 0% int purchase loan for 72 mo.; Fun factor: very close to the Mini's.
Primary Use: Commuting to work
sschriber

writes:
2009 Suzuki SX4 Sport Touring Review
Pros
Lots of head room
Peppy
handles wll
good gas mileage
Cons
Sometimes a little loaud for my taste.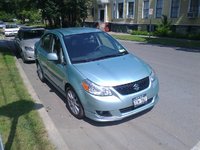 Roomy Commuter Car — This car has served me well over three years. I have averaged 32 miles per gallon driving alot to and from work. This roomy sedan handles well in snow and corners tightly on dry winding roads.. The tall rooflibne allows upright seating which is nice for my six foot one inch frame. You can get alot in the big trunk and the folding rear seats are a bonusd. Am pleased with the vehicle which has held up very good shape. I upgraded to a Suzuki Kizashi.
Primary Use: Commuting to work
Rachael

writes:
2009 Suzuki SX4 Crossover Tech AWD Review
Pros
Its size, and handling
Awesome Little Car But Could Be Faster. — For a manual transmission car he has the get up and go its just slow. After having this vehicle after 35,000 miles has not needed any repairs. The look of the car is kind of clownish, can fit a decent amount of people. Gas mileage on this vehicle is awesome gets around 33 mpg.
Primary Use: Commuting to work
Gaurav

writes:
2009 Suzuki SX4 Crossover Base AWD Review
For Every Man In A Gentleman — Performance - Offroading, highways, too good Appearance - robust BuildQuality - so so Fun Factor - you really feal the accleration, its thrilling... Cost of ownership - Maruti, 'naam hi kaafi hai' On highways this car is a real treat to drive, if you are the office to home and back guy then this car is not for you. Go wild go crazy...
Primary Use: Sport/fun (spirited driving, track racing, off-roading, etc.)
William

writes:
2009 Suzuki SX4 Sport Technology Review
Pros
The handleing and brakes are amazing
Cons
The automatic transmission is geared for economy and is very slugish In 1st and 2nd.
Its A Nice Car But If You Get It, Get The Manual Transmission. — The car is a great fun comuting car. Its a grat deal too starting at $13,359 for the base SX4 sedan and $16,199 for the sport. The MPG is a little disapponting though. The fuel acconomy is 23/30. Overall I like this car alot and I dont regret buying it at all.
Primary Use: Commuting to work
Holly

writes:
2009 Suzuki SX4 Sport Review
Cons
the side window in front
Love It!!! — I don't like the front side mirrors that are supposed to help with your side view. All they really do is get in the way when you try to make a turn. Other than that, I love this car! It was the best decision on a vehicle yet
Primary Use: Commuting to work
Displaying 1 - 10 of 13 reviews
Reviews From Other Years
Keep It In Good, Gives Good Feel Inside, Economy Is Ok Within Category (14 Kmpl + Ac)...
Performance on highway and in city has been very good. Very steady on curve even at 60+speed (even the sharp ones)... seats are good allows you to drive long distance... appearance is solid... but ... Read More
Good
its acceleration and pickup is superb. handling is good. its stylish. and its new version now comes with automatic transmission and 4x4 power. its maintainence is medium this car fun to drive :D :D :D... Read More
Read all 2010 Suzuki SX4 reviews
A Very Good All-around Vehicle.
Performance: The key issue here for the SX4 is not its lack of present power, but rather how that power is delivered to the wheels. Suzuki fitted an antique, slow- shifting 4-speed automatic gearbox ... Read More
Great Car
Performance is great Build is pretty decent Appearance is ok Its cost is reasonable Its a fun vehicle to drive especially if u dont wanna spend too much at the pump it also does great on ice and eve... Read More
Read all

18

2008 Suzuki SX4 reviews
A Very Practical Car For Any Age And Gender
I was able to modify this car to where I am very comfortable driving it. without simple modifications such as installing an armrest, tinting the giant windows, and putting an aftermarket intake so it ... Read More
4wd Not Expensive Anymore And Very Realiable
Some of my friend said why you want to buy this car? Because Suzuki is not very popular in US. But I would like to pick up a realiable car and stable rather than spend lots of money to buy a luxary ca... Read More
Read all

13

2007 Suzuki SX4 reviews
Ask CarGurus about the 2009 Suzuki SX4
Average response time:
8.5 hours
,
# of Suzuki SX4 owners:
508
Looking for a Used

SX4

in your area?

CarGurus has

1,163

nationwide SX4 listings starting at

$4,495

.