2009 Subaru Impreza
User Reviews
Average Ratings from

27

reviews
Performance:
Appearance:
Build Quality:
Overall:
Review Highlights
Click to filter reviews below
Displaying 1 - 10 of 27 2009 Subaru Impreza reviews.
David

writes:
2009 Subaru Impreza 2.5i Premium
Review
Cons
door panels vibrate with speakers but they are gonna fix that
09 Impreza — Like the car cant wait to try it out in the snow. Wish i had gotten a stick shift though cause i dont like the cvt automatic transmissions. So far so good ive only owned the car for a month now.
Primary Use: Commuting to work
Looking for a Used
Impreza
in your area?
CarGurus has
10,273
nationwide Impreza listings starting at
$1,495
.
shawje

writes:
2009 Subaru Impreza 2.5i Premium
Review
Pros
AWD - fantastic in winters, reliability
Cons
poor cargo capacity in trunk, stereo audio quality

Interceptor

writes:
2009 Subaru Impreza WRX Premium
Review
Pros
0-60 5.0-5.2 seconds!!! Sleeper most people have no idea how quick it is. When you really get on it once the turbo kicks in you've got "G's" :-) ...what a blast. The quality is the same as the BMW owned previously without the stuffiness. It's simply FUN!
Cons
Way to easy to speed (look out for Barney). I'd never promote speeding except on a closed course. My treat is entering the highway (poof!). Wheel color is a mystery (Subaru will only advise it's gray)! Really! I'd Love to know why the wheel color is so mysterious.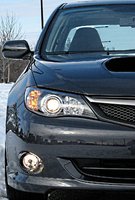 Wrausarex (please Keep Your Hands In The Vehicle At All Times). — One of best decisions I've made was trading in my 2004 WRX for an 09 WRX! Although I think my 04 looked Beefy like the Incredible Hulk... this WRX has the little niceties (MP3, Bluetooth - phone, Satellite Radio) which as I become older learn to appreciate more & more. The Dunlop's SP Sport 01 seems to be lasting longer than my old WRX (Bridgestone Potenza's). Both tires are very noisy.
Primary Use: Commuting to work
Albin

writes:
2009 Subaru Impreza WRX
Review
Pros
the handling and acceleration
2009Subaru

writes:
2009 Subaru Impreza 2.5i Premium Hatchback
Review
Pros
All wheel drive,
• Vehicle dynamics control,
• Front, front side, and side curtain air bags,
• Active head restraints,
• 4-wheel anti-lock,disk brakes with brake assist,
• Tire pressure monitor,
• Security system with engine immobilizer,
• Day time running lights,
• 2.5 L SOHC engine,
• 4-speed auto transmission with sport shift,
• AC with air filtration,
• AM/FM with 6 CD changer,10 speakers, auxiliary audio jack,
• Cruise control,
• Tilt steering wheel,
• Power door locks,
• Dual power mirrors,
• 60/40 split fold down rear seat,
• Remote keyless entry system,
• Power moon roof,
•12 spoke alloy wheels,
• Fog lights,
Leather steering wheel with audio controls.
25 mpg (mixed driving hi-way and town)
Cons
Parking lot dings on the side doors. Driver side rear bumper heavy scratch. All wheel drive is nice but does hurt gas milage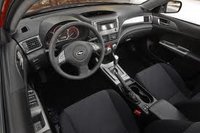 I Drove This Car For About 20,000 Miles Mainly To Work. I Retired And Don't Need It Anymore. — The car handles very well , gets OK gas mail age and has a outstanding sound system. The car is well built with tight seams and low road noise. I had the car serviced at recommended service intervals at the Subaru dealer. I enjoy driving it. Handles well and accelerates very nicely. You feel very safe in the car and it is fun to drive.
Primary Use: Commuting to work
Philippe

writes:
2009 Subaru Impreza 2.5i Premium Hatchback
Review
Pros
My best car for now !!!
Impreza 2009 Hatchback 2.5i — Build Quality - Subaru = Fiability Appearance- Stock but atractive Fun Factor - This car was very fun to drive Performance - Pretty good for a H4 n/a This is my first real car and this car was pretty sport with the manual transmission. :P
Primary Use: Commuting to work
reaktionar

writes:
2009 Subaru Impreza WRX Premium
Review
Pros
The WRX is the best performance bargain on the market. I don't know of any turbo charged AWD boxer engine cars for under $45 grand. These cars are easy to tune and adding a performance exhaust unlocks 20%+ horse power instantly. The car is comfortable and a good daily driver, which makes it much more enjoyable during the weekly commute than a Mitsubishi Lancer Evo. The seats are comfortable. The only downside is the interior, but if you wanted "Kultur" and performance, you would pay up for an Audi. M3, or Porsche!
Cons
Budget car plastic interior in certain areas to control costs.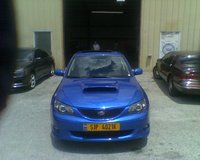 Compact Sedan That Can Transport The Family With Coupe Sports Car Performance. — The price point of the WRX model is unbeatable for an AWD car and the engine build quality of Subaru. I can say that after 23000 miles, I have had no problems besides the routine maintenance. Change oil, filter, and fluids at the proper intervals and this car will last a long time.
Christo

writes:
2009 Subaru Impreza WRX Hatchback
Review
Subaru Wrx — The performace 10/10 , braking 10/10 , handling -100/10 , It was in a accident it took 70 day to be repeared , interior cool needs miner upgrading , exterior sweet , To expensive +/- R331000.00 SA rands , normal driving its a gusler 15.3 L / 100km , if driving like miss daise good 9.5 L / 100km , Not fun 2 drive handels like soap in corners , Amazing power over all
Primary Use: Family transportation
Mark

writes:
2009 Subaru Impreza Outback Sport
Review
Pros
A stylish, attractive little warm hatch (not quite "hot"); The rear seats fold down 60/40 for a great amount of cargo capacity; Looks just as good--if not better--with the racks taken off (an incredibly easy process); Clear tail lights are a nice touch; 17" wheels look good and drive well
Cons
Legroom in the back seats is...lacking; The automatic is only a 4-speed; "Manu-matic" shifting is less than smooth unless you really treat it like a stick with respect to being on and off the accelerator at the right times and in the right amounts; Leather seats, but the vast majority of the interior is plastic; Not quite as powerful or zippy as I'd like--granted, I'd like a WRX STI; Subaru's conversion to equal-length headers has left newer models completely devoid of that pretty Boxer Engine purr; No cup holders in the back seat; Nitrogen-filled tires might be all well and good, but finding places to fill them is obnoxious
In My Experience, You Can't Go Wrong With Any Subaru, And This Is No Exception. — I got this little girl for $18.5k (before extended warranty) with plenty of options, 2 years old, with less than 12k miles on it--practically brand new. A Subaru is no stranger to 200k miles, so she's looking to be a fantastic investment. A 2.5i and symmetrical AWD (of course) do the trick for getting to the slopes in the southern Appalachians (site of my hometown), navigating Atlanta traffic (site of my graduate school), and every bit of the drive in between.
Khairuddin

writes:
2009 Subaru Impreza
Review
Have Fun With The Car. — Well for me,in performance in can be a little bit better.The handling is kinda smooth actually.Build quality,well actually i have nothing to say about it.For appearance,it can make a little more sporty.well like a mustang.Make it a little bit more fiercer.For the gas of mileage.Can't take it.Uses too much oil.Well the car is actually fun to drive but they can improve it more on performance wise.
Primary Use: Sport/fun (spirited driving, track racing, off-roading, etc.)
Displaying 1 - 10 of 27 2009 Subaru Impreza reviews.
Looking for a Used
Impreza
in your area?
CarGurus has
10,273
nationwide Impreza listings starting at
$1,495
.