2009 Saturn VUE
User Reviews
Displaying all 8 2009 Saturn VUE reviews.
Sheryl

writes:
2009 Saturn VUE XR V6 AWD
Review
Pros
I really can't say any positives ...other than ...the car was exactly what I wanted and would have bought it. It was cleaner than the pictures on the internet. February 28, 2015
Cons
The brakes needed worked on but that would have been my wiggle room when haggling with the dealer about price. As for the price, well... that is a whole different story. Transmission had to be repaired. It only had a one year warranty on that repair. If you buy this car and the transmission goes out on March 1, 2016... you're screwed. Do you really wanna drop $12,000 on a car that could need a new transmission a year from now?
Car Was Great Ish... The Dealership... Not So Much. — First of all, Mr. Lynn seemed honest on the phone in the beginning. However, I felt the *bait and switch* was pulled on me concerning the price of the vehicle. I called him on February 26, 2015 showing interest in the car. The car's price was 10,890. This price was what I and he had an understanding about on the phone on the 26th. As soon as my husband contacted him the next day (27th) and confirmed we would drive down to test drive on the (28th ...today) and we arrived on the time agreed on the 28th (two days later) >>>the price had shot up $1,090 overnight. When I brought this up (still interested in the vehicle because I had hoped I could still haggle on a price) >> he rationalized and said he had changed that price a week ago because of transmission problems that had to be fixed and the website must have been delayed. I felt lied to and I caught him lying. Now, Mr. Lynn... I'm sure you will come on here and write a rebuttal but you and I both know... you pulled a fast one on your price and quote. That's shady. And when my husband indicated that I was still interested but wanted to wiggle off the NOW $1,090 raise in price and at least get closer to the ORIGINAL PRICE ON THE INTERNET and the PRICE you QUOTED me on the phone on the 26th, you were dead set on staying firm with your most RECENT and "new retail price". Wow! You didn't even want to at least give it to us for the ORIGINAL $10,890 that it was listed for on Thursday February 26, 2015... TWO DAYS AGO. You are a bad dealership. You say you are honest but you are not. You should have stuck with your original price and not pulled a price increase on a potential customer. Ironically, had you stayed with your first 'honest price' ...we would have drove off with our new vehicle from your dealership. But, since you didn't want to really budge on the new INFLATED price... my husband tested you with one more question to see if you are really in the "car selling business". And you failed that too. Now, I know why your carlot is jam packed with cars and no place to park... because you aren't in the car selling business. Nope. You are in the business of wasting people's time. I can't believe you don't even take credit cards. What dealership doesn't take credit cards? this is what I just copied and pasted from this website today.... it has the dates ALL THERE in black and white. It doesn't lie. Price increase Increased by $1,090 $10,890 Feb 26 $11,980 Today Imagine that... whodathunkit??? It's a shame you changed the price overnight. You coulda sold a car today. (and god knows... you need the room on your lot! I had to park my car on the street because your lot is packed FULL) *shakes head*
Primary Use: Commuting to work
Looking for a Used
VUE
in your area?
CarGurus has
2,227
nationwide VUE listings starting at
$1,999
.
scorpion66

writes:
2009 Saturn VUE XE V6 AWD
Review
Pros
The vue is a very beautiful , vehicle with great power, maint very good performance
Cons
front seats are very uncomfortable for long time use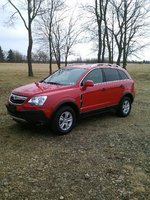 I Think The Experience Was Great — I disliked the seating in the car was very uncomfortable to ride in for long periods of timeThe cargo space is too small to haul anything, the gas mileage in the 3.5 v6 too much for the car and therefore very poor gas mileage
Primary Use: Sport/fun (spirited driving, track racing, off-roading, etc.)
Gary

writes:
2009 Saturn VUE XR V6
Review
Cons
somewhat poor gas mileage (<30 MPG)
Absolutely Great For Our Purpose — excellent size for the two of us to tow behind our motorhome. It is the same size as our 2007 Saturn Vue Hybrid so should meet our needs very well. We know that it will get a little less gas mileage but we were able to pick it up about $6,000 under book value.
Primary Use: Sport/fun (spirited driving, track racing, off-roading, etc.)
tcarreon0514

writes:
2009 Saturn VUE Red Line V6
Review
Pros
Great smaller SUV, love the heated seats
Cons
Not enough room after 2 carseats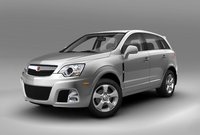 Sharp Stylish Suv — Love the look of the Vue, drives great, heated seats, sunroof, everything I love in a car but need more room with the kids. Can fit a double sit n stand stroller and then some! Just in need of a third row seat. Great pick up when you start out. And handles great. Gets about 22mpg in the winter and about 25mpg in the summer. Tires are a year old, oil changes/tire rotations regularly.
Primary Use: Commuting to work
Brian

writes:
2009 Saturn VUE XR V6
Review
Pros
Good price, great features, and fun to drive!
Cons
Can't think of any.... honestly.
A Super Car At A Super Deal! — A REALLY GREAT CAR! It's really fun to drive, which is surprising considering it's an SUV. It's built very well, and I haven't had one problem with it. The interior and exterior are... dare I say.... sexy. The controls are easy to reach and simple to use. And the price is fair, to.
saramoon

writes:
2009 Saturn VUE XR V6
Review
Pros
Very easy to handle and great to look at

I Would Rate This As A Good Buy If You Like Looks,power, And Comfort — Great car that gives the feel of a much larger car. The ride is smooth and quite. The look is very sexy and Euro. I would buy this car over again.. Gas milage is not too bad for a 3.6 V6. If You want the power You have to let it drink.
Primary Use: Family transportation
Shayla55

writes:
2009 Saturn VUE XR V6 AWD
Review

David14511

writes:
2009 Saturn VUE Hybrid
Review

Vue Hybrid In Utah — This car is very solidly built and the ride is smooth and comfortable. Passengers in the rear seat have commented on how comfortable is is. In the one month that we have owned our VUE Hybrid we have mostly city driving and have averaged about 27 mpg. This is good but less than we had hoped. Overall, I am very pleased with this car.
Displaying all 8 2009 Saturn VUE reviews.
Looking for a Used
VUE
in your area?
CarGurus has
2,227
nationwide VUE listings starting at
$1,999
.