2009 Pontiac G8
User Reviews
2009 Pontiac G8
Review Ratings
Average Ratings from

42

reviews
Performance:
Appearance:
Build Quality:
Overall:
Review Highlights
Click to filter reviews below
Displaying 1 - 10 of 42 2009 Pontiac G8 reviews.
Phil

writes:
2009 Pontiac G8 GT
Review
Pros
Performance and comfort
Best Value Car On The Planet. — This is the best car in Pontiac's history. It handles like a BMW although it is smoother over bumps. It's 6 litre engine has 361 hp, and it will probably be the last big engined passenger car from an American company. It's fast, comfortable, has a great stereo, and has cavernous amount of room for a big guy like me and my big kids. And I can blow away every Mustang GT and Charger/Challenger that stops next to me.
Primary Use: Family transportation
Looking for a Used
G8
in your area?
CarGurus has

557

nationwide G8 listings starting at

$8,000

.
Alex

writes:
2009 Pontiac G8 GT
Review
Pros
Muscle-car looks, practical, fast, handles well, great interior, good value
Cons
Gas mileage could be a little better, still a few tiny things in the interior that need work, overall nothing really negative.
The 2009 Pontiac G8 Gt — This car is exactly what Pontiac has needed. It has superb quality and fit and finish is amazing! The performance is super. The truly wonderful thing about the G8 is the fact that it is practical, yet definitely a performance vehicle. The gas mileage is ok, but I guess good for a car with a 6.0L V8. The G8 is quiet, fun to drive, and good lookin. GM has definitely done an exceptional job on this car. Bravo! Now if only the rest of the Pontiac lineup was this good...
OverlordSpock

writes:
2009 Pontiac G8 GT
Review
Pros
- Looks great—aggressive yet not too wild
- Power to spare—no worries about getting up to speed
- Sharp handling—turns are fun!
- Extremely comfortable as a family sedan—acres of room on the inside (lots of room in the back seat too!) and quiet.
Cons
Low-volume car, so parts are more expensive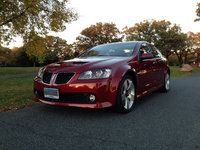 Perfect Cross Between Performance And Practicality — The Pontiac G8 is a GREAT car for those that need something for the family, but don't want to give up their fun car. This car has tons of space on the inside, is extremely comfortable for both short and long trips and is relatively quiet for what it is. At the same time, the L76 (in GT trim) and LS3 (in GXP trim) are rip-roaring power plants that can get the car going in a very short time (my GT will do 0-60 in less than 5 seconds). And, it's not just straight-line performance. The car handles great in the turns, especially considering how big this car is. As with any car, there are a few issues that have come up with the G8 over time, but nothing major or hugely expensive. The G8 has proven itself to be a really reliable car. My own G8 (a 2009 Sport Red Metallic GT) currently has 24,000 miles and the only work that has needed to be done was all done under warranty. The only drawbacks of this car are few: - These cars were made right as the entire industry really started moving toward infotainment systems and more upscale interiors, so the interior has become prematurely dated. It's not BAD, it's just not modern. But, it's still a great interior for what it is. - Not many of these were made, so there isn't a huge number of parts available for these cars. The engines are fine as they are LS-based engines so lots of parts there. But body panels and interior and exterior trim are hard to come by and command premium prices. There is good aftermarket support for these cars, but that tends to be geared for performance improvements, not replacement parts. I am beyond happy with my G8 and intend on keeping this car for a LONG, LONG time. It's my daily driver during the non-winter months, but has also been down the drag-strip a time or two. Best of both worlds!
Primary Use: Commuting to work
Kristy

writes:
2009 Pontiac G8 GT
Review
Cons
You worry about how much you spend on petrol
I Wish I Could Have A Whole Stable Of G8's Across The Color & Performance Spectrum! — I love my G8. I am overly pleased with this car. It handles great (even in snow as a RWD!), has a unique & well laid out interior, and has all the features you'd expect for $30k. The G8 has a serious fun factor!
dmblystone14

writes:
2009 Pontiac G8 GT
Review
Pros
Great power for the money, a new car with this much power would easily cost $35-$40k, very reliable so far, exterior styling is aggressive but not overdone, get nice car comments all the time
Cons
only average about 17-18 mpg but not too bad for a 355 hp car, it does have the g8 slight steering wheel shake at high speeds even after having an alignment and all the tires re-balanced, interior is just average, if you're going to drive it in the winter in a region where its snows make sure you have good winter tires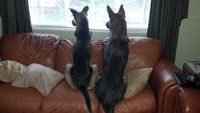 So This Is What A Reliable Gm Sports Sedan Looks Like — Wanted one of these when they were new but got a used Grand Prix GXP instead. Big mistake. The Grand Prix had every problem imagineable. Was a little hesitant to get another GM product, but glad I did now. These cars aren't easy to find and it took some time to find the one I wanted, but that is one of the things I like the most, they're pretty rare. For the price you really can't beat the power. Has been very reliable but does have the G8 steering wheel shake at high speeds and with very hard braking. I wasn't aware that this was a common problem so I had the car aligned, the tires re-balanced, and the rotors machined and new brake pads. Seemed to get a little better but still shakes slightly. I've read many G8 forums and there doesn't seem to be a definitive answer as to the cause. Other than that though absolutely no problems with this car after almost a year of ownership. Would definitely recommend a G8 GT to anyone looking for an inexpensive sports sedan.
mpandy22

writes:
2009 Pontiac G8 GT
Review
Pros
ist blue and has lots of power.
Cons
not the best on gas, and not so great in any kind of snow just put it up.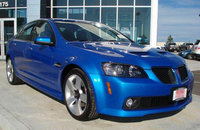 Blue Beast — This is a great car for the spring summer and fall. It has lots of power and is a great ride. Lots of fun to drive. over all this is a great car, and anyone who gets in one will fall in love.
Primary Use: Commuting to work
Kevin

writes:
2009 Pontiac G8 GT
Review
Pros
Unique, Fast, can get bolt on parts from GM
Cons
Handling is not up to par
The Dingo Makes It To America — Rare breed on this side of the world. Thankfully some of them made it in before Pontiac went bye bye. Simply a rebadged Holden HSV8, this thing HAULS!! It looks sporty and aggressive and with a few tweaks became very fun to drive. Handling isnt its best dance but then again, its a full sized car.
Primary Use: Sport/fun (spirited driving, track racing, off-roading, etc.)
DrJ

writes:
2009 Pontiac G8 GXP
Review
Pros
Power, style, handling, rarity, the "This car only costs how much" comments.
Cons
GM is incompetent (which is why they needed to be "bailed out") and killed Pontiac whereas they could have kept it as a niche brand to keep G8 and Solstice

Bmw Killer — This was (and is) one of GM's best efforts in a performance sedan. It has the options to be cool and the performance to be extremely fun. The fit anf finish is very good. I am 6'5" and the seats fit and feel good. This car is very rewarding to drive. The Passport radar detector should come standard on this and the CTS-V. When was the last time you loved, I mean loved....any car? This car is truly one you can love with a capitol L. It is a sport sedan, so not for snow driving...but that's why SUV's exist. If you want a collector that is super fun, and will get more valuable over time (if you can find one) get this car. It has been a trouble free blast to own.
Andrew

writes:
2009 Pontiac G8 GT
Review
Pros
Engine, performance and ride quality
Cons
Heavy, tires are expensive to replace on a RWD ;)
G8 With The V8 — Everything about this car is great! The performance, the ride, the braking and most importantly the engine. The car gets good milage but I didn't buy a V8 to get good gas mileage. This is my first "GM" car and I love it!!
Primary Use: Sport/fun (spirited driving, track racing, off-roading, etc.)
Christopher

writes:
2009 Pontiac G8 GXP
Review
Pros
Sporty sedan with V8 power
Cons
the gas mileage isn't ideal...but well worth it.
Powerful V8 Sedan — Performance: 0-60 4.7 sec, fe3 suspension, from 60- 0 106 feet. Build Quality: The best pontiac has ever put out. Appearance: Sexy and very Euro like Fun Factor: The best decision i have ever made in a fun sedan. V8 power with the brakes and suspension to support it!
Primary Use: Commuting to work
Displaying 1 - 10 of 42 2009 Pontiac G8 reviews.
Reviews From Other Years
Awesome 4-door Sports Sedan
I purchased the G8 GT new and have been extremely happy with the style and performance. The 6.0L 361hp V-8 and 6-speed automatic really deliver amazing performance. Fully independent suspension, wide ... Read More
Australian Built With A 6.0l V8 With American Attitude
With only 2k on the road for 2008 they always draw attention. With a Corvette based V8 it just has an attitude that you don't find in many cars today. It has become my show only car. It stays in the ... Read More
Read all

19

2008 Pontiac G8 reviews
Looking for a Used
G8
in your area?
CarGurus has

557

nationwide G8 listings starting at

$8,000

.