2009 Pontiac G6
User Reviews
2009 Pontiac G6
Review Ratings
Average Ratings from

15

reviews
Performance:
Appearance:
Build Quality:
Overall:
Review Highlights
Click to filter reviews below
Displaying 1 - 10 of 15 2009 Pontiac G6 reviews.
Nick

writes:
2009 Pontiac G6 GT
Review
Great For The Average Driver — Handles like a champ, acceleration can be spontaneous at times. No powertrain issues, but the drivers side rear door lock sticks sometimes. The styling on the inside is the same on every pontiac car, I would like to see some more variety. Gas mileage can be very bad in the city. Overall I like driving the car.
Primary Use: Commuting to work
Looking for a Used
G6
in your area?
CarGurus has

7,152

nationwide G6 listings starting at

$1,800

.
MrPerk

writes:
2009 Pontiac G6 GT Convertible
Review
Pros
A nice hardtop convertible with great Monsoon sound system and XM/CD/radio. It has been a dependable daily driver. Nice leather seats with power adjustments and heated seats.
Cons
Plastic interior does not go with leather seats. Poor electrical connectors in headlight wiring harness that melted and required replacement. Prior to replacement you never knew if you would have headlights as one or both would fail randomly.

Pontiac Gt - The Car That Could Have Been Great But Wasn't. — We initially had problems with the factory tires (shaking the car). Ditched the Goodyears ASAP after dealing with dealership, Goodyear and GM squabbling over who would replace these POS expensive tires. Eventual dealership replaced two tires and Goodyear replaced the other two, after numerous tire rotations and huge amounts of tire balancing lead. We switched to a cheap no-name brand from Discount Tire and never had another issue with the car shaking and vibration so bad you could not see out of the rearview mirrors. Headlights failing due to plugs melting. This was eventually solved by replacing all sockets with replacement parts from auto supply store. We did not use GM replacement harness that was hugely over priced. I filed a NTSB complaint on the headlights as both beams failed while my wife was driving 70 mph at night. This scared her so much she will not drive it at night. About a year after warranty expired, brakes failed. Towed car to dealership where it sat for a month having the ABS system replaced (big $$). Drove off with car and brakes failed. We did not make it home. Another week at dealership having break lines bleed. Third try and brakes failed again - brake pedal was mushy to the floor and required pumping to get the car to stop. Towed car to private mechanic who replaced an inexpensive *cough* master cylinder and we have not had anymore brake issues. Retractable hardtop has worked fine since day-one, but the car has had a rattle in the roof that the dealership never resolved. There are some things I really like about the G-6 and some things that make me feel like I bought an over-priced lemon. On a sunny day driving with the roof down I can almost forgive Pontiac for the many flaws in this car - almost, then I put up the roof and hear that danged rattle.
Primary Use: Commuting to work
kazanouva

writes:
2009 Pontiac G6 GT
Review
Pros
too much power car,it give what you wants 3500 cc,nice looking sport car and fast ,really strong body and heavy
Cons
it take too much gas when you drive it crazy because you use all the power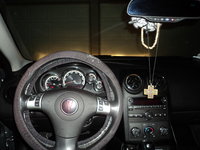 Clean — i like the stereo goes up with car speed and turns has nice computer and telles you details either miles or kilometer the car has one star security system and GPS in case the car stolen so you can log in online and lock you car and see where is it
Primary Use: Family transportation
Donovan

writes:
2009 Pontiac G6 GT
Review
Pros
Feel, fuel mileage, gadgets.
Cons
Pontiac is out of business. FWD
2009 Pontiac G6 Gt Sedan — A fun car with potential. It feels solid, and is very responsive. Looks aren't bad, but I'm not a fan of sedans. It's definitely got enough technology and gadgets to keep you entertained and busy for a while. Some very nice features in the dash and radio display. It does well with fuel mileage as far as a V6 is concerned. Overall, I'd say it's a good car. With pontiac out of business however, it's hard to say what the future will hold for the aftermarket and service.
haleycars

writes:
2009 Pontiac G6 Base
Review
Pros
Sporty, value, onstar
Cons
Power windows have some issues when the cars get older

Great Sporty Car That Fits Your Budget — They don't make Pontiacs anymore, but the G6 was a great car that gets you where you need to go. The G6 gets great gas mileage. Pontiacs have a nice red lit interior which helps you see better at night. Overall this is a great value car that is sporty and fun to drive.
Primary Use: Commuting to work
Adam

writes:
2009 Pontiac G6 Base
Review
Pros
She puts effort into acceleration for a 4 cyl. and is has a nice ride.
Cons
She is only a 4 cyl. and I really need more power to have more fun.
Great Car For The Average Driver — Good car Looks nice Tinted windows and Taillights Black arrowhead vinyls and 3rd brake light Needs more trunk space K&N air filter got her gas mileage up about 3 or 4 miles per gallon. Long Lasting warranty. Great stock sound system, but adding an aftermarket system sounds even better.
Primary Use: Commuting to work
Kiko

writes:
2009 Pontiac G6 Base
Review
Cons
my paticular year came with a four speed auto, could've had a six and better mpg
Love It Love It — Acceleration is not the best looking for a cold air intake to get a better low end take off. The braking is good with the all wheel disc brakes and it handles great the faster you go the smoother the ride. No build defects everything is great in that area. I love the lines and styling of this car its very sporty. The interior is good but I don't care what the interior looks like in any car. I currently average 27.6 mpg between city and freeway driving. I love driving my car everyday.
Primary Use: Commuting to work
Brian

writes:
2009 Pontiac G6 GXP Coupe
Review
Pros
awesome car with 260hp stock great looks 34mpgs and wont break the bank
Cons
they arent made anymore :)
3.6l Dual Overhead Cam (not Pushrods) For The Win — love the looks of the GXP coupe street edition, enormous amount of power for a 6cyl NA. 3.6L LY7 DOHC engine made in australia superior build quality awesome 6speed auto. great track car and very sexy looking.........great modding potential
Primary Use: Sport/fun (spirited driving, track racing, off-roading, etc.)
Roger

writes:
2009 Pontiac G6 GT
Review
KC64156

writes:
2009 Pontiac G6 Base
Review
Pros
Style, Great rear seating

Too Bad Gm Screwed Up. I Will Miss Pontiac — Not one problem in the year I've driven my G-6. Bought this car new at a deep discount and wish there were more just like it. The G-6 is tight with enough power coming from a 4 cyl. engine.
Primary Use: Family transportation
Displaying 1 - 10 of 15 2009 Pontiac G6 reviews.
Looking for a Used
G6
in your area?
CarGurus has

7,152

nationwide G6 listings starting at

$1,800

.