2009 Mitsubishi Lancer
User Reviews
Average Ratings from

64

reviews
Performance:
Appearance:
Build Quality:
Overall:
Review Highlights
Click to filter reviews below
Displaying 1 - 10 of 64 2009 Mitsubishi Lancer reviews.
Brent747

writes:
2009 Mitsubishi Lancer GTS
Review
Pros
Quick, good on gas, sporty, low in price
2009 Mitsubishi Lancer Gts — Amazing car, obviously the Evo was ideal, but this car is quick and fit my price range ($19,000) great car for what i need it for. Great on gas, about 28 mpg highway, and a sleek looking interior with carbon fiber paneling. I am very pleased with my car.
Looking for a Used
Lancer
in your area?
CarGurus has
5,839
nationwide Lancer listings starting at
$1,972
.
im2sick

writes:
2009 Mitsubishi Lancer GTS
Review
Pros
Great gas awesome power and yea i turn heads
Cons
I scrape unless i go in sideways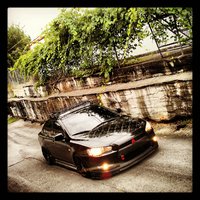 Build It And They Will Appreciate It — Cost alot to build but great way to spend time in the community. Unless you have the money buy a civic and save alot of dreams and heartache. Performance shops will be your best friend and forums are great advice.
Primary Use: Family transportation
Kirsten

writes:
2009 Mitsubishi Lancer ES Sport
Review
My Dream Car — Oh where do I start? The performance is fantastic, love the CVT, acceleration, How it handles on the road it feels very solid. Extremely smooth and just easy to drive. Steering is fantastic and once again soooo smooth. No rattles...only when the bass hits as I also have the Sun and Sound package which includes the Rockford Fosgate 10inch subwoofer system. It was love at first sight the body kit is gorgeous. I love the front of it the most it has a real mean look to it. Mine came out to about 20k and some change. I pay 360 a month for it and its well worth it. It gets fantastic gas mileage. I live in Southern Florida and I can drive all the way to almost Mid-Georgia before needing to fill up. Honestly I could go on and on about how fantastic and wonderful this car is. You can truly tell the quality that went into making this car when you get inside it.
Jon

writes:
2009 Mitsubishi Lancer ES
Review
Cons
everything else...poorly thought out computer programming, dash fit, engine noise, road noise etc.
Buy It For The Warrenty And Abuse It. — I have an 09 LANCE SE. This car is either overly dumbed down to further separate it from its big brother the EVO or its the most poorly programmed vehicle I've ever driven. The warning messages on this car are inappropriate and worse yet, distracting. Take the "possible icy roads" warning for example. It kicks in at around 3-4 degrees Celsius (outside temp) and lower. Ok, a neat gimmick perhaps. Except that I live in Canada where the temp often reaches well into the minus 30-40 degree celcius range, and we drive on ice for half the year! Worse yet, it randomly fires off while driving, flashing a message and chiming an alert, forcing me to take my eyes off the road to see if there is actually a warning I need to know about. The "remove key from ignition" warning, seems a little too aggressive, firing off the second i put the key into the ignition, or the moment the engine is turned off...Since the key is unusually difficult to insert (flat ignition plate as opposed to the usual guiding sloped to hole) I'm pretty sure I know the key is in the ignition and that I meant it to be there! I also have (for my wife) an 04 Hyundai Elantra. I mention this as a comparison for my next point. Both vehicles offer an automatic "lights off" feature. The Hyundai however goes about its business quietly and without fuss...The Lancer throws an electronic fit and insists I turn off the lights...why?!? There are other programming issues with this car as well, simple, more importantly cheap (free?) fixes that would greatly improve the overall driving experience! Speaking of driving, the chassis is wonderfully stiff and light, and the only reason I gave this cars two stars at all. (Ok, lots of room in this segment and styling is pretty good too.) But is has the worst engine noise ever. All valve-train. It shares the same engine block as the Hyundai Elantra (but with new head/valve-train). The turd-bo, excuse me turbo kicks in 600 rpm too high at least. I realize this helps with the fuel economy ratings, but it is such an aggressively styled car its appeal is largely to those who are likely to drive it as such. Road noise is appalling in an otherwise quiet car. Whats with the fit and finish of the dash plastic?!?! One last point, that has to be the worst manual transmission I have ever used! it feels like it came out of a farm tractor. It is both notchy and rubbery at the same time. The 30 year old fiat I own has a failing, abused stick with the same number of gears, and still its much the better unit! The reason for buying a car like this is pretty basic. If you choose to finance a new car for 5 years, it had better have a 5 year bumper to bumper warranty. That way you don't get stuck paying for a car you cant afford to fix. In Canada that leaves you with only 2 options the Mitsubishi or the Hyundai. The Mitsu has a powertrain warranty after that, most impressive indeed. At least when compared to the competition.
Primary Use: Sport/fun (spirited driving, track racing, off-roading, etc.)
Lakan

writes:
2009 Mitsubishi Lancer ES
Review
Pros
Good price, Feels more unique compared to other vehicles(not bashing, but it feels nice to drive something different since I see Hondas, Nissans, and Toyotas, very often with people my age), and reacts well to driver's driving style
Cons
Low fuel efficiency compared to other cars in the same class, minor rattles can get annoying, and sometimes manual shifting feels stiff.
The Car Is A Good Buy For A First Car And Feels Good For Beginning And More Experienced Drivers — This is a second review of my car. I have owned the car since 7/5/08 and have put in some time really getting to know my car. In the first 2 years, for the most part I have only driven the car every weekday from my home to class which is 56.2 miles round trip and some days make the trip twice. Even though I have been putting my vehicle through all of this work, it has held up quite nicely and still feels like the first day I got it. As I've started to make some longer trips(NJ to Massachusetts or NJ to DC), I've felt some problems with some things about the car which I will mention later on in the review. Overall the car is a great car. It's acceleration depends really on the driver and how they shift. When I do get a little aggressive, the car doesn't really get a good amount of power till past 3000 rpm in every gear but I'm still able to get good speed if I shift well. Braking is very good and the brake pads are still holding up for me quite well. The car handles quite nicely. Around tight turns I feel like I have the control of a much smaller/shorter vehicle sometimes and even when turning at higher speeds the car seems to handle fine. The car's build is overall good. There are rattles from the doors either because of the windows or from the plastic covers over the speakers. The window rattles don't do any damage to the vehicle or window itself but once it did come off of the tracks. Warranty covered this for me. After almost 2 and half years, I still love the look of the car. The aggressive shark style front of the car looks nice even for the ES compared to the GTS, Ralliart, or Evo. And it still has a professional look to the car even though it still has an aggressive look to the entire car. The interior looks nice overall. Everything is neatly arranged and has a clean look. My only complaints are that the arm rest is slightly too short and the seats get somewhat uncomfortable like the lack of lumbar support and the edge of the seat starts to dig into the back of your legs after sitting for an extended period. Gas mileage is ok. Again it really depends on the driver. If you drive aggressively, most likely you will see average MPG under 22/30. On my more conservative drives, I have been able to get 26/41. I've never had to replace any parts yet. Driving the car is a good experience. It reacts well to roads, handles nicely, fun for spirited driving and rewarding for conservative driving, and only money I've HAD to put into the car is just for oil changes. The rattles get slightly annoying but doesn't affect my experience a lot.
Primary Use: Commuting to work
0311

writes:
2009 Mitsubishi Lancer ES
Review
Pros
This vehicle, when paired with a five spd man., is a lot of fun to just drive around. It corners like a dream.
Cons
The only real problem that I have with it is the front wheel drive part. After looking back, I would have probably gone with an AWD.

Overall Good Car — The Lancer is a real head turner. There aren't to many of them out there. When you see one, it really stands out from the others. Has awesome exterior design to it and the front seats really hug you as you drive. I don't see it being a practical family car. I would prefer to see it in a two door for a more sporty look.
Primary Use: Commuting to work
Kevin

writes:
2009 Mitsubishi Lancer GTS
Review
Pros
It's a fun, sharp handling little car.
Cons
Engine performance mods are rather expensive.
My Daily Driver — The handling on this car is by far the best of any I have driven, including mustangs and mazdas. The Rockford/Fosgate sound system is impressive for a factory system. It could use another 30 hp, but it has enough power for normal driving.
Primary Use: Commuting to work
Ryan

writes:
2009 Mitsubishi Lancer DE
Review
Pros
I love this car. I love its aggressive look, and the overall quality is great.
Cons
It lacks all the "added perks" but I chose that to save money.
Quick And Reliable — The DE lacks the off the lot power as the other models but at a fraction of the price. I personally love the look of the car and haven't seen any other cars in this class that I like nearly as much. Its very roomy and my son loves it, It has great handling and braking performance. This car has been a great daily driver with amazing reliability. In the snow if this has new tires it dominates, but being front wheel drive without any of the traction control features and that I didn't get any of the accessory add on's I had to score it a little lower but those options are available.
Primary Use: Commuting to work
Brett

writes:
2009 Mitsubishi Lancer Ralliart
Review
Great Car For The Price. — pretty good looking car that answers when you want to put the pedal to the metal, SST transmission, few tranny issues, 25mpg average, resale value is ok. The car looks great no matter what color, Recommended tune ups will hurt the pocket book though.
Primary Use: Commuting to work
Eric

writes:
2009 Mitsubishi Lancer Ralliart
Review
Ralli///art — Great car, fun to drive becasue it is Turbo AWD. easy to mod and a lot of aftermarket parts available for this model as well as performance parts. Handles well in the winter but recommend that you get the Ultra Performance yokohama tires, It really makes a difference.
Primary Use: Commuting to work
Displaying 1 - 10 of 64 2009 Mitsubishi Lancer reviews.
Looking for a Used
Lancer
in your area?
CarGurus has
5,839
nationwide Lancer listings starting at
$1,972
.