2009 Mitsubishi Eclipse
User Reviews
Average Ratings from

7

reviews
Performance:
Appearance:
Build Quality:
Overall:
Review Highlights
Click to filter reviews below
Displaying all 7 2009 Mitsubishi Eclipse reviews.
Raarules86

writes:
2009 Mitsubishi Eclipse GS
Review
Pros
Nice, sleek body kit.
Decent power and speed.
Cheaper maintenance then most cars.
Fun to drive(warmer months.. I'll explain later)
Cons
Poor turning radius.
Less than good drivability and control in colder/slippery conditions(snow, sleet, rain etc..)
Rear spoiler reduces rear visibility(though this is only with the special edition one)
Seats enclose you and make it difficult to grab seat beats behind shoulder.
Hard to get in/out of car due to lowness to the ground and seat placement.
Mechanical issues seem to arise in colder conditions( See review below)
Gas mileage average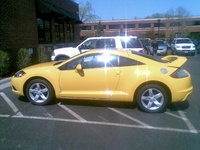 Sleek, Yet Flawed — Cosmetically, this car looks nice. I tinted the windows 35% which really adds a sleek looking element to my coupe. My Eclipse was a Automatic so the power wasn't nearly as good as a manual transmission version but it still had decent torque. The rear spoiler made it easy to lift my trunk open, though the car remote had a auto trunk open button so never really was a factor. I had a yellow Eclipse which is not very common, but the other colors are very cool looking as well. Being a Coupe, obviously it is not meant for more than 2-3 people at the most. It is also pretty low and awkward to get in and out of the car, so that can be annoying after awhile, especially if your a older person(I'm not). The spoiler in the rear of my model of the eclipse reduced rear visibility when backing out from somewhere. The turning radius leaves a lot to be desired, some turns that bigger trunk's and suv's could make could not be done with my Eclipse. Furthermore, this car is not very reliable in the winter. Its front wheel drive and even discounting that, it doesn't handle well on slippery conditions such as sleet, snow, rain etc... This is definitely a warm weather car. One thing that i encountered during the winter was the check engine light coming on when it got cold. I could go driving the next day in warmer temps and the check engine light would be gone, so there is a strong correlation with cold weather and the check engine light coming on. I'm not sure if it was just my car or all eclipses in general but i bought it brand new and it had this problem. I liked the black upholstery inside the car but the seats are very enclosing and make it hard to grab the seat belts behind you, so you almost have to dislocate your shoulder to grab the belts at times. In retrospect and conclusion, i would give this car a 6.5 out of 10. It has appeal and speed, but the lack of handling and the lack of comfortable sitting really turned me off to it. This is definitely a car for people that live in warmer states, which i do not(Minnesota lol). If your a Mitsubishi fan, it is a nice look, but you should rather go for the Lancer Evo or other models if your looking for speed and handling.
Primary Use: Commuting to work
Looking for a Used
Eclipse
in your area?
CarGurus has
1,574
nationwide Eclipse listings starting at
$1,900
.
Osama

writes:
2009 Mitsubishi Eclipse GT
Review
Coooooooooooool — what i dislike about the car that it doesn't look nice while its high , it needs to be lower little bet..a car with perfect engine and transmission. don't expect technologies..good istability on road and nice over all control
Fahad

writes:
2009 Mitsubishi Eclipse GS
Review
Pros
Nice, Cheap, Quick, Looks Good.
Cons
Ride height is high.
Good Car. Well Worth The Money. — Great car. Good for it's value. Great shark-style appearance. Can use slightly more pickup, but has an overall nice sound, quick engine, great sound system. Interesting car to drive, and is well worth your money. Ice blue interior lighting looks great, and the seats are quite comfortable. If the car had a slightly more aggressive look, this would have been a 5 star car.
Primary Use: Commuting to work
Laddybuck

writes:
2009 Mitsubishi Eclipse GS
Review
Pros
Looks, manual transmission, stereo, cornering access to the controls, especially the controls to the steering wheel mounted stereo access.
Cons
No MP3 jack some say the rear small window is a problem, I'm just extra cautious.

A Sports Car For The Middle Class — I think the Eclipse is a underrated car, especially the 4 cylinder. So far our family has owned four within the last 3 years and they were all four cylinders and we've all been impressed with the way they've performed. I think Mitsubishi made certain sacrifices to make vehicle so that it can be purchased by the middle of the road sports car enthusiast. I'm a car enthusiast and have driven most of the sports cars made and I think this car has taken a little from each sports car out their, notice I didn't say a lot.. I've driven the car to it's limit and it's always done what I've excepted. No it didn't push me back in the seat, but when I test drove the GT it did. But along with that I drove the car on a long strip of curved roads and not many of the cars I've test could not over come the GS Eclipse in other words the cornering was excellent especially the car I drive now, with the manual transmission I was able to downshift and up shift quicker than the automatic which gave me a better feel for the road... As far as the quality of the vehicle we've never had a problem with all of our cars, not one problem in 4 years. I think the look is futuristic and a sign of things to come. As far as the gas mileage it always depended on the way I drove the cars I don't mind less mileage when I want the car to be pushed it's limit. And on highway driving at a steady speed of 65 to 70 mph the car can get 33 mph. I think the car is very fun and it's always depended on the way I drove it... But I think my latest Eclipse Spyder with the manual transmission and rag top is extremely entertaining with the roof down or up. Oh I forgot something the stereo absolutely rocks.
Primary Use: Commuting to work
Jason

writes:
2009 Mitsubishi Eclipse GS
Review
Pros
great looks, power, and handling
Cons
addicting, and potentially get you speeding tickets
Great Car — amazing handling, great breaking, pretty good acceleration for a 4 cylinder. no repairs done besides changing oil and filter perfect styling inside and out pretty good gas mileage, but i think it could be better, love the size of the gas tank! extremely fun to drive
Primary Use: Commuting to work
Tyler

writes:
2009 Mitsubishi Eclipse GS
Review
Pros
Sound, sound system and performance
Fun Car To Drive — I really liked the feel of this car. It had great performance and also had great handling and feel to the tires in corners. The shiftronic was a blast runing through the gears around town it really draws attention to the car, good and bad though. My feeling is that if i had a chance to buy this car i would but i would deff. opt for the gts
nate1394

writes:
2009 Mitsubishi Eclipse GT
Review
Pros
Looks great turns gets a lot of attention
Cons
small only fits four people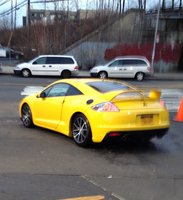 Displaying all 7 2009 Mitsubishi Eclipse reviews.
Looking for a Used
Eclipse
in your area?
CarGurus has
1,574
nationwide Eclipse listings starting at
$1,900
.