2009 Hyundai Elantra
User Reviews
Average Ratings from

12

reviews
Performance:
Appearance:
Build Quality:
Overall:
Review Highlights
Click to filter reviews below
Displaying 1 - 10 of 12 2009 Hyundai Elantra reviews.
Laura

writes:
2009 Hyundai Elantra
Review
Elantra — nothing so far, had the Elantra since the end of January no complaints so far. Plenty of room for the family and great space in the trunk would definately get another! fantastic on fuel. Dealership in Magog was great to deal with owned an accent before great little car for the price. Finished better inside then the Honda civic with more options.
Looking for a Used
Elantra
in your area?
CarGurus has
44,270
nationwide Elantra listings starting at
$1,499
.
Tante

writes:
2009 Hyundai Elantra
Review
Pros
Comfortatble interior, excellent sound system
Cons
Persistant rear rattle which Hyundai unable to identify

Elantra 2009 Problems — 2009 Elantra 6 months old has problems: Rear passenger door electronic lock stopped working had to be replaced Front shock dust covers both dropped and causing rattle. Had to be refastened with urethane. Rear lower table pillow bushings both sides greased out and had to be replaced Rear right shock cut to make it shorter Rattle in rear which Hyundai cannot explain!!
Chettie

writes:
2009 Hyundai Elantra GLS
Review
Pros
Great reliable car, cute and sporty
Cons
It is sometimes hard to see out of

I Like It — I've used this car strictly for work, it has been great and reliable. Having a manual transmission it has more power than I expected with a 4 cylinder engine, it handles well and is fun to drive. I hate to sell it but my circumstances require it.
Primary Use: Commuting to work
robyndawns

writes:
2009 Hyundai Elantra GLS
Review
Pros
Suited my needs for the price.
Cons
worthless. headlights randomly will not shut off (had it in 5 times for this issue and not fixed). Head gasket was replaced at 25,000km. Shocks and shock system, struts, etc replaced at least 10 times in past year and still not fixed issue. Radio replaced twice and issue still not corrected.

Worthless — Too many issues with this vehicle. Only 3 years old and 60,000km and it has been in for repairs over 20 times (including main computer replaced at 5000km and head gasket replaced at 25,000km). Hyundai refuses to fix a few of the issues because they don't want to keep the car in the shop overnight to figure out the problems.
agatg1326

writes:
2009 Hyundai Elantra GLS
Review
Pros
Power: you feel second gear really pull you through. third gear keeps the good momentum going.
Looks: refer to cons.
Maintenance: all I have had to replace were the tires. pretty cheap because of the 15 inch rims. has over 50k on it so far with no repairs.
Back Seats: literally the MOST comfortable back seats I have ever sat in. squishy and welcoming.
Brakes: when the brakes aren't worn, they hold nice and you don't feel the ABS trying to kick in too quickly.
Long Trips: I never needed to get out of the car to let my butt relax, so it remains comfortable throughout the journey.
Visibility: you don't hardly see any blind spot. the car is very open.
Handling: you always feel in control in this car whether the roads are wet or not. just don't get crazy.
Front Seats: no complaints. just don't care for the cloth.
Reliability: has good warranty so I don't worry too much about it. with over 50K I haven't had to get anything major done yet.
Family Car: decent idea. depends on how many kids you have or how big they are. I have 3 dogs and a fiance. we fill the car up.
Interior Space: pretty good. it gets the job done.
Parking: parking is rather easy due to the huge windshield and great turning radius. you know exactly where the front of your car is sticking out and it turns pretty darn sharp.
Ride Comfort: as long as the road is smooth, the ride is nice. just stay off of super duper noisy roads.
Fuel Economy: that is the best thing about this car really. the EPA says up to either 33 or 35, but I have gotten 42 before. granted, I babied it, but still. it did it. up until I moved to the city, I had never gotten below 32 miles per gallon.
Price: price is cheap for what you get. I bought mine used in 2011 with 16k on it for like $13,000. low payments make for an easy car to own.
Cargo Capacity: it'll carry what you expect. just don't bring more than you need.
Daily Commute: really isn't too bad on the day to day. just don't push it too hard and it'll do you justice.
Interior Noise: for the most part, the car is decently quiet. a little louder than the competitors but it doesn't make you yell.
Safety: should be good. I look around and only see SRS everywhere.
Cons
Power: unless you wanna burn a little clutch, first gear is pitiful. fourth gear is okay but just really short and fifth gear..................................<< that's how long it takes to accelerate even to highway speeds ha. Looks: looks kind of like a jelly bean. kind of a girly car. Handling: the squishy suspension makes it feel like the car is going to slide sometimes if you accidentally take a turn too fast. Reliability: I notice some wear on the suspension. with only 50k miles, I would expect better. Interior Noise: the engine gets real harsh at or above 3k rpm.

Read The Pros And Cons For An Unbiased Opinion — Based on everything that I have stated in the Pros and Cons, my overall opinion of this car is good. I mean, you're never going to find the perfect car that fits all of these things for 5 stars, especially for under $15,000.
Primary Use: Commuting to work
Laura

writes:
2009 Hyundai Elantra GLS
Review
Pros
fuel economy, enough room to fit the kids and the extra things in the trunk
Cons
not really anything that I am not happy with so far
Elantra — handles very well, great gas mileage, plenty of room for the family, very well styled inside. finsihed very nicely inside. No funny noises while driving. Love how it handles in any weather. Great extras, heated seats in the front, extra cup holders in the back that are in the arm rest, heated sideview mirrors, cruise control, 6 speakers, mp3 connection, should have taken the sport model which comes with the sunroof and fin in the back with radio controls on the stearing wheel.
Patrick

writes:
2009 Hyundai Elantra GLS
Review
Good Car For Driving Around — Good car, handles good, has enough nuts to get by, looks sporty enough. The warranty is really good can't beat. Have really had no problems with it. Would recommend but I like the newer versions too. Get it if you can
Primary Use: Commuting to work
drenalize

writes:
2009 Hyundai Elantra SE
Review
Pros
Very fuel efficient car
Cons
Not as powerful as my v6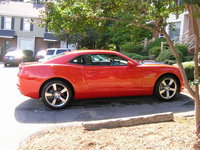 Great Overall Car — I liked the gas mileage and comfort of this car. I only had to do maintenance on it, had no problems. This car is affordable and reliable and good quality. Looks sharp and has lots of trunk space. Great for first car or family car.
Primary Use: Commuting to work
Nicole

writes:
2009 Hyundai Elantra GLS
Review
Elantra — it's better than that crappy Accent I had!! interior and exterior are nice, braking is kind of touchy, got the extended warranty so i'm good till i hit 100k, very roomy interior and trunk, good on gas, came with an aux jack which is very nice.
Primary Use: Commuting to work
James10182

writes:
2009 Hyundai Elantra GLS
Review

What A Gem — What a gem. Purchased 2009 Elantra GLS 3 weeks ago. Much better MPG than expected (Consistently 35 MPH). Handling much smoother than expected and interior very quiet. Previous car was barebones 2002 Accent so this was a big step up. Excellent placement of speaker, interior roomy and comfortable. 5 speed has very short shift pattern but that is okay. Love cruise control. Lots of nooks and crannys to store stuff. Huge trunk. perfect for road trips and fun on the go but still practical for commuting.
Primary Use: Family transportation
Displaying 1 - 10 of 12 2009 Hyundai Elantra reviews.
Looking for a Used
Elantra
in your area?
CarGurus has
44,270
nationwide Elantra listings starting at
$1,499
.