2008 Toyota Camry
User Reviews
2008 Toyota Camry
Review Ratings
Average Ratings from

48

reviews
Performance:
Appearance:
Build Quality:
Overall:
Review Highlights
Click to filter reviews below
Displaying 1 - 10 of 48 2008 Toyota Camry reviews.
Camry08XLE

writes:
2008 Toyota Camry XLE
Review
Pros
Styling, features, comfort, interior, value
Cons
acceleration hesitation (4cl.) when merging into freeway traffic. Instrument panel too bright during night driving.

Excellent Car! — I have an '08 Camry XLE, and I absolutely love the car. The redesign in '07 made some huge advances to the car's interior features. The navigation system works well and the touch screen is very user friendly. The odometer/instrument panel is much like the Lexus's now in that it's blacked out until the car is on. This car has tons of head space (I'm tall), leg room, cup holders, and storage compartments! I love the AUX jack for my iPod, and though it is not extremely easy to access, it's placement near a power outlet is ideal. The 8-speaker JBL sound system is amazing and produces quality audio at any volume. The pollen filter is another feature that I will appreciate come Spring. One of my favorite features of this car is the rear window shade. Although manual, it is a huge comfort feature for rear-seat passengers and helps to keep the car cooler while sitting in the sun. The back seat is great for passengers with plenty of leg room, rear air vents, cup holders, reading lights, and (extremely cool) reclining rear seats. The downside to having the reclining seats is that they eliminate the folding rear seat -- leaving you with only a small pass through for a broomstick. This is a great-looking car. The Camry has been bland since the late 90's redesign, but has finally come back around. The only real interior complaint I have is that the instrument panel and navigation unit are too bright at night. You can adjust both (independently), but it isn't convenient to do, and you would need to adjust back for daytime use. Tying this in with the auto headlight sensor and adding an auto dimmer would be nice. The moonroof's auto open/close feature is a nice extra and though I don't have a wind deflector, the moonroof stops short of being completely open to reduce wind noise. I will openly admit to not knowing much about what's under the hood, but I have already experienced a slight issue with the transmission. When merging into interstate traffic, there is a much-to-long hesitation before accelerating (after pushing the gas pedal) - causing scary, potentially dangerous moments. Check out some owner reports at www.nhtsa.dot.gov , and test this out during a test drive! Other than this, the 4 cl. engine is quite powerful and the car handles well and is quiet. These are my opinions/observations after 1 month and 1,000 miles in this car.
Owner for 0 years, 1 months
Miles Driven per Year:18,000
Looking for a Used
Camry
in your area?
CarGurus has

78,097

nationwide Camry listings starting at

$1,500

.
matthewdd892

writes:
2008 Toyota Camry Hybrid
Review
Pros
I love everything about this car, see review for more details!
Cons
Learning a different style of driving to optimize MPG.

2008 Camry Hybrid: Reliability Redefined — I am the proud new owner of a 2008 Camry Hybrid and I could not be more thrilled. Coming from a college student that was driving a 1996 Honda Accord for quite awhile, this is quite the upgrade for me. First things first, in my opinion, Toyota is the staple of consistency within the American auto market. For 75 years, this company has been creating quality products that have served customers all over the world. The Camry in particular was the best selling car in the United States from 1997-2013, an incredible feat that proves that Toyota holds a significant share of the products on the road today. The inception of hybrid technology has revolutionized what people look for when they buy a car. As gas prices continue to rise, car buyers are increasingly conscious about how much money they want to spend when filling up their tank. A solution to this issue is investing in a vehicle equipped with hybrid technology. The 2008 Camry is a perfect example of a great car that is not only efficient with MPG's but also stylish, full of great features, and incredibly reliable. Now, as a new hybrid driver, I am still learning the tricks of the trade. It's a different style of driving if you are really trying to maximize your miles per gallon. For starters, Toyota provides the driver with multiple ways to monitor your "MPG performance" by showing you a consumption gauge, your average MPG, and even an interactive bar graph that charts how you are doing on your current trip. It is really pretty nifty, and has sparked my competitive side as I always push myself to get the best MPG possible. So, if you enjoy watching yourself save money, this might be the car for you. From a styling standpoint, the 2008 Camry is somewhat conservative, but with the right packages it pulls off a sporty look. 16-inch alloy wheels come standard, and are somewhere between plain and sharp. My vehicle in particular features a 'Super White' exterior with a rear spoiler and dual exhaust. I would recommend adding the spoiler despite the extra cost, as it really adds to the visual appeal of the car. The interior largely depends on which package the Camry is equipped with. Although you pay a decent amount more, the nicer package is worth every penny. Most of that expense lies in the navigation system, which makes the hybrid technology that much more interactive. Through the touch screen, you control maps, audio and bluetooth menus. These features add to the experience of owning and driving the car, as you have the ability to get hands-free navigation, telephone, and audio capability. One thing that this car lacks is a USB connection or way to connect smartphones to the audio interface. The easy solution is to get a simple aux cord and connect through the auxiliary port, no big deal. The leather seats are also great, making for a comfortable ride regardless of distance. Keyless ignition, a JBL sound system and heated seats are all other factors that bring the Camry Hybrid closer to being a luxury-type automobile. From a performance standpoint, the Camry Hybrid thrives. It carries a 2.4-liter four-cylinder gas engine, and a separate electric motor to optimize the MPG output. At full strength, the car can reach 187 horsepower, but most often drivers look to find balance between these two engines by implementing driving habits that allow the electric motor to kick in. The Camry Hybrid can be powered on the electric motor alone, but only under speeds less than 30 mph, and light gas applications. On the road, the car drives very smooth and quietly. Some people have noted that the cabin gets almost to quiet while the car is stopped, but I don't agree. Why would you want to hear the roar of your engine, especially if you knew it was costing you money at a red light? As I mentioned above, getting the feel for driving a hybrid takes time and practice. Mainly (and the biggest struggle for me) is that you have to learn to stay off the pedal and coast whenever you can. This is not necessarily a natural thing to do, but when you have meters showing you how much more effective it is to coast into a stop light rather than ride the break, the motivation is vast. On the highway, cruise control is like a best friend. Speed regulation keeps the car at a consistent level of high MPG output, but with your foot on the pedal it makes it hard to stay in the good graces of the 'eco drive level'. Overall, the 2008 Camry Hybrid is a terrific car. For someone exploring the used market of hybrid vehicles I would take this car into serious consideration. Since it is six years old, finding one on a Toyota dealer lot is highly unlikely. The best way to track one down is through websites such as this. I would recommend looking for one that has been well kept with less than 100,000 miles. I hope that you found this review helpful and consider purchasing the outstanding 2008 Camry Hybrid.
Primary Use: Commuting to work
Thomas

writes:
2008 Toyota Camry SE
Review
Pros
EVERYTHING but the stock tires!
Cons
Factory Installed Tires [Bridgestone Turanza EL400]
2008 Toyota Camry Se I4 — I Love EVERYTHING about this car! Steering response is phenomenal, build quality is top of the line. Everything works perfectly. Acceleration could be a lot quicker but then again it IS a Camry haha. ONE of TWO ONLY downsides to this car might be that it is quiet bulky for a full-size sedan..maybe just a hint larger but maybe it's just be me. And TWO, the car comes with factory installed Bridgestone Turanza EL400's. I have to point out that these tires are HORRIBLE! Dry traction is good but when put to the test in different conditions this vehicle will not stick to the road. I'm in the process of buying new wheels and tires for my baby. Gas mileage (to me) is just a hint over the downside edge. A full 18.5 tank would cost me roughly around $65 where I am. I am a spirited driver so I know those short bursts of acceleration takes it's toll on my gas, not to mention the desire to stay 9mph above the speed limit lol. I also like to go out a lot which would explain my trips to the gas station at exactly every week. This car isn't for those of you who LOVE SPEED and do it 24/7, but it if you're one of those "spirited drivers" and find yourself speeding once in a while, this car will more than exceed your expectations. Though it doesn't come in a manual tranny for the Gen6, it does have a 5-Speed Auto tranny which would somewhat satisfy your desire to "shift between gears". The SE comes with a ground effects kit which makes the car look as if it's been dropped (+1). This car only has a little less than 4,000 on it so I can't say if the brakes squeak or if there's a problem with anything..too soon to say. I would recommend this car to ANYONE! LOVE IT!
OldMoparNut

writes:
2008 Toyota Camry XLE
Review
Pros
It never needed any repairs but a window seal replaced (free) as it would cause the power window to reverse, not close fully, that was the only thing in like 70,ooo miles !!
Cons
Motor was a bit noisy when "floored".

I Couldn't Have Asked For A Better All Around Car. — Liked everything. Top of line 4 cyl XLE hits me just right in pampering. Very comfortable seat and ride quality even over rough and worn roads. The economy was especially nice. I averaged a lot of 26 worst case winter short trips and 30/31 all summer, to even an easy 35 mpg's screaming down freeway with family and a/c on. One time I carefully drove it 200 miles and had economy meter at 39.5 mpg's by the time I got there. It still had plenty of power as long as below 80 on Interstate and trying to pass, that was the only time it "wheezed" for more power, which isn't necessary to even be there. I should've kept that one for a long, long time. I miss it.
Primary Use: Family transportation
Rjeverhart

writes:
2008 Toyota Camry Hybrid
Review
Pros
Comfortable, fantastic mileage, reliable, very cheap to maintain.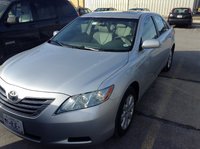 I Loved This Car. — I used this car for my daily commute as well as several long trips. I'd set the cruise control at 10 MPH above the speed limit, and relax. Traffic jams became a matter of pride as I knew that my engine would shut off when I wasn't moving. (Ironically, the Camry Hybrid gets BETTER fuel economy in stop and go driving that it does cruising the highway at 65 MPH. It's all in the way the Synergy Drive System works.) I enjoyed saving money on gas while remaining relatively anonymous in my normal looking car. As a nice bonus, Massachusetts allows you to travel in the HOV lane without passengers if you are driving a hybrid. Also, the Hybrid Only spaces at the Boston Common garage are usually available and in a primo location :-) The car has plenty of power (I used to jokingly say to my passengers "that's TWO engines" when I'd have to accelerate to merge in traffic or for some other reason. The handling is fine, once you get used to it. This car is not for a slalom course, it's for driving to work in comfort. The braking is different from a non-hybrid. The car is slowed by regenerative braking until you get down to 12 MPH, in regular situations. So the brakes get almost no wear if you brake slowly and smoothly. In a panic the regular brakes kick in immediately and stop you in plenty of time. This is a fantastic car. I'm replacing it with a newer hybrid and wanted to sell it while there is still plenty of miles left on it for the next owner.
Primary Use: Commuting to work
Sean

writes:
2008 Toyota Camry Hybrid
Review
Great Gas Mileage And Performace. — Now this is what driving was meant to be. Great gas mileage, a lot of power and many comforts. If you want a car that gets over 33mpg with many averages up in the 38-40mpg area then this is the car for you.
Primary Use: Commuting to work
Nick5587

writes:
2008 Toyota Camry LE
Review
Pros
Attractive Exterior Styling

Great Solid Car!!! — This is a great car. The exterior styling is definetly awesome. Interior is very roomy and comfortable. The controls on the dashboard are well designed and easy to use. The JBL Audio system is just terrific. Steering wheel mounted audio controls are sweet. Although the ride is very smooth and solid, the engine lacks power especially when merging onto freeway. Told the dealership about this and a sevice technician test drove the car and felt it. They said some "08 camry 4cyl" owners are experiecing this same issue. They said that Toyota is aware of this issue and will have a remedy soon. So I'm waiting for them to release the fix. But regardless this is a sweet car.
Shoaib

writes:
2008 Toyota Camry Hybrid
Review
Cons
Speedometer, smokers package, suspension build quality.
Dream Driving Mechaine Of The Decade. — Revolution in toyota industry up to standard of Honda and BMW by performence and styling. Cost effective, fuel effecient, ultimate exterior, impressive handling and stability with excellent braking system, power on the road, easy to maintain. Comfortable and stylish interior, excellent cooling system and sound system with plenty of space and a big back trunk with a lots of space. So in short plent of style, comfort,power and saftey with cost and fuel effectiveness. Its the car of the decade for family use.
Primary Use: Family transportation
Laura

writes:
2008 Toyota Camry LE
Review
Pros
Like riding on a cloud
I Love It! — Accelerates like a race car! Gets good gas mileage. Drives very well and the ride is very smooth. Cost is good...it's a lease. Fun to drive. Handles very well even in windy conditions and in torrential pouring down rain.
Christian

writes:
2008 Toyota Camry LE
Review
Pros
Gas-saving, gorgeous, Toyota brand
Cons
Cheap-looking areas, poor visibility
Good-looking Car Made My The Most Reliable Car-makers On The Planet. — The only problem I would say is that some of the parts look cheap, but the quality overall is Toyota worthy. Another MAJOR problem that I encountered was visibiliy: the two columns in the front that connect the roof to the rest of the car make turning somewhat dangerous at night since they block a good portion of the view if you're tall.
Displaying 1 - 10 of 48 2008 Toyota Camry reviews.
Looking for a Used
Camry
in your area?
CarGurus has

78,097

nationwide Camry listings starting at

$1,500

.