2008 Subaru Impreza WRX STi
User Reviews
2008 Subaru Impreza WRX STi
Review Ratings
Average Ratings from

40

reviews
Performance:
Appearance:
Build Quality:
Overall:
Review Highlights
Click to filter reviews below
Displaying 1 - 10 of 40 2008 Subaru Impreza WRX STi reviews.
Murray

writes:
2008 Subaru Impreza WRX STi Base
Review
Pros
acceleration, reliability
Cons
fuel economy, appearance, turbo lag
2008 Subaru Wrx (base) — I am rating a 2008 Impreza WRX base....*NOT* the STi model (there was no WRX category).. The 2008 model is ugly. Subaru took a great thing (-2007 models) and transformed it into a tame-looking Mazda 3 hatchback-wannabe. The sedan looks even worse. As far as the driving experience, the WRX is a quick little car, and the 4-cylinder turbo intercooled engine provides great torque at the low-mid end of the power band, but turbo lag (and drivetrain drag) get annoying....fast. The clutch feels too light for a turbocharged AWD car. All-wheel drive is great....if you live in the snowbelt and need the traction, but is overkill for even the most agressive dry-road driving. The symmetrical AWD (like a Jeep in 4H all the time), provides (more or less) even power to all 4 wheels, but kills fuel economy (18 MPG average), and makes a lot of drivetrain noise / whine. Seats are very supportive, and controls are well-laid out; but the stereo is cheap, there's no sunroof on WRX base models, only a 5-speed manual transmission is avilable (non-STi), there's no push-to-start feature, and no turbo gauge.
Primary Use: Commuting to work
Looking for a Used
Impreza WRX STi
in your area?
CarGurus has

880

nationwide Impreza WRX STi listings starting at

$13,500

.
Andrew

writes:
2008 Subaru Impreza WRX STi Base
Review
Pros
Great acceleration/braking/handling/versatility
Cons
Not the most attractive car. But who cares? not me
08 Sti — The 08 sti-the redheaded stepchild of the sti lineup. acceleration is ridiculous, braking is excellent, and I am still yet to find a corner it cant handle. I've only had it a couple months, so it hasnt needed any repairs. The appearance isnt so hot. The taillights look kind of dumb (except at night because of the LED's.) and the interior is kind of cheap plastics. The fenders/wheels definitely stand out though, and its awesome seeing the scoop on the hood from the drivers seat. gas mileage in city sits around 18MPG for me. But for a car that does 0-60 in 4.8 and a 1/4 in low 13's, its not too bad. its a very versatile hatchback. good in any weather.
Spazika

writes:
2008 Subaru Impreza WRX STi Base
Review
Pros
Massive power
Sharp handling
Room for four or five
Excellent cargo space
Cons
Fuel economy
Custom exhaust is loud (if you think that is a bad thing...)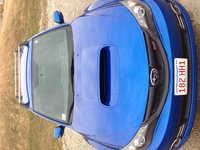 An All-in-one Track Monster And Daily Driver — The insane amount of power is my favorite thing about this car. That, couple with all wheel drive and sharp handling, makes this car one of a kind. Of course, this car is a head turner, so expect to get looks and kudos from friends and complete strangers. Any car enthusiast out will respect the driver of this car. The sheer performance of this vehicle is enough for any enthusiast to drool over, but what is really impressive is how it manages to blend all this raw power with daily drivability and practically in an effortless fashion. Room for five and their cargo, this car also has an optional Intelligent Mode that offers 30 mpg. It really is the best of both worlds. Just be prepared for the insurance company and your friends to think likewise. Which means it will take a little more coin than usual to insure and everyone and their brother will want to drive it. Trust me, I know.
Primary Use: Family transportation
Dre'

writes:
2008 Subaru Impreza WRX STi
Review
Pros
great turbo response with very little lag and turbo drop of at high rpm's resulting in 250whp and 273lb/ft of torque
Cons
front and rear sway bars are not that big so it has a lil more body roll in turns
2008 Wrx — i love my wrx its jus the sway bars are a little small and it has a little bit of body roll in turning but its a nice solid car. its an amazing, fun car to drive its awsome cant beat that boxter 2.5L engine!
Primary Use: Sport/fun (spirited driving, track racing, off-roading, etc.)
Dusan

writes:
2008 Subaru Impreza WRX STi
Review
Pros
Realy good acceleration and easy handling.
Cons
No negative aspects on this car...
Best Car Ever... — This is a very good mashine because it's have good acceleration, brakes, everything. When you are driving this car you enjoy and relax. Interior is good, as with any sports car. But I specially like exterior, because it is nicely done. It's expensive but isn't very much. Provides you lot of fun when are you driving them. No comment for subaru impreza WRX STi. Best car!
Scott

writes:
2008 Subaru Impreza WRX STi
Review
Pros
fun, doesn't need maintenance, attractive
Cons
repairs are more costly due to the fact that it's a foreign car
Best Car To Buy Stock — This car is extremely fun to drive and it's fast even completely stock. Acceleration and pickup are exceptional with fantastic handling and braking. Never had any problems with repairs or excessive tune-ups, gas mileage is great. The car is built incredibly well and I have never had an issue with it. The exterior of the car is streamlined and bold despite the way it looks in some pictures. The interior sleek and comfortable.
Mikhail

writes:
2008 Subaru Impreza WRX STi Base
Review
Pros
Aggressive body styling yet mature adaptation to the economy. Better performance then previous year models.
Cons
Eats gas as if it thinks gas is still at $1.00.
Drives Like A Bmw, Built Like A Ferrari! — This is one of the best cars Subaru has ever produced. With its new styling, and performance upgrades, the car is not to be read by the cover. You have to own it to understand. It has all the performance aspects a kid is looking for and all the practicality that an adult can use. With its new interior upgrade, going from cloth to leather and suede, the dash being redone, and the styling of a Legacy, you cant go wrong. The performance of this car is to be explained by no other then the drivers of Subaru's rally team's. The engineers had thier help in the aggressivness of the cars approach, but still subtle enough to take a relaxing stroll. This is by far an outspoken product produced by one of the best companies to come, though they have been producing the same reliable and trust worthy product for 50+ years.
ErikaAlcantar

writes:
2008 Subaru Impreza WRX STi Base
Review
Pros
awesome family car very reliable and fun to drive.

Awesome And Fun Family Car To Drive — I love the look of this car and am impressed by the features like homelink and ipod connection but best of all the sound. It has an awesome amount of space for the kids, the dogs and cargo. I am in love with the handling of this car and the look of it.
Primary Use: Family transportation
Alee

writes:
2008 Subaru Impreza WRX STi Base
Review
Pros
Awesome power and handling. Great gas mileage for a performance car.
Cons
nothing to speak of unless your a grumpy old fart.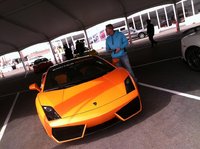 Stellar Car — You have to drive it to "feel" it. The WRX STI is an amazing car. The torque off the line and the AWD through the corners is amazing. It's also fun in big city traffic. Great reliability and warranty. Nothing compares to the WRX STI!!!!! unless you are a rich spoiled brat and you spend $60+K for a "Look at me" car with half the performance.
Primary Use: Commuting to work
Andrew

writes:
2008 Subaru Impreza WRX STi Base
Review
Awesome — I bought this car knowing that is was a year round performance car. The AWD is a killer in the snowy winters and blows away most cars on a dry summer day. There is a little bit of turbo lag but its not horrible. Once the tach sweeps past 2750 or so, the turbo kicks in hard and you get very quick and progressive acceleration all the way to about 6200 rpms where the power falls off. This definitely isn't a high revving Honda but the turbo pushing you back in the seat is a worth while trade off. Handling is somewhat of a double edged sword with the GR STi. The AWD system gives phenomenal grip on almost any surface but the added weight really makes for prominent understeer under normal driving conditions. But if you hit the gas on turn-in and the DCCD is set to rear bias, the rear comes around really well. The suspension is softer than previous STis and doesn't help by adding noticeable body roll too. I think if you were to add 2mm thicker roll bars front and back and a set of coilovers, these problems would be solved without making the ride quality unbearable. Braking is amazing thanks to the huge Brembos and sticky OEM tires. Brake fade has never been an issue, and I have tested them on more than one occasion. The stock pads, while they put out TONS of brake dust, are great and for being so grippy very durable. Build quality is on par for what is essentially an economy car. The Alcantara on the seats is great of spirited driving, as it grips you better than leather ever could and the seats have just enough lateral support to hold my 6' 3" 210 lbs frame in place. There are definitely a few creaks and rattles when going over uneven surfaces but nothing that is audible over the radio. The EJ25 2.5 liter turbocharged flat-4 engine seems bulletproof in my experience. When I first got the car I over revved a few times and there hasn't even been a hiccup in how she runs. Aesthetically, this car really did grow on me. I always loved the wagons shape but the front fascia wasn't really my speed (that WIDE lower grill opening), the nose was to high off the ground and the headlights looked too much like other cars on the road. But once I saw it in person, I really really liked it. It worked better than it ever looked in pictures. The interior is full of hard plastics and faux Alcantara fabric, not the worst I've seen but definitely not the best. In terms of cost, yeah, she was expensive, but when you get behind the wheel, you really see what you truly paid for. The locomotive-like torque band and AWD grip really make it worth it. And that was stock, for another $500, I reflashed the ECU and gained another ~45hp and ~45 lb-ft of torque. Thats almost unheard of! And what a difference it made. After the reflash, it felt like a totally different car. turbo lag was slightly reduced, the power band was extended (negligibly) and the car just pulled a lot harder. Definitely worth the money! My STi is loads of fun to drive, snow or sun, it doesn't matter! I love this car and wouldn't trade it in for anything in its price range on the road today (well, maybe a 2011 STi, but oh well)!
Primary Use: Sport/fun (spirited driving, track racing, off-roading, etc.)
Displaying 1 - 10 of 40 2008 Subaru Impreza WRX STi reviews.
Looking for a Used
Impreza WRX STi
in your area?
CarGurus has

880

nationwide Impreza WRX STi listings starting at

$13,500

.