2008 Saab 9-3 SportCombi
User Reviews
Average Ratings from

7

reviews
Performance:
Appearance:
Build Quality:
Overall:
Review Highlights
Click to filter reviews below
Displaying all 7 2008 Saab 9-3 SportCombi reviews.
Slee_Stack

writes:
2008 Saab 9-3 SportCombi Aero
Review
Pros
Wagon, Manual, Quick
Cons
Obsolete car manufacturer, parts sometimes expensive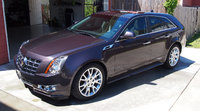 Unique And Fun — This particular Saab is a fairly rare bird - a sport version of the wagon with a 6sp manual. It provides a great combo of decent fuel economy (25-26 on average), zippy acceleration, and decent space for hauling. On the flip side, since Saab is defunct, parts can be more expensive and not everyone works on them.
Primary Use: Commuting to work
uh2lsaab

writes:
2008 Saab 9-3 SportCombi Aero
Review
Pros
- Great combo or ride and handling.
- Front seats are amazingly comfortable
- Better cargo space than many SUV's
- Decent fuel economy for a V6
- Fast when you step into it, can go 150+ mph, (not that I've tried)
- Safe! (and it won't roll over like an SUV)
- Parchment silver is a beautiful color
Cons
- Steering is a little light for my taste
- Doesn't feel that fast at medium throttle
- Fuel economy not very good in the city
- Transmission can be clunky in manual mode
- V6 makes the car feel a little front heavy


Great Sleeper Suv Alternative That Really Is Sporty — This is just a really good car overall and if I weren't such an enviro-geek, it would be perfect. I just worry about $5 a gallon gas although getting 29 mpg on the highway isn't bad. I have averaged over 24 mpg. The newer Saab 9-3 Aero SportCombis come with the 4 cylinder turbo which is what I would have preferred.
Primary Use: Commuting to work
Roger

writes:
2008 Saab 9-3 SportCombi
Review
Pros
Ethanol fuel really gives this car an edge, and you have to love the blackpanel function which is unique to SAAB
Cons
Too little leg room behind me when I am driving the car.
Excellent Car — The engine is quick and the steering response is very good, especially nice when running on ethanol instead of petrol, since that adds another 30hp. Not many other stationwagons can outrun this car when accelerating from 50 - 120. Outside appearence is nice, and the interior is solid black, but there are still some room for improvements in build quality (compared with Audi).
Primary Use: Family transportation
coolerbythelake

writes:
2008 Saab 9-3 SportCombi 2.0T
Review
Pros
Many standard options, Smooth ride, Great Price
Cons
GM discontinued Saab

Great Value — Bought the car Jan. 2009 before we were aware GM was going to drop the line. However we like the car and got a great deal on it. Enjoy driving it and plan on using the car for 10 years plus. Have not had any problems with it. Great gas mileage 25 average with 30 on Hwy.
Primary Use: Family transportation
Kjelle

writes:
2008 Saab 9-3 SportCombi 2.0T
Review
Pros
seats, (exteriror) design, handling
Cons
sound system, high fuel consumption (think fighter-aircraft), build-quality, noisy
Impressive At 1st Sight But Does Not Deliver In The Long Run. — It looks really good, handles good and got amazing seats. Unfortunately, performance is weak considering its a turbo. LOTS of small bugs, it actually feels like a "pre-production" car more than a serial produced. GM crappy quality... the interior squeaks and moves, seats make awful sounds, it consumes LOTS of fuel (without delivering performance), makes spontaneous stops (engine just dies), runs better with cold engine than warm... Stay away if you want to avoid problems! The autoshop loves this on the second hand market - it will guarantee their revenue for many years to come. Sad. It got so many promising ideas - if they just would deliver what it promise it would have been a great car and amazingla competitive. Today its being passed by all other European brands.
Konsta

writes:
2008 Saab 9-3 SportCombi
Review
Pros
Gorgeous, great to drive, economical.
Cons
Not the roomiest in the backseat.
Saab 9-3 Sportcombi Ttid Vector — Absolutely the best-looking sw in it´s class. No matter what the weather is like, it is just great to drive. Performance: The engine is powerful and frugal. Brakes just ooze confidence. Handling is sharp, the steering bit light but well balanced. Build quality: Nothing to complain about. Appearance: Looks just gorgeous. Cost of ownership: You get a load more for your money than you would with Audi or BMW. Running costs are quite low. Fun factor: A great-looking car that´s a hoot to drive = Loads of fun.
Nicole

writes:
2008 Saab 9-3 SportCombi Aero
Review
Pros
Full 4 seat vehicle, ride and handling, performance, aero interior color combination, full leather seats, premium sound system, great noise control for a convertible, interior of convert. top matches the vehicle interior making it look spacious inside, great color matching between different materials, gloss level well maintained, easy to use electronics
Cons
Convertible top takes up a bit too much trunk space.
Great Value — Best 4 seat convertible with amazing ride and handling! The Aero package is the only way to go from interior color combination, premium sound system and performance. The standard model paled in comparison when taking a test drive. 6 speed manual is the only way to go for true driving enthuiest (sp).
Displaying all 7 2008 Saab 9-3 SportCombi reviews.
Reviews From Other Years
A Fun, Rare, And Practical Family Hauler.
I liked almost everything about Octavia except for the punishing ride at times and some egress/ingress issues due to the small doors. The only reason I traded her in was to get my dream car - the last... Read More
Read all 2010 Saab 9-3 SportCombi reviews
Saab Combi Sport
This is the best car I have ever owned. I have the car for about one year so I can't really comment on the maintenance but I can say that the overall quality of the car is excellent. There are no sque... Read More
N\a
The acceleration is magnificent, you will slip back on you chair when it unleash her horses from the performance. & you need to be always awake when you drive it. The turbo at this car is powerful ... Read More
Read all

9

2007 Saab 9-3 SportCombi reviews
Nothing More Fun Than Blowing The Doors Off A 335 In My Wagon
I absolutely love this car. I bought it to have something to haul my 3 dogs around and to take trips in as my Saab 9-7x likes fuel. This get 30 on the highway and, with the tune I added, does 0-60 i... Read More
Buy One, Just Like I Did, Good Cars
fast cabrio, not good mpg good spec with all the toys inc leather, zenons sat nav, ipod cd etc etc, drops in value greatly, parts are expensive. fun to drive, looks cool glad i had it for a while, nic... Read More
Read all

6

2006 Saab 9-3 SportCombi reviews
Looking for a Used
9-3 SportCombi
in your area?
CarGurus has
62
nationwide 9-3 SportCombi listings starting at
$4,500
.