2008 Nissan Versa
User Reviews
Displaying 1 - 10 of 20 2008 Nissan Versa reviews.
CarGuruEB

writes:
2008 Nissan Versa SL Hatchback
Review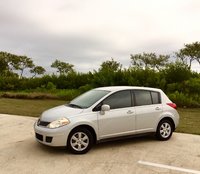 Looking for a Used
Versa
in your area?
CarGurus has

21,150

nationwide Versa listings starting at

$3,000

.
Margaux

writes:
2008 Nissan Versa S Hatchback
Review
Pros
ease of use, exterior styling, interior styling, comfort, pick up, price
Cons
lack of sportiness, smaller hatchback
My 2008 "violet" The Versa — My newly purchased 2008 Nissan Versa S hatchback is a quirky and fun car to drive. I chose the Versa after I had researched extensively and even test drove the Suzuki Aerio, Scion xa, VW Golf/GTI, Toyota Yaris, and Chevy Aveo. I decided against the xa and yaris because they both had the driving "dials" located in the center column of the dashboard. I am too much of a lead foot and didn't think for safety reason the spedometer was in a good location in the car. It looks like Scion has learned though because on the new 2008 xd that have moved the driving "dials" back to the left driver's side. My Versa stands out in a parking lot. I don't see it as much as the other hatchbacks although it's body style reflects that of a Mazda 5 or 3 hatchback and maybe some Pontiac Vibe thrown into the mix too. I especially like the front and back lights and the way the hatchback looks on the Versa. I also feel taller in the Versa than I did in my Honda Civic. I have great visability between the two oversized side mirrors and a wide front windshield and smaller rhombus styled back windshield. The interior is the selling point though! The minute I saw the inside of a Versa - I knew it was what I would buy. The seats are covered with a soft faux-microsuede material and they are oversized, plush bucket seats. They feel like you are sitting on a sealy posterpedic mattress practically! The driving "dials" are situated nicely in big simple circles on the driver's side and the accessories panel is laid out in the middle of the dash with a fairly decent factory stereo with a mp3 cd player. There are big dials for the ac/heat and a simple sliding bar for the inside/outside air function; one of the standard features on the Versa is a HEPA air filter in the ac/heating system. My Versa came with some upgraded features including power windows & power locks which means it has DEEP door pockets on either side up front and they even have drink holders in them, I also have cruise-control. But even on the standard S package Versa, you get two interestingly placed but effective cupholders in the middle of the two seats, as well as middle divider that has a bunch of what I call "little cubbies" - and further on towards the back, there are another 2 drink holders, so 6 drink holders in all! This car just screams road trip! Moving onto the back seats...WOW! You would never know that a car this 'compact' would be so spacious in the back seat. Even with Sam in the driver's seat (he's almost 6'), the passengers in the back seat would still have the legroom that my parent's mini-van has! Each right & left passenger seat in the back has its own headrest and 3-point seatbelt, and even the middle passenger in the back has a 3-point seatbelt! I have yet to ride in the back but my passenger's have told me that it's a cozy, soft ride back there. The hatchback is a little small for what I'd ultimately like to do with it but it will suffice for sure and offers me more versatility than a sedan trunk. The only other complaint I have with it is that the backseats don't fold down flush with the hatchback; they fold forward instead and so a little "lip" is created so it makes it harder with bulkier stuff, so like a 27" tv per se. Lastly, the handling is easy as pie and very responsive. I have no trouble getting it up to 60mph and it doesn't rev very high either, maybe the low 3,000 rpm range. The steering is reminscent of my Nissan 240sx's steering which was "loose" but very accurate, it allows for more manuvering I feel like. I don't know how something could be loose and yet tight but the Versa's steering is definitely that. It is simple to make turns and I don't feel much body roll when I make them. The 15" tires definitely give the car a very steady feel and making even sharp turns doesn't make the tires squeal. I know I couldn't race a bmw or even a Scion tc in this car but it definitely contends with my stock Honda Civic and I would hope so since it's at 122hp and 127-lbs. of torque; it has more 'gaux' power than your standard 4-banger car. Oh yea, and I get great gas mileage even being somewhat of a lead foot. I filled my Versa up last Saturday (11/1) when I bought it and I still have a 1/4 of a tank left today, a full week later. Nice!! :) All in all, this car suits me to a T. I love the ease of use of it, all of the features, the comfort of it, and most of all the fact that it was inexpensive.
Ryan3171

writes:
2008 Nissan Versa S Hatchback
Review
Pros
More power than competitors
+ Available upscale features
+ Fuel economy with CVT
+ Interior space
+ Price

Cons
Modest road presence
- ABS not standard

Reliable, Comfy, And Fuel Efficient — What more can you ask for in a car? this car is great. It's stylish yet simple. My biggest recomendation is to get the CVT tranny though. The 4 auto isnt that great. Compare both in a test drive and you'll see what Im saying.
Ryan

writes:
2008 Nissan Versa S Hatchback
Review
Pros
Clean, smooth opperation. High build quality.
Cute Little Runabout. — This is a great little hatch for practical use. The performance isn't fantastic, but it feels well engineered and everything is put together solid and works like a German clock. The only thing I didn't like was that the suspension felt too disconnected. That, combined with the futuristic looking interior, makes driving the Versa sort of like being in a little space pod. If the Versa were to have a personality, it would be nice and polite. This was the only car I've ever rented that I actually sort of missed when I gave it back.
Jon

writes:
2008 Nissan Versa SL Hatchback
Review
Cons
One thing I don't like, but it is minor: that tire gauge light that comes on when there's something a little wrong with a tire. Also: moisture condenses on inside in winter, but that is because I live in Cleveland!
Great Little Car! — I bought this car in Cleveland on a Friday in December 2007, and on Saturday and Sunday we had major snow. That was fun, buying a small car having no idea how it would handle in really bad weather. I was thrilled when it just plowed through everything. I miss the Nissan Frontier pickup I traded in on it for hauling purposes, but other than that, I've been very pleased with it. It gets me where I need to, carries what I need to carry, is comfortable, gets good mileage, has required no maintenance other than oil changes, and it is definitely fun to drive. I like the way it looks, and it seems to be of good construction. Accelerates well, brakes work fine, handles very well on curves. No complaints! Well, maybe a couple of small ones - see below.
Primary Use: Family transportation
Michael

writes:
2008 Nissan Versa S Hatchback
Review
Cons
the drive-by-wire system doesnt offer much feel
Its Beter Than The Smart Car, Fit,and Yaris; Cheaper Too — this car was built for the small entry level "psuedo K-car" market in the US. It get the best real world MPG in its class and has the most passenger room. its also the least expensive of the other cars in its class. I like it.
Primary Use: Commuting to work
Kevin

writes:
2008 Nissan Versa SL Hatchback
Review
Pros
Good value for money
Tiny Versa Review — Good value for the money, well equiped for its price, no cost cutting on equipments. Good fuel economy, can get 36.8mpg max. Handles OK, brakes are good, brake force is linear with pedal pressure. Electric Power steering maybe overboosted, too light. Steering ratio too big, 18:1
Primary Use: Commuting to work
vocalstud69

writes:
2008 Nissan Versa S Hatchback
Review

Awesome. — I'm 6'6, and I didn't think I'd fit in this car, but I do. It goes fast when needed to and has an incredible turning radius. I love it, except for not having a mp3 Cd player. Would recommend it without the mp3 player anyway. For the price, its wonderful.
Owner for 0 years, 1 months
Miles Driven per Year:5,000
Adam

writes:
2008 Nissan Versa S Hatchback
Review
Pros
Spacious interior, quick steering and low torque curve make it kinda fun to drive. 35 mpg too. Not a Prius.
Cons
It looks like a shoe,
Not A Penalty Box. — Cheap to own, very spacious inside, quick steering and jumpy throttle make it fun to drive. Not something you'd take around the Nurburgring, and it has all the sex appeal of a shoe. But hey, it's my wife's so I don't have to drive it everyday. Still miss my BMW though.
Primary Use: Family transportation
Jonathan

writes:
2008 Nissan Versa S
Review
Pros
Nice to drive, handles good, low ownership costs
Cons
Build quality is lousy, noisy on highway, engine strained on highway speeds
If Only This Car Were Made Elsewhere... — The Versa is a nice addition to Nissan with a somewhat cheerful looking car. There's quite a lot to like about this car and only a few things wrong. To drive the Versa is actually quite good. The steering feel is only a tad light from my ideal steering feel for this sort of car. Handling on this small car feels fine. The engine has some pep despite being made for fuel economy. The engine however does become noisy and feels strained when going 100 km/h or more. This is my favourite part about the car. The interior is alright, not the greatest but it could be like a Chrysler interior which is terrible. The plastics on the Versa are not as high quality as the Honda Fit's but quite comparable to the Yaris. Now to the worst part...the build quality. The Versas available in North America are assembled in Mexico, now I have nothing against Mexico but several of the Nissans I've driven that are made in Mexico often have loose parts or were just assembled poorly. The Versa is no exception, the gas and hood latches for instance pull a plastic string...this string often gets detached and thus making the latch pointless. These are some of the worst assembled cars I've seen and should have been deemed unacceptable by Nissan. I'm sure if it were built in the US, Canada or even better Japan none of these problems would exist, but Nissan went with cost savings over quality here. The ownership costs on the Versa are cheap, not only is it great in fuel economy but its the least expensive car you can buy now. Avoid the hubcaps though, they'll fall off eventually and are not cheap. Overall this is a good car...but its ruined by the horrible build quality.
Displaying 1 - 10 of 20 2008 Nissan Versa reviews.
Looking for a Used
Versa
in your area?
CarGurus has

21,150

nationwide Versa listings starting at

$3,000

.