2008 Nissan Sentra
User Reviews
2008 Nissan Sentra
Review Ratings
Average Ratings from

34

reviews
Performance:
Appearance:
Build Quality:
Overall:
Review Highlights
Click to filter reviews below
Displaying 1 - 10 of 34 2008 Nissan Sentra reviews.
NoNissan

writes:
2008 Nissan Sentra
Review
Pros
The car is comfortable, fuel economy is decent and accessories are good for its value.
Cons
CVT transmission is HORRIBLE.

Frustrated. — The transmission on my 2008 Nissan Sentra went out in 2010 at 65,000 miles, losing all power while I was on the freeway. Very scary scenario. Found out they'd just extended the warranty from 60,000 to 120,000 miles, so they replaced my transmission for free, though I had to pay for my own hotel (was out of town) and miss a day of work. Now, at 121,000 miles, the check engine light came on and dealer says the transmission is about to take a dump again. Opening a case with Nissan Consumer Affairs to see what they'll do. Otherwise, I'm told it'll be nearly $3,800 to repair. I would NOT recommend a car with a CVT transmission.
Primary Use: Commuting to work
Looking for a Used
Sentra
in your area?
CarGurus has

36,847

nationwide Sentra listings starting at

$1,195

.
jjjump

writes:
2008 Nissan Sentra
Review

The 2008 Nissan Sentra With The Cvt Transmission Is A Piece Of Junk — I bought a 2008 nissan sentra with the cvt transmission. At 30,000 miles the transmission sounded loud. I brought it to the dealership and they blamed it on 4 feathered tires. These tires were the second set of tires on the car with only 14,000 on them. At 60,000 miles the noise got even louder. Brought it back to Nissan and they said that the transmission was shot and they would not pay for it because it was over the 60,000 mile warranty. Still fighting with Nissan to pay to fix it. Would not recommend this car to anyone. If you want a real Jap car go to Toyota.
Primary Use: Commuting to work
russianfok

writes:
2008 Nissan Sentra Base
Review
Pros
good mileage, lots of power, smooth ride, easy to drive
Cons
there are no negarives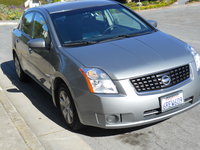 This Is An Elegant, Practical Car That Is A Pleasure To Drive... — I liked the power of this car, the looks, style, design. It is well built, solid and sturdy, provides a smooth, comfortable ride and looks great. Acceleration is excellent, right there for you whenever you need it, it does not fail you, in the city or on the free way. The breaking is smooth and dependable, responsive, immediate. The car is a pleasure to drive, relaxing, not a chore to dirive, but fun and enjoyable.
Primary Use: Commuting to work
Tim

writes:
2008 Nissan Sentra S
Review
Pros
Fuel economy, ride quality, interior
Cons
Paint depth, some body panels rattle
My First Car — This was my first car, purchased new in June 2008. It was plenty zippy for me, handling was decent, and it had a comfortable ride. Fuel economy was on par with other cars in it's class, and the interior styling was great. One thing that bothered me is that there is a rattle between the door panel and the edge of the front door (on both sides). I have an appointment scheduled to fix it, but haven't yet solved the problem. Also, the paint seems to be extremely thin all the way around the car. In the first month of ownership I had two rock chips. I'd also gotten a rock chip on the windshield during the second month of ownership. More than likely because I drive on a road constantly full of rock haulers. Overall, it's a solid little car with decent build quality, a fresh apperance, and plenty of power and fuel economy out of it's 2 liter engine. The price I paid was well below what it's competitors cost (I paid $13,900 for the 2.0S with a six speed manual). Would I buy it again? More than likely. It's affordable, and gets the job done.
Craig

writes:
2008 Nissan Sentra SE-R Spec V
Review
Beeee Sixteen Spec — Decent acceleration, good brakes, good handling. Very good build quality, doesn't squeak as much as the b15 specs. Its a 20k sports economy car so you get what you pay for. I like the appearance of my prius err I mean sentra. Very fun to drive, 6 spd with a short shifter is always fun.
Primary Use: Sport/fun (spirited driving, track racing, off-roading, etc.)
whispanic

writes:
2008 Nissan Sentra S
Review
Pros
CVT - Fuel Economy - Ride - Seat Comfort - Smart Key - Bluetooth - Sound System - Headlights - Space - Power Everything - ABS - EBS - Air Bags Everywhere - Remote Trunk - On and On and On!
Cons
Getting used to the shiftless transmission. I wish the suspension in the rear was a bit more tuned for handling like the Focus, but you would lose the ride comfort.

Hands Down The Best Car Under 20k. — I have owned a 2008 S model with the CVT and Smart Key. I paid 17,300, but I got the features of a 25K car! I was looking at Fit/Focus/Versa, but after the test drive I was sold on the Sentra. The CVT is leaps and bounds ahead of other CVTs I have driven. The cab is spacious and the partitioned trunk and rear seats that lay flat make for an extremely versatile car. I admit Im a hatchback type of guy, but the Fit and Versa are too small and underpowered. They are great cars,BUT the seat comfort of the Sentra is well above the 30K cars from other brands. My friend just bought a 28K Accord and I couldnt bear to tell him my car is more comfortable. I average 28-29 MPG in town and 31-35 on the highway doing 75MPH+. This car cruises very very well at 85+! The bluetooth feature is a lifesaver. I feel much much safer with that feature and its really nice to keep both hands on the wheel when driving. Ride is just awesome and the CVT gives alot of low end thrust. The Smart key is real nice. I just press a button to get in the car and turn the ignition and drive away! Even better I left my key fob in car and the car let me know! I could go on and on, but I say buy one and see for yourself!
Owner for 0 years, 1 months
Miles Driven per Year:15,000
Dylan

writes:
2008 Nissan Sentra SE-R Spec V
Review
Pros
buy it. if you want an off the shelf performance sport compact brand new , but dont want to spend alot this is then car. hih rev high comp 4 cylinder 6spd with lsd nismo tuned suspension sway bars springs struts and crossmember. and the car sounds wonderful too.
Cons
not family friendly due to the sport suspension from factory. somewhat thirsty when you gun it but a 6.5 0-60 from a n/a 4 cylinder sentra is nothing to complain about
My Favorite Car — I bought this car after getting rid of my subaru impreza. wanted something cheap with potential and looked nice i stumbled upon this car and was immediatly smitten. the interior was onderful quality the seats were all out race seats. 6cd changer power sunroof two subs from factory and a rally style dash shifter. what suprised me was how quick this was stock. i was easily beating the new gen civic si. 1.8t and vr6 vws stood no chance. the performanc comes from a high revving 10.5:1 n/a 4 cylinder making 200hp and 180ft lbs, my car dynoed stock in the low 170 whp range but this cars takes to modification wonderfully. i ended up dragging it alot once i realized how well nitrous took to this car.
Primary Use: Sport/fun (spirited driving, track racing, off-roading, etc.)
Maranda

writes:
2008 Nissan Sentra S
Review
Cons
Small mechanical issues, small interior, not suitable for 2 carseats.
Small Family Car — Wanted a car that was really good on gas and safe. After so long, the switch for the driver window started acting up where you couldn't roll the window up. Key FOB had a hidden key inside to use in case battery died in FOB. However, when hidden key was used, car alarm went off everytime the door opened even after it had been driven for a while.
Primary Use: Family transportation
Theresa

writes:
2008 Nissan Sentra SE-R
Review
Pros
looks great, sounds great, a real head turner
Cons
no break away mirrors, sunglass holder sticks
My 2008 Sentra Se-r — I replaced my 94 Sentra XE with the 08 SE-R and could not be happier. I do wish it had a few more bells & whistles like the radio controls in the steering wheel and break away mirrors. The CVT transmission is smooth and works well as an automatic or in manual mode with the paddle shifters. My only problem was a defective tire. A bubble showed up out of no where that Nissan said must have been road conditions. It was about $300 to replace. It is decent on gas about 27-30 mpg for a city/hwy combo. Hey I live in NYC! That is great with all the stop and go traffic we have. It does get a good hwy run each day though.
88si

writes:
2008 Nissan Sentra S
Review
Cons
acceleration, agility, so-so acceleration for class.

Just So-so — based on the altima's standout performance, i expected the sentra to be right there as well. i was wrong. the sentra is adequate at best. it's underpowered and not as agile as you'd expect. overall it is not that great of a car. it gets good fuel economy, but it's just so-so for the class. however, i will recommend it because it is not a bad car, just not a good one.
Displaying 1 - 10 of 34 2008 Nissan Sentra reviews.
Looking for a Used
Sentra
in your area?
CarGurus has

36,847

nationwide Sentra listings starting at

$1,195

.