2008 Mitsubishi Lancer
User Reviews
2008 Mitsubishi Lancer Review Ratings
Average Ratings
from 88 reviews
Performance:
Appearance:
Build Quality:
Overall:
Review Highlights
Click to filter reviews below
Displaying 1 - 10 of 88 reviews
Joshua

writes:
2008 Mitsubishi Lancer ES Review
Pros
Nice acceleration for stock 4. Good gas mileage. Looks good. Family car or sporty car that can take turns at higher rates of speed than comparably equipped cars.
Cons
Raccoons, when hit while going speed limit, can potentially break front bumper, radiator, and air conditioning compressor.... I would know...
Best Stock 4 Cylinder In It's Class! — The car is great! Good 25-30 gas mileage. Accelerates pretty quick for being a stock 4 banger. Looks are great, especially the mean looking front end. Wish I didn't have the silver color but oh well... Body is kinda flimsy, but all new cars are, and that's because the body is made of plastic. Comfortable ride inside, with plenty of room for 4 comfortably or 5 with a little "crampage." Manual transmission works well too!
Looking for a Used

Lancer

in your area?

CarGurus has

4,304

nationwide Lancer listings starting at

$2,950

.
Steve

writes:
2008 Mitsubishi Lancer GTS Review
Pros
Styling, curvy exterior, spacious and elegant interior. all around awesome car
Griml0ck5S

writes:
2008 Mitsubishi Lancer ES Review
Pros
Does well on gas in seasons except summer.
Cons
AC uses power and consumes fuel in the summertime.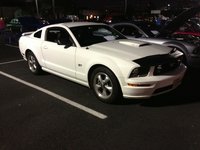 Overall Look At The Car — its great on gas in the spring fall and maybe winter, but when summer comes, the AC uses power and takes away from pick up, and AC uses more fuel as well. The car is very reliable but if the clutch only lasts 50-60 thousand miles, it wasn't made that sturdy. i got 73,000 miles out of the clutch,m so that should tell you something about the driving style.
Primary Use: Commuting to work
Peter

writes:
2008 Mitsubishi Lancer ES Review
Pros
Relatively cheap for its class, great engine, low running and maintanance costs, sporty outlook
Cons
Plastic board is easy to scratch :)
Lancer Ex — Performance - overall performance per dollar is amazing. Build Quality - no repairs needed, speakers and stereo are really good, comfortable seats, hate the plastic boart though. Appearance - sporty outlook, comfortable interior (not the best materials used) Cost of Ownership - between 7 and 8.5 per 100km, cheap maintanance. Fun Factor - with its 1.5l engine you expect it to be a bit sluggish, but with its 109 hp and the MIVEC in help(and of course traction controll disabled :D ) it is quite an adventure :P
Primary Use: Commuting to work
Andre

writes:
2008 Mitsubishi Lancer GTS Review
Cons
Engine not as much HP as i would have liked.
Rally Machine — Performance-2.0 liter 168 HP 4 cylinder Build Quality-hasnt needed any repairs. Amazing Japanese car. Appearance- gts sport body kit. Black leather interior. 7 inch touch screen. 650 watt system. Fun Factor-lots of fun to drive. Takes turn faster then other cars. Cost of Ownership- about 20 dollars to fill tank from empty to full. Gets 23 miles to gallon in the city. 28 highway.
Robert

writes:
2008 Mitsubishi Lancer GTS Review
Pros
Handling, Performance, Price, Fun
Cons
Cheap carbon fiber dash, paint damage on skirts from front wheels
2008 Lancer Gst - Awesome For The Price — I love the look of this car. It has a great amount of performance for the price and can be easily modded to stun your wife into scared silence. It handles like a open wheeled indy car and I have yet to get it to break traction in a corner. The only downside I've seen to it is that the fake carbon fiber dashboard seems to build up condensation underneath the plastic and end up looking foggy and the front tires throw up too much dirt and it punishes the paint on the skirts.
Dean

writes:
2008 Mitsubishi Lancer DE Review
Cons
Weak Acceration, Poor Paint Job
2008 Mitsubishi Lancer — Solid performance although it is missing some passing power as well as acceleration. Plan to do some upgrades to improve that. Braking is average, not spectacular but not bad. Handling is actually quite good on this car although it is still not at a spectacular level. If they had added a little low end power it would be perfect. Paint is cheap though, chips and scratches come easily, defiantly worth purchasing the 3M plastic for the hood...as well as mud flaps for front and rear tires. Noticed that it does ride quite loud, although there was a option to coat the under carriage of the vehicle with something to remove that...it is not too noticeable. Its not too hard on gas, finding around 28mpg city and 36mpg highway...although i do tend to exceed the speed limits...I'm sure it is capable of a lot better, I feel that the American EPA was grossly underestimating the mileage of this car. Very cool looking car and a lot of fun to drive, its cool without being too flashy and just overall a fun drive.
Samir

writes:
2008 Mitsubishi Lancer Review
Pros
Everything.except for the one thing i had mentioned earlier
Cons
another subwoofer,and i was wondering why they couldn't get body kits for the back of the car..
My Mitsubishi Lancer Ex — This Latest model of Lancer has been given an all new sporty look,and with all the options that i'hve taken..its just GOOD ENOUGH FOR ME! I'm Really happy with what i've got at a comparably reasonalbe price,and The options that it has are H.I.D lights, Spoiler,Body Kits,Sunroof,Automatic Wipers,Sound system(8 speakers and a subwoofer)and an interior that most people would prefer...and i'm gettin 18 inch Alloy rims very soon.. Theres nothin really to dislike other than the fact that they could have added another subwoofer to this car,but its a Good sound system anyway,so it doesn make much of a difference..
Rob

writes:
2008 Mitsubishi Lancer GTS Review
Pros
Great handeling. Clutch feels nice.
Cons
A bit slow for my taste.
Rob's Quick Review — Great solid car but could use a bit more speed like the twin supercharger in the Evo X but then might as well add all wheel drive and then you've got an Evo X. Got this car brand new so obviously have no problems with it (Yet). The GTS has so much more than the other options it can come with such as the touch-screen navigation, one 12'' Sub in the trunk, and a whole lot more. Again, fun car to drive but very underpowered.
Michael

writes:
2008 Mitsubishi Lancer GTS Review
Pros
Awesome appearance, great handling, LOTS of fun to drive.
My 2008 Mitsubishi Lancer Gts — Performance - Great handling, lots of fun on twisty roads. Only improvement needed is more power, the Ralliart edition is perfect for me. Build Quality - Decent, no problem so far. Appearance - Very aggressive, love the nose of the car, the shark look is AWESOME. I can do without the wing in the back, but it looks good anyway. Very sporty, I'm totally loving the look, it was one of the main reason I bought it over Mazda3. Cost of Ownership - Gas mileage is okay for the size; it's a heavy car so use more gas when doing "Rally Style" driving. Maintenance so far is simply, nothing major yet. Fun Factor - I love the car, it is ALOT of fun to drive! If I can put a turbo-charger and boost the power to the 250HP range, I might just create a little monster.
Displaying 1 - 10 of 88 reviews
Ask CarGurus about the 2008 Mitsubishi Lancer
Average response time:
8.5 hours
,
# of Mitsubishi Lancer owners:
4,555
Looking for a Used

Lancer

in your area?

CarGurus has

4,304

nationwide Lancer listings starting at

$2,950

.