2008 Lexus RX 400h
User Reviews
Average Ratings from

9

reviews
Performance:
Appearance:
Build Quality:
Overall:
Review Highlights
Click to filter reviews below
Displaying all 9 2008 Lexus RX 400h reviews.
bfit

writes:
2008 Lexus RX 400h Base
Review
Cons
Looks to nice for my kids to ride in :-)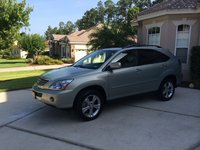 Great Luxury And Utility — This car handles well, looks great, fits a whole bunch of stuff-it has so many storage spots especially in the cargo area, gets fabulous mileage. Plus you are treated like royalty when you take it to Lexus dealer for services.
Primary Use: Family transportation
Looking for a Used
RX 400h
in your area?
CarGurus has
391
nationwide RX 400h listings starting at
$8,990
.
SRMiller

writes:
2008 Lexus RX 400h AWD
Review
Pros
Nice interior, comfortable ride.
Cons
Fuel economy not as good as I had hoped.

I Would Recommend The Lexus Hybrid. — This is a pleasant car to drive with good visibility. It is smooth and quiet. Although the hybrid works well fuel economy is not great. It has a nice interior and it is comfortable. There is little extraneous cabin noise.
netify

writes:
2008 Lexus RX 400h AWD
Review
Pros
Power, seamless / lossless transmission (CVT), great luxury features, great pricing especially if you hunt for certified pre-owned of 2-4 years.
Cons
Slightly cramped head room in the back seat due to the battery system under the seat area; less headroom than my '04 RX330 non-hybrid; unfortunate side effect, but only a real issue due to using a child's car seat; would not be an issue if using a booster seat, I believe.

Awesome Power Plant And Acceleration, Awd / Nav / Marc Levinson Premium Is Sweet — All the good of the stock RX330 line, but with better build quality, and the phenomenal CVT transmission. If you've ever used a Polaris 4-wheeler or snow mobile, you know about CVTs, but put it behind a multi-motor (gas/electric) 268HP power plant AND AWD, and you have an amazing power and acceleration band - nearly seamless acceleration from slow to 70 - it will blow away everything non-hot-rod (not the Cayenne Twin Turbo, for example, but then that's also a V8) when you need to get on at a freeway on-ramp. My wife loves it and feels much safer and more assured knowing the power and acceleration are there when needed. To quote the detail on the transmission/engine: "Producing up to 268 horsepower and working through a specialized continuously variable transmission (CVT), Lexus claims the front-drive RX 400h can go from zero to 60 mph in 7.5 seconds and an even quicker 7.3 seconds for all-wheel-drive models." Also, get the integrated video system - run video on both screens (on dash (when stopped / parking break engaged) and overhead at the same time... slick).
Primary Use: Family transportation
Steve

writes:
2008 Lexus RX 400h AWD
Review
Pros
Well over 30 mpg around town and power to commandingly turn all four wheels when needed.
Cons
As with all Lexus vehicles, could do without the nagging to put seatbelt on. Oh, and why, in an 08' luxury vehicle is there still a cassette player (Who still has any of these around?) and not an mp3 jack? Seriously?
Smooth Economical Luxury Power — .This is our first hybrid and so far, Im impressed. The change from engine to motor power and vice versa, is quite seamless and the visual of it happening on the dash is pretty captivating, intuitively letting you know how the process works.
Primary Use: Family transportation
kpet27

writes:
2008 Lexus RX 400h
Review
Pros
Grate car mixes Luxury, Performance, Fuel Convenience, and a spacious family car
Quite
Cons
I cant really think of any.

Well Rounded — Grate car mixes Luxury, Performance, Fuel Convenience, and a spacious family car Quite. Its a well rounded good car. I would recommend it. I have most options including backup cam and reverse censers leather seating conveniences package heated seats, Gps Navigation, Sync ...ect
Primary Use: Commuting to work
Alex

writes:
2008 Lexus RX 400h AWD
Review
Len

writes:
2008 Lexus RX 400h AWD
Review
Pros
Hybrid Drive, aimable HID lights
Cons
No aux for IP, no smart key (both resolved in 2010 replacement)
Great Now, Just Wait Till The 2010 Arrives! — Great acceleration w/ good mileage. Very smooth ride, good utility. Aimable HID lights ROCK. Levinson stereo is OUTSTANDING! Hybrid drive system is very clean - this emits 75% less than a typical sedan, and Lexus hybrids can run up to 40mph completely on electric.
Ian

writes:
2008 Lexus RX 400h Base
Review
Pros
old type econo gas milage, fun off the road in moderation
Cons
quick but not racetrack worthy
TWFarrington

writes:
2008 Lexus RX 400h AWD
Review
Pros
Outstanding in the snow, tons of power, nice ride height, headlights turn as well as auto level.
Cons
Passenger (and driver) space is less than ideal for larger occupants, it does not have enough "luxury" features. Braking does not instill confidence.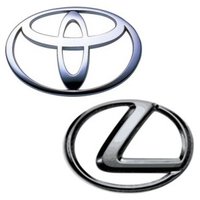 Nice Ride, Decent Options, Safe, And Good In The Snow. — This vehicle does great in the snow. I have learned that you don't "rock" it when stuck, you just sit there with your foot on the gas and it will spin the wheels independently until they have traction, then it will push you a little bit until you spin again (repeat) or are able to drive away. There was no storm in the past two years (in Maine), which I couldn't just drive out of my driveway (without clearing it first). I love that! I also like that is tows (Hybrids with a grille logo which has holes in it, has the towing package). I have a small trailer to get bark mulch or take my lawn tractor to the dealer and while the mileage takes a hit, the weight of the vehicle is well suited for this kind of towing. I have towed a boat before and it did pretty good, but that is out of my comfort zone for my skillset. The mileage can be pretty impressive, particularly when your driving is between 35-50. I have gotten as much as 36 mpg diving secondary roads through the mountains from Maine to Vermont. In the Summer, I typically see about 25-27 mpg and in the Winter it's more like 20-22. Some of that is due to the engine needing to run to produce heat for the cabin, some is due to idling (to thaw windows before driving) but even without the idling, the batteries function better when they are warm so you will take a hit in cooler months. Still, the hybrid offers more power (if that's your thing), and I love that the engine shuts of when coasting or stopped. We call it stealth mode. There are two areas for which I am disappointed with the vehicle. First is the interior space. That back seat is positioned on top of the batteries, so there is a little less headroom in the back. Additionally, when the front seats are all the way back, adult rear passengers will be cramped. The front seats are adequate for 90% of the people. I am of the other 10%. Having wide shoulders and being overweight, I feel cramped. Again, 90% of you won't likely have this experience but I thought is was worth mentioning for the other 10. The newer model style is more spacious. The second area is about the gadgets/features/amenities. It sounds pretentious to say that a Lexus is short of luxury but in my opinion it is. Here's some of what it has: auto adjusting headlights, auto turning headlights (when in motion, the headlights turn with the steering wheel based on your speed), motorized back door, lighted door sills (OK, that's cool), cruise, power seats, windows, mirrors, etc., auto dimming mirrors, sun roof, navigation, nice storage space (pockets and cubbies), rain sensing wipers, auto clearing front side windows (they shed water like Rain-X is on them), and headlight washers. Ya, it's got a lot of stuff but I want more. I would like to be able to shut off the headlights (DRL) when I go to the drive-in without having to shut off my car, I would like laser cruise, I would like turn signals in the mirrors, I would like exterior approach lighting, I would like touch sensitive locking/unlocking and push button start. I should also mention the brakes. Hybrids are designed with regenerative braking, meaning that it uses the electric motors which propel the vehicle to recapture some of that energy when braking. It makes the brakes a but grabby, which I like. What I don't like is when you are braking, if you hit a bump in the road, or get below 20mph or so the regenerative braking shuts off and you are on the disc brakes. They work fine, but there is a bit of a lurch at the moment of transition. It's not anything that puts you at risk, but it is an uneasy feeling I would prefer not to experience. Overall, it has been very reliable and it drives very nicely. Another great point of note has been Lexus Service. I have all my servicing done at the Lexus dealership and they provide me with a loaner without any question. This sole reason will be enough to get me to buy another Lexus.
Primary Use: Commuting to work
Displaying all 9 2008 Lexus RX 400h reviews.
Reviews From Other Years
Unique Hybrid Luxury Suv
Why should hybrid technology be limited to cars that are already economical? Here it helps significantly to make a relatively heavy and powerful luxury cruiser much more economical than it would other... Read More
Great Small Suv
Very nice handling and performance. Luxury interior as you would expect from a Lexus. easy to park and high enough to be able to see comfortably when driving. I recommend this for singles or couples... Read More
Read all

3

2007 Lexus RX 400h reviews
Great Car And Fun To Drive.
This Lexus RX400h is quiet, smooth and handles like a dream This is my second RX and they just keep going. On top of that, this car is in good shape and is a nice color. It also has all the goodi... Read More
Great Family Car
Car is well worth the money. With 138,000 miles the only unscheduled maintenance that had to be performed was replacement of the radiator. Not getting the mileage that was posted for the car aside, ... Read More
Read all

17

2006 Lexus RX 400h reviews
Looking for a Used
RX 400h
in your area?
CarGurus has
391
nationwide RX 400h listings starting at
$8,990
.